Aromatherapy is a practice with ancient origins, but it provides many modern benefits. Once used for religious purposes and in Ayurvedic medicine, aromatherapy offers relief from poor sleep quality, chronic stress, joint pain, and even depression and anxiety. The benefits of aromatherapy are determined by the essential oils used in the practice.
The list of essential oils used to today numbers over 100 and each one is unique. Citrus scents can be invigorating and uplifting while woody scents bring an air of warmth and comfort. Floral scents are known for their calming and sedative properties – ylang ylang is one. Read on to learn more about this fragrance, its history, and popular LAFCO products it's in.
What is Ylang Ylang?
The essential oil ylang ylang is derived from the flowers of the cananga tree (Cananga odorata). A tropical tree, the cananga tree is native to India as well as parts of Indochina, Malaysia, and the Phillipines – it can also be found as far south as Australia. This tree is valued for the fragrant perfume extracted from its flowers, known as ylang ylang.
The cananga tree is a fast-growing species that attains an average height approaching 40 feet and grows at a rate of 16 feet per year. It sprouts glossy, evergreen leaves and drooping greenish-yellow flowers. The flowers grow on long stalks, each with six narrow petals. As a whole, the flower looks rather like a sea star and it yields a fragrant essential oil.
Ylang ylang essential oil is a rich, deep fragrance. It offers deep notes of rubber and custard as well as bright hints of jasmine and neroli. The essential oil is extracted through steam distillation of the flowers and divided into three grades. In aromatherapy, the essential oil is used for everything from anxiety and depression to headaches, insomnia, and muscle tension.
The Benefits of Ylang Ylang for Health and Home
The tree from which ylang ylang is derived is sometimes referred to as the perfume tree or the fragrant cananga. In Indonesia, the flowers of the tree are thought to have aphrodisiac properties and are often sprinkled on the bed of newlywed couples. In the Phillipines, ylang ylang essential oil is used to heal cuts, burns, and bites, while in the Molucca islands it was used in hair products.
When the medicinal properties of ylang ylang were discovered by a French chemist in the 20th century, it came to be used as a remedy for various infections as well as typhus and malaria. Since then, it has become popular worldwide for its relaxing, soothing, and sedative properties.
The benefits for which ylang ylang is most known are related to mood and stress. When inhaled, ylang ylang essential oil acts on the olfactory system in the brain to promote feelings of joy, boosting the mood and promoting an atmosphere of calm. It also acts as a mild sedative which calms the nervous system, promoting relaxation, and reducing anxiety by mitigating the body's stress response (lowering blood pressure and reducing heart rate).
How to Enjoy this Floral Fragrance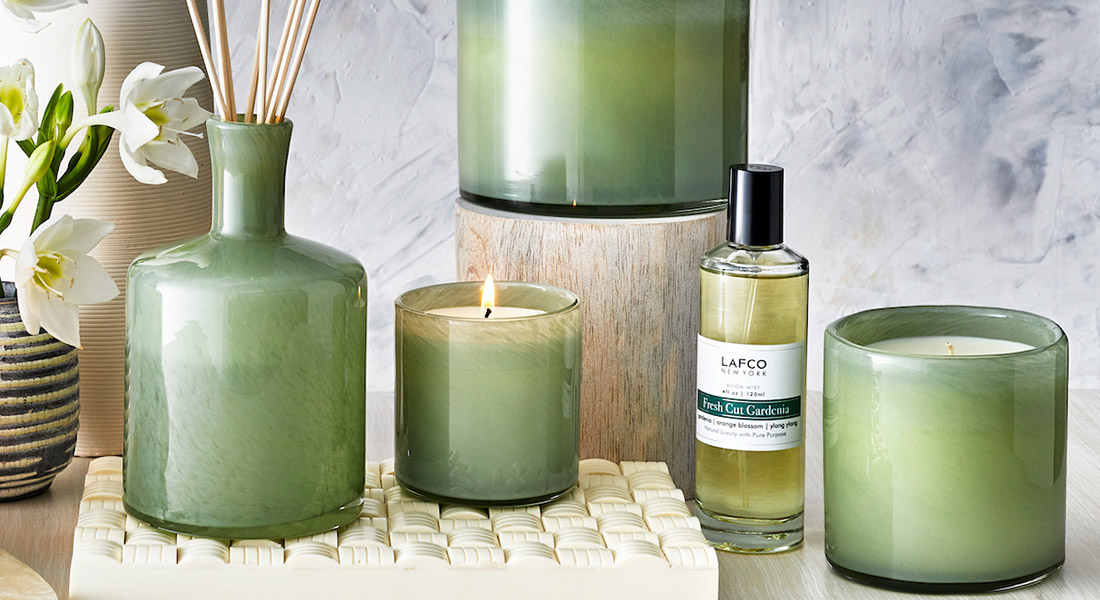 As is true for most essential oils, ylang ylang is best diluted with a carrier oil. Natural oils like jojoba, almond oil, or avocado work best. When properly diluted, ylang ylang can be applied directly to the skin or added to a bath. Perhaps the most beneficial way to enjoy ylang ylang is through inhalation using a scented candle, reed diffuser, or room mist.
Enjoy the floral fragrance of ylang ylang with the following LAFCO products:
In addition to these fragranced products, LAFCO also offers the Fresh Cut Gardenia scent in the form of a liquid soap and a hand cream. Fresh Cut Gardenia liquid soap is made using only natural ingredients, formulated to moisturize, regenerate, and hydrate the skin with the added benefit of ylang ylang fragrance. To enjoy the fragrance on the go, try Fresh Cut Gardenia Hand Cream for a luxurious, therapeutic experience designed to restore and repair dry skin.
Ylang ylang is a versatile fragrance that pairs well with other essential oils. Use it when you are feeling anxious or blue, when you are feeling stressed or depressed, or when you simply need a little help falling asleep. It's the perfect fragrance to enjoy in the spring and summer to bring a burst of floral freshness into your day, though you can enjoy it all year round with LAFCO fragranced products.