As the leaves begin to change and the air turns crisp, it's time to welcome the cozy embrace of fall. LAFCO's White Maple Bourbon Candle is the perfect companion to set the mood for this season of warmth and comfort.
With its complex fragrance notes and long-lasting burn, this candle is more than just an accessory—it's an experience. And what better way to complement this sensory delight than with a dish that captures its essence?
Read on to discover the magic of White Maple Bourbon and the mouthwatering Maple Bourbon Glazed Pork Chop recipe it inspired (by Emmanuel Baiden).
White Maple Bourbon: A Symphony of Scents for Fall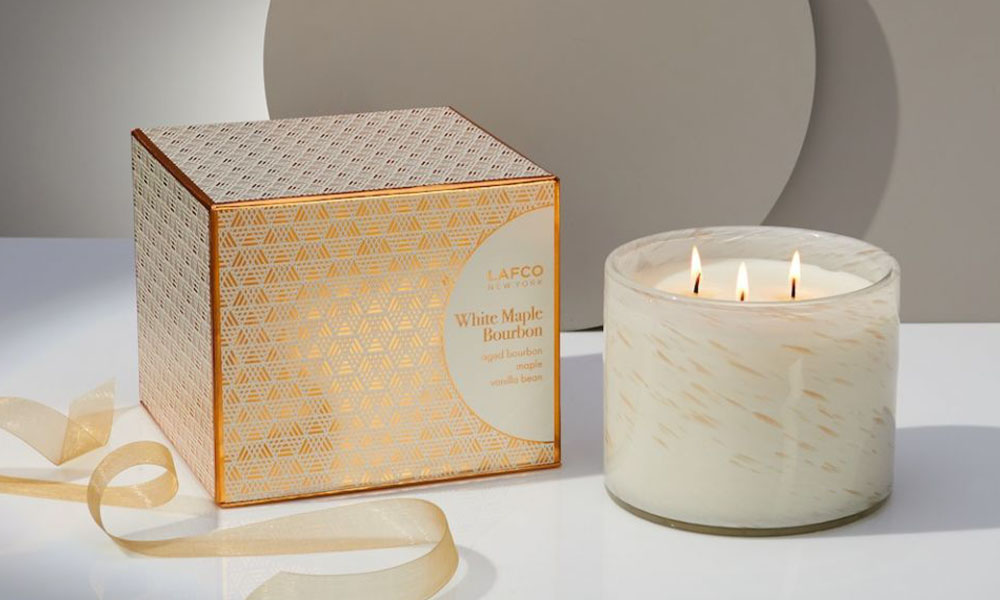 The White Maple Bourbon Candle is not just a candle, it's an olfactory journey that captures the essence of fall in a unique and memorable way.
Let's delve a bit deeper into what makes this fragrance so special…
The Opening Act: Top Notes
As soon as you light the White Maple Bourbon Candle, the top notes of Artemisia, Pistachio, and Maple make their entrance. Artemisia offers a herbal touch that's both grounding and invigorating, setting the stage for what's to come. The Pistachio adds a subtle nuttiness, a comforting aroma that's both familiar and intriguing. But it's the Maple that steals the show here, evoking memories of crisp fall mornings and leaves crunching underfoot. It's a sweet, woody scent that's quintessentially autumnal.
The Heart of the Matter: Middle Notes
As the candle continues to burn, the middle notes begin to unfold. Jasmine provides a floral counterpoint that's both exotic and comforting, adding complexity to the fragrance profile. The Aged Bourbon note introduces a rich, smoky undertone, reminiscent of cozy evenings by the fire. Rose adds a classic floral touch, while Caramel brings in a sweetness that's mouthwateringly inviting. Together, these middle notes create a heart that's as complex as a well-aged bourbon—smooth, rich, and utterly comforting.
The Final Bow: Bottom Notes
But the experience doesn't end there. Long after you've extinguished the flame, the bottom notes continue to linger, providing a lasting impression that's both elegant and grounding. Palo Santo offers a woody, slightly mystical scent that's calming and spiritual. Vanilla Bean adds a creamy sweetness that's universally loved, while Gaïacwood brings in a touch of the exotic with its smoky, slightly spicy aroma. Vetiver rounds out the fragrance with its earthy, woody character, leaving you with a sense of peace and well-being.
A Vessel of Beauty and Function
Each candle comes in a handblown glass vessel, a unique work of art that adds a touch of elegance to any space. The beauty of the vessel doesn't just stop at its appearance—it's also designed for reuse, making it a sustainable choice for home decor.
Quality You Can Trust
Crafted with key ingredients like soy wax and essential oil-based fragrances, this candle offers up to 120 hours of burn time. A 100% cotton wick and a touch of paraffin wax ensure a clean, even burn. Plus, all LAFCO products are vegan, gluten and cruelty-free, and free from phthalates and parabens.
A Culinary Experience Inspired by White Maple Bourbon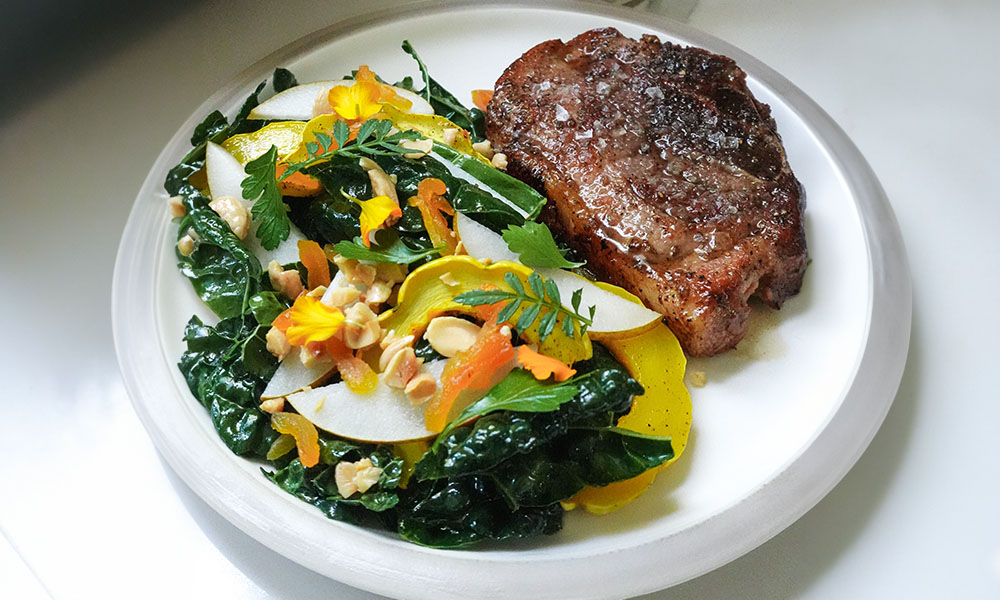 To celebrate the arrival of fall, we've partnered with culinary expert Emmanuel Baiden (@mannyeats_) to create a dish that embodies the essence of the White Maple Bourbon fragrance. Introducing the Maple Bourbon Glazed Pork Chops with a Kale Salad—a dish that's as flavorful and complex as the candle itself.
Maple Bourbon Glazed Pork Chops with a Kale Salad
Ingredients
For the Maple Bourbon Glaze:
1/2 cup pure maple syrup
1/4 cup bourbon whiskey
2 tablespoons unsalted butter
Salt and black pepper to taste
For the Pork Chops:
2 bone-in pork chops (about 1-inch thick)
2 tablespoons olive oil
Salt and black pepper to taste
For the Kale Salad:
1 bunch of kale, stems removed and leaves torn into bite-sized pieces
1 delicata squash, seeded and sliced into thin rings
1/2 cup Marcona almonds, toasted
1/2 cup dried apricots, chopped
For the Maple Vinaigrette:
1/4 cup extra-virgin olive oil
2 tablespoons pure maple syrup
2 tablespoons apple cider vinegar
Salt and black pepper to taste
Instructions:
Prepare the Maple Bourbon Glaze:
In a saucepan over medium heat, combine the pure maple syrup, bourbon whiskey, and unsalted butter
Stir well to combine and bring the mixture to a simmer. Let it simmer for about 10-15 minutes or until the glaze thickens, stirring occasionally.
Season the glaze with salt and black pepper to taste. Remove it from heat and set it aside.
Prepare the Pork Chops:
Preheat your grill or grill pan to medium-high heat. Brush both sides of the pork chops with olive oil and season them generously with salt and black pepper.
Place the pork chops on the preheated grill or grill pan and cook for about 4-5 minutes on each side, or until they reach your desired level of doneness (the internal temperature should reach 145°F or 63°C).
Prepare the Kale Salad:
While the pork chops are cooking, roast the delicata squash rings in a preheated oven at 400°F (200°C) for about 20-25 minutes, or until they are tender and slightly caramelized.
In a large bowl, combine the torn kale leaves, roasted delicata squash, toasted Marcona almonds, and chopped dried apricots.
Prepare the Maple Vinaigrette:
In a separate small bowl, whisk together the extra-virgin olive oil, pure maple syrup, apple cider vinegar, salt, and black pepper until well combined.
Assemble the Dish:
Toss the kale salad with the maple vinaigrette until the salad is well coated.
Plate the glazed pork chops and drizzle some of the maple bourbon glaze over them.
Serve the Maple Glazed Pork Chops alongside the Kale Salad with Roasted Delicata Squash, Marcona Almonds, and Apricots.
Fall For Flavor
As we bid farewell to the warm embrace of summer, the allure of autumn beckons us into a season of cozy sweaters, vibrant foliage, and the comforting aroma of spices in the air. LAFCO's White Maple Bourbon Candle serves as the perfect herald for this seasonal shift, offering not just a fragrance but an entire experience that encapsulates the essence of fall.
From the moment you light the candle, you're taken on an olfactory journey that starts with the invigorating top notes of Artemisia, Pistachio, and Maple, moves through the comforting middle notes of Jasmine, Aged Bourbon, Rose, and Caramel, and settles into the grounding bottom notes of Palo Santo, Vanilla Bean, Gaïacwood, and Vetiver. It's a fragrance that transforms your space, making every moment feel like a cozy fall evening.
But the experience doesn't end with the flicker of the candle's flame. We've taken it a step further by pairing this sensory delight with a culinary masterpiece. Created by Manny Baiden, the Maple Bourbon Glazed Pork Chops with a Kale Salad recipe is a feast for the senses that perfectly complements the complex notes of the White Maple Bourbon Candle. It's a dish that's as rich and layered as the fragrance that inspired it, making for an unforgettable dining experience.
So as you prepare to welcome the beauty and comfort of the fall season, consider making LAFCO's White Maple Bourbon Candle and its accompanying dish a part of your autumnal rituals. Light the candle, prepare the dish, and let the flavors and fragrances of fall envelop you in a warm embrace. After all, this season is about more than just changing leaves and cooler temperatures—it's about creating moments that feed the soul.