Scents like chamomile, lavender, and rose are quite common in home fragrance products like candles but all fragranced candles are not the same.
The quality of the fragrance oil makes a big difference when it comes to the strength and longevity of the fragrance but it's only one piece of the puzzle. Equally important is the type and quality of wax used to make the candle.
Wax is the fuel of a candle. As it melts, it evaporates and releases the fragrance oil contained within into the air. Certain types of wax melt more slowly or burn more cleanly than others. When shopping for scented candles, don't just shop by fragrance – pay attention to the wax from which the candle is made.
Here's what you need to know about the different types of wax used in scented candles and why LAFCO uses a renewable soy wax blend and pure, essential oil-based fragrance.
The 5 Types of Candle Wax
It's second nature for many of us to check the label when shopping at the grocery store, but how much do you pay attention to the ingredients in the home goods you use every day? If you were to read the label for a cheap or poorly made scented candle, for example, you may be surprised to find that it isn't as "natural" or "premium" as you were led to believe.
The type of wax used to make a candle determines its quality and its efficacy in evenly dispersing natural fragrance. Let's take a quick look at 5 of the most common types of wax used to make candles…
Paraffin Wax
Scented candles are a dime a dozen but there's a reason you can find them in every dollar store or discount store – they're made with cheap wax. Paraffin wax is inexpensive, and it can hold a lot of fragrance, which is why high concentrations are used in many sub-par candles. The downside is it isn't particularly eco-friendly, and it releases volatile organic compounds (VOCs) as it burns.
Beeswax
This type of wax has been used to make candles for thousands of years. It's an eco-friendly and sustainable option. Unlike paraffin wax, beeswax produces ions rather than VOCs, so it is thought to help purify air. However, it's a much harder substance so it's mainly used for pillar candles.
Soy Wax
In comparison to paraffin, soy wax is softer and more pliable. The key benefit of soy wax is that it has a high melting point and a slow burn time – it can burn up to 50% longer than paraffin. Soy wax also emits fewer toxins and less soot than any other wax. Additionally, soy is a by-product of soybeans rather than crude oil which makes it much more eco-friendly. One of soy wax's downsides is that scent delivery can be particularly tricky when developing the fragrance which is why it's commonly blended with a touch of paraffin.
Coconut Wax
Made from harvested coconuts, coconut wax is a sustainable and renewable alternative to traditional waxes. Not only does it hold fragrance and color well, it also has a clean burn and produces less soot than paraffin wax. However, due to the high demand for coconuts in various industries, coconut wax can be pricier than some alternatives.
Wax Blends
Many candle makers use a combination of two or more types of wax to create a signature blend. Using two types of wax can help balance out the negatives of one type with the positives of the other. For example, adding a little paraffin to a soy wax-based candle can improve fragrance delivery.
Why LAFCO Uses Renewable Soy Wax
Founded by Jon Bresler in 1992, LAFCO (Luxury Articles and Fragrance Company), has always been committed to delivering high-quality home fragrance products.
Using only the purest essential oil-based fragrance, LAFCO has enjoyed over three decades of success in the industry. What sets LAFCO apart from our competitors is the commitment to quality, especially when it comes to our most popular products: candles.
All LAFCO candles are formulated to deliver a unique and luxurious fragrance experience. They are made using renewable solid soy wax to ensure a long-lasting and non-toxic burn. A touch of paraffin helps improve fragrance delivery and pure cotton wicks ensure a clean burn.
LAFCO chooses to work primarily with soy wax because it is both renewable and biodegradable. What's more, it is considered a carbon neutral resource and it doesn't emit VOCs. Combined with LAFCO's phthalate-free fragrances, soy wax creates a beautiful, long-burning candle that slowly and evenly disperses fragrance.
Discover 3 Customer Favorites from LAFCO
Ready to see the difference soy wax makes for yourself? Try one of LAFCO's most popular fragranced candles listed below.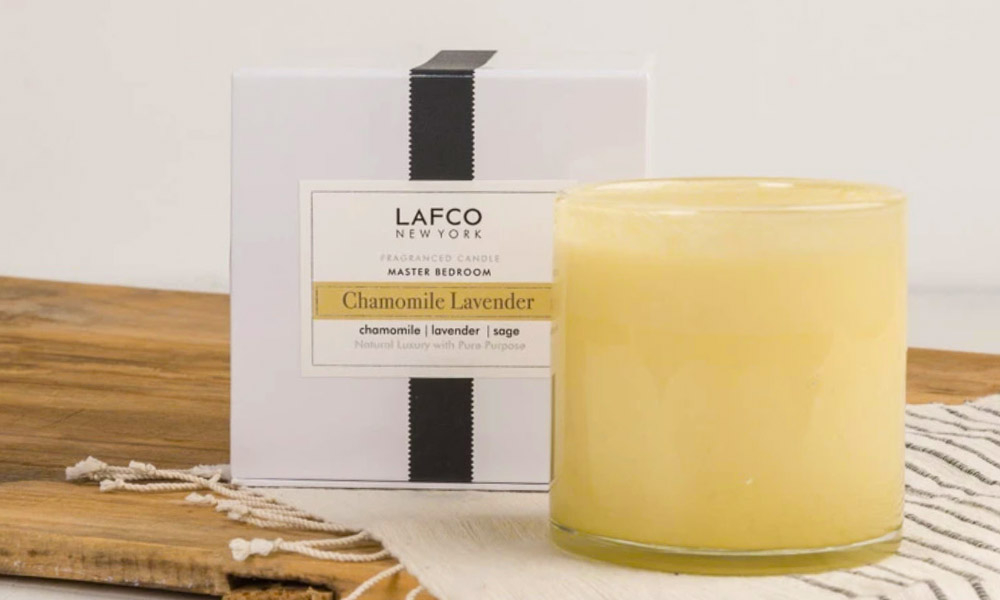 One of LAFCO's flagship fragrances, chamomile lavender harnesses the soothing scent of chamomile with herbal lavender and sage in a fragrance that calms and invokes a sense of well-being. Enjoy this candle in six sizes ranging from the 1.9-ounce votive to the large 86-ounce candle.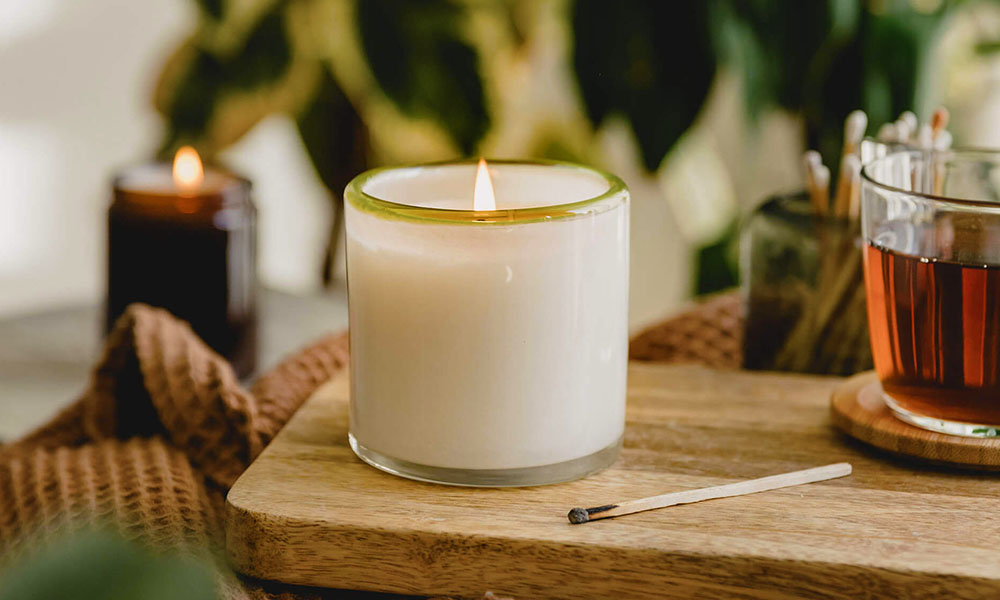 Another of LAFCO's earliest fragrances, Feu de Bois creates a warming ambiance with woody top notes of cedar, spruce, and pine blended with smoky leather accords, spicy patchouli, and warm vanilla. Enjoy this candle in six sizes ranging from the 1.9-ounce votive to the large 86-ounce candle.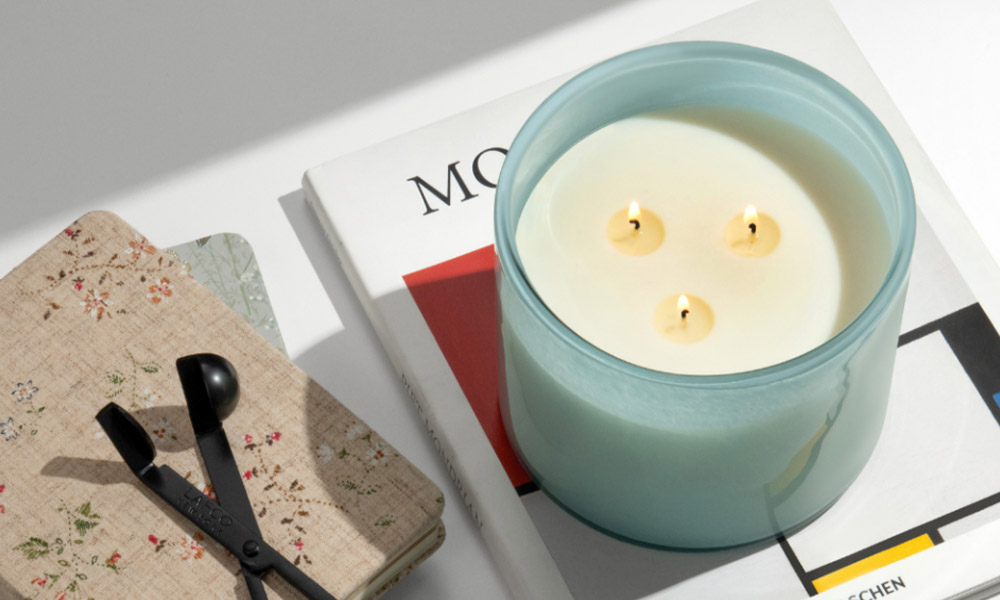 Fresh and clean, this fragrance combines bright notes of bergamot with sweet jasmine and watery marine accord. Perfect for the bathroom, this scent inspires imagery of a warm day spent by the sea. Enjoy this candle in four sizes ranging from the 4-ounce travel candle to the 30-ounce 3-wick candle.
Shop the entire LAFCO candle collection to find your next favorite fragrance. Explore the seven fragrance families or create a custom collection of sample scents with the Discovery Trio. LAFCO offers dozens of unique fragrances, all carefully curated and crafted from pure essential oil-based fragrance.
Create an ambiance in your home that is unique to you and your family by layering fragrances with LAFCO candles, reed diffusers, and room mists.