Vetiver, scientifically known as Chrysopogon zizanioides, is a perennial grass that belongs to the Poaceae family. It is typically found in wide clumps in tropical regions of Asia, growing up to 5 feet tall and just as wide. Despite its resemblance to other fragrant grasses like citronella, palmarosa, and lemongrass, vetiver is most closely related to sorghum.
While vetiver originated in India, it is now extensively cultivated in tropical regions around the world. Its cultivation serves various agricultural purposes, such as weed control and soil stabilization. The oil extracted from the roots of the vetiver plant is highly valued for its use in skincare, cosmetics, and aromatherapy. Known as khas or usheer, vetiver has been used in Ayurvedic medicine for centuries.
Due to its smoky and leathery scent, vetiver is frequently used in perfumery and other fragrant products marketed to men.
Here's what you need to know about what vetiver smells like as well as its complementary scents and where to find this fragrance in LAFCO products.
What Does It Smell Like?
The fragrance of vetiver evokes the image of dry grass uprooted on a warm day. Although it is commonly classified in the woody scent category, vetiver also possesses undertones of earthiness, leather, and smoke. While some individuals detect hints of citrus or soap, resembling the fragrance of lemongrass, others perceive a resinous aroma from vetiver.
Some terms used to describe the fragrance of vetiver include:
Earthy
Woody
Warm
Dry
Complex
Slightly citrusy
Sometimes leathery or smoky
Vetiver comes in several varieties, with some emitting a potent woody or astringent scent, almost akin to medicinal aroma. To counterbalance this attribute, many fragrances that use vetiver as a foundation incorporate lighter top notes of citrus or hints of sweetness or spiciness.
The fragrance of vetiver primarily comes from its essential oil extracted from the roots. Vetiver boasts a unique root system that grows vertically downwards instead of horizontally. The scent of vetiver is so intricate that there is no synthetic version—the aroma profile comprises over 100 distinct chemical components. Some of the main aromatic compounds include khusimone, vetivone, and patchoulol.
27 Complementary Fragrances
With its earthy, woody fragrance, vetiver pairs well with resinous notes as well as spicy and herbal fragrances. It also complements other masculine fragrances.
Vetiver blends well with the following fragrances:
Basil
Bergamot
Cedarwood
Citronella
Clary sage
Cypress
Frankincense
Geranium
Grapefruit
Helichrysum
Jasmine
Lavender
Lemon
Lemongrass
Mandarin
Marjoram
Myrrh
Nutmeg
Oakmoss
Orange
Palmarosa
Patchouli
Black pepper
Rose
Sandalwood
Turmeric
Ylang ylang
Though commonly described as a masculine fragrance, vetiver is one of the most popular scents in perfumery in general. This earthy scent lends a warming, sensuous feeling to aromatic applications and can deliver grounding and calming effects.
Enjoy Vetiver in 3 LAFCO Products
Typically used as a base note, vetiver essential oil can be used in a variety of fragranced products including candles and reed diffusers. Try these LAFCO products which feature the fragrance of vetiver: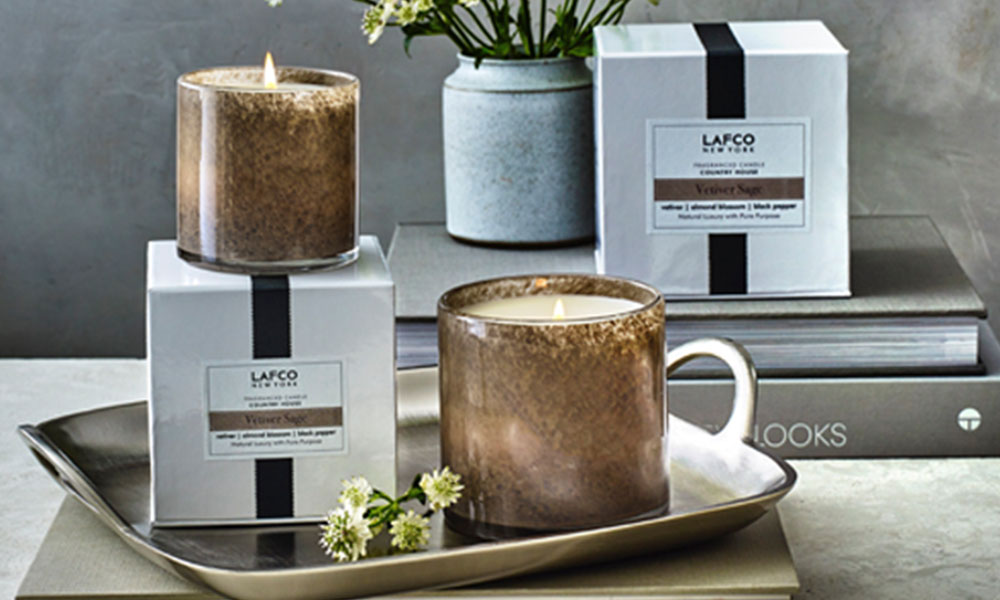 Earthy Hawaiian vetiver combines with warming amber, patchouli, and santal amyris to form the foundation of this fragrance. These scents are complemented by top notes of sage, white lavender, and black pepper which hover over a heart of orris, iris, chamomile, and clary sage.
This candle is presented in a neutral brown blown-glass vessel, available in the Classic 6.5-ounce and Signature 15.5-ounce sizes.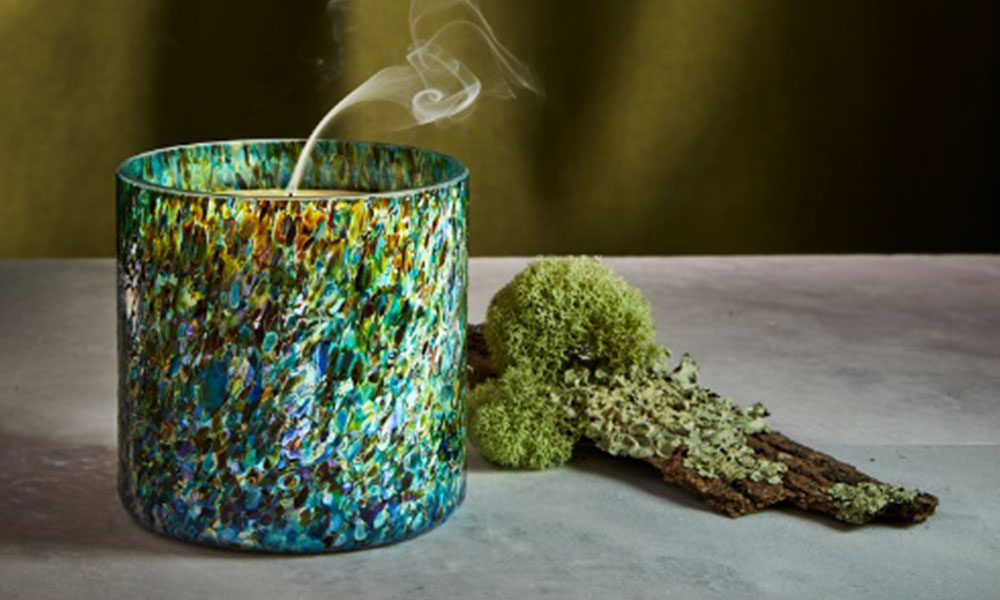 With a distinctive mossy fragrance at its core, this scent is sweetened with cognac and warmed with amber. It brings to mind the aroma and ambiance of a damp forest populated with towering oak trees.
Part of the Absolute Collection, this reed diffuser is presented in an artisanal glass vessel in mottled earth tones and comes with 15 ounces of fragrance oil.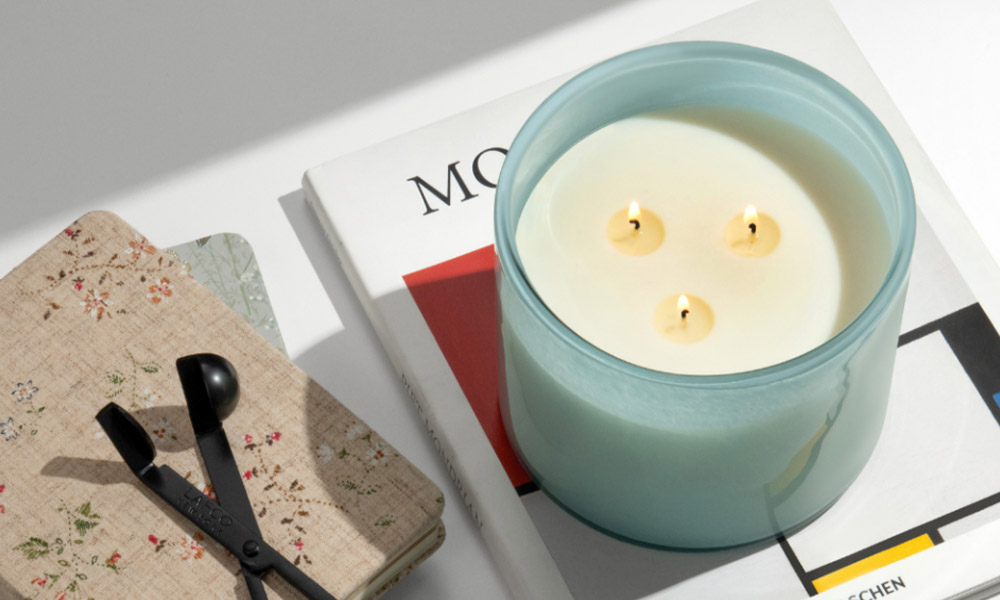 At once crisp and gentle, this fragrance harnesses the scent of a cool day spent on the sandy shores of the sea. Bright notes of bergamot, rhubarb, and clove give way to middle tones of marine accord and jasmine water lily before fading into a lasting impression of vetiver, cedar, and musk.
Enjoy this fresh fragrance in a variety of candle sizes ranging from the 4-ounce travel candle to the 30-ounce 3-wick candle. Marine is also available in reed diffusers and body care products.
Layer Fragrances with 3 Complementary Products
Vetiver has a complex scent that pairs well with a variety of other fragrances. By combining the scent of vetiver with other LAFCO products you can create a custom fragrance profile in your home that suits the specific ambiance you're trying to create.
The following LAFCO fragrances can be layered with any of the products above to complement the grounding, calming effects of vetiver:
Labdanum – Deep and distinctive, this warming fragrance features the rich aroma of labdanum paired with woody notes of oak and sycamore, balanced with hints of leather, moss, and amber.
Terra Cotta – Complement the woody, earthy scent of vetiver with Terra Cotta, a fragrance that combines the crispness of bergamot and geranium with the warmth of terra cotta and the gentle sweetness of jasmine and magnolia.
Retreat – Refill your Pura Smart Device with Retreat, a purifying fragrance that combines the earthiness of matcha with herbal notes of mint and spicy ginger.
Looking for more unique and complex fragrance options? Try the Absolute Collection. Presented in artisanal blown-glass vessels, this collection of candles and reed diffusers harnesses the power of highly concentrated fragrance oils called absolutes.
In addition to Oakmoss and Labdanum, the Absolute Collection features rich fragrances like Clary Sage, Rose de Mai, and Balsam Black Pepper.