Native to Southeast Asia, patchouli (Pogostemon cablin) is a flowering herb belonging to the mint family, Lamiaceae. It has been cultivated for use in perfumery for centuries, though more recently has come to be used in incense, insect repellants, and alternative medicine.
The patchouli plant is bushy and produces stems that grow up to 2.5 feet in height. It produces small, pale flowers but it is the leaves and stems that are used to extract patchouli essential oil. The oil is typically extracted by steam distillation. Though there are a number of varieties cultivated for this purpose, the most commonly used are Pogostemon cablin, P. heyneanus, and P. plectranthoides.
What makes patchouli so popular in perfumery is its opulent aroma. Here's what you need to know about what patchouli smells like, what scents complement it, and where you can find it in LAFCO products.
What Does It Smell Like?
Patchouli is a strong, woody fragrance but it can also be described as "musky". The essential oil of patchouli has an earthy element to it as well, and it has subtle sweet and spicy notes. This combination of characteristics makes it a rather exotic fragrance.
This essential oil is often used as a base in fragrance because the aroma is so strong. It doesn't have the fresh, cooling scent for which other members of the mint family are known. Rather, its sweet, spicy, and musky fragrance lends an air of sophistication and elegance to a blend.
The chemical patchoulol is largely responsible for the unique scent for which patchouli is known. Other significant chemical components of this essential oil include norpatchoulenol and germacrene-B. The latter of these is a type of sesquiterpene which imparts woodsy notes.
In aromatherapy applications, patchouli has anxiolytic or anxiety-reducing benefits. It may also help calm the mind and balance the emotions. It has been described as a grounding scent and has some history of use as an aphrodisiac.
24 Complementary Fragrances
With its earthy fragrance, patchouli pairs well with citrusy notes as well as lighter herbal fragrances. It also complements other woody fragrances.
Patchouli blends well with the following fragrances:
Bergamot
Black Pepper
Cedarwood
Chamomile
Cinnamon
Clary Sage
Clove
Coriander
Frankincense
Geranium
Ginger
Grapefruit
Jasmine
Lavender
Lemongrass
Mandarin
Myrrh
Neroli
Oakmoss
Opopanax
Orange
Rose
Sandalwood
Vetiver
Primarily used as a base note, patchouli complements floral and citrus top notes like jasmine, rose, bergamot, and orange. For rich, warming fragrances pair patchouli with woody scents like cedarwood and vetiver or sweet notes like vanilla.
Enjoy Patchouli in 4 LAFCO Products
While patchouli is a rich, complex fragrance it can be overpowering, so it is best used in combination with complementary scents. It's used as a base note in several LAFCO fragrances like Labdanum, Chamomile Lavender, and Big Sky.
Try these four LAFCO products which feature the fragrance of patchouli: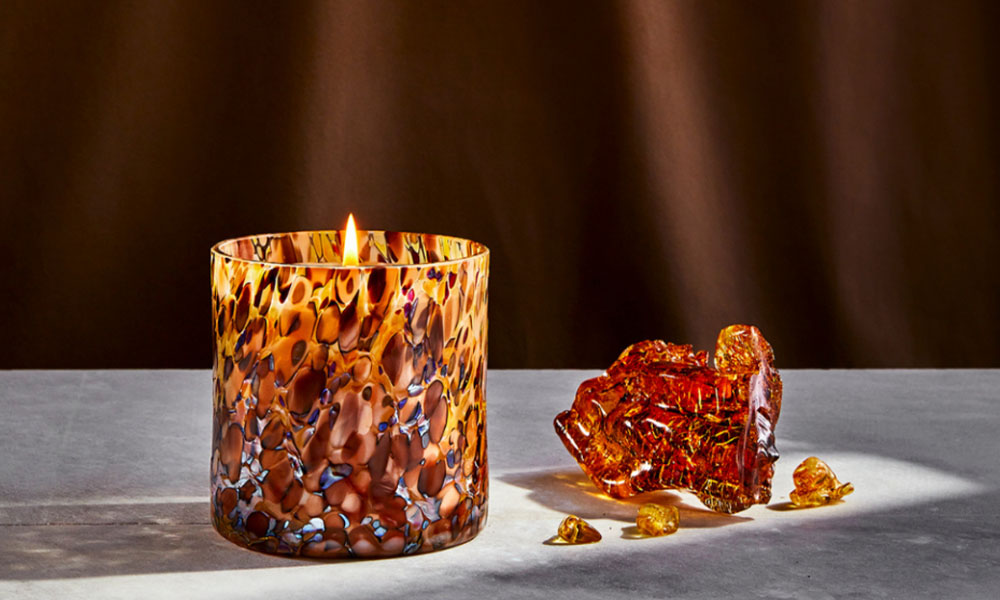 Part of the Absolute Collection, this fragrance is deep and richly distinctive. While labdanum absolute forms the foundation of this fragrance, woody notes of patchouli, oak, and sycamore make themselves known along with notes of leather, moss, and amber.
Enjoy this fragrance in the Signature 15.5-ounce scented candle, presented in a mottled yellow art glass vessel. Try layering fragrances by pairing Labdanum with other candles from the Absolute Collection like Forest Oakmoss and Clary Sage.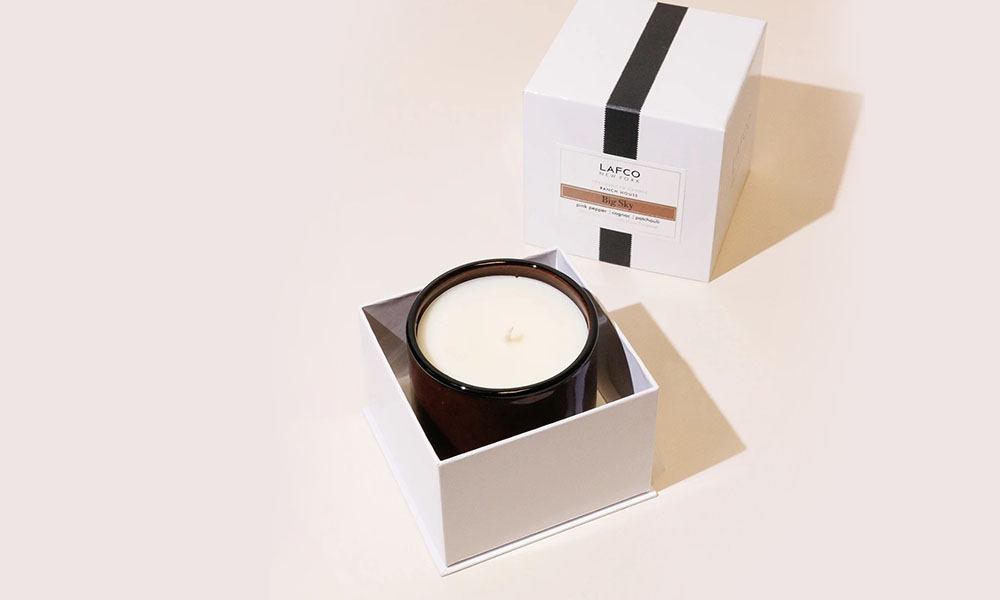 Pink pepper, cognac, and patchouli make up the heart of this warm and spicy fragrance. It presents with top notes of pink peppercorn, clove bud, nutmeg, and oud before settling into a soothing heart of ylang, cognac, and artemisia. Underneath it all awaits a final impression of sandalwood, patchouli, and amber.
Enjoy this fragrance in the Signature 15.5-ounce scented candle, presented in a warm brown glass vessel.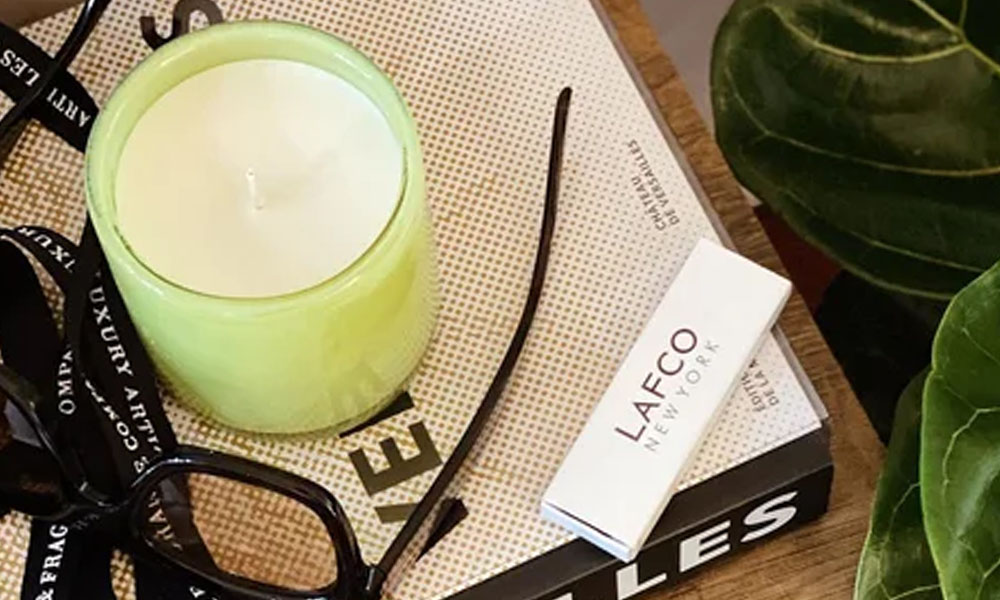 This bright and invigorating fragrance opens with an initial impression of juniper berry and garden sage before fading into a heart of eucalyptus and rosemary Morocco oil. Undertones of elemi oil and Indonesian patchouli deliver a warm lasting impression.
Enjoy this fragrance in the Signature 15-ounce reed diffuser, presented in a bright green art glass vessel. Rosemary Eucalyptus is also available in the Classic 6.5-ounce and Signature 15.5-ounce fragranced candles.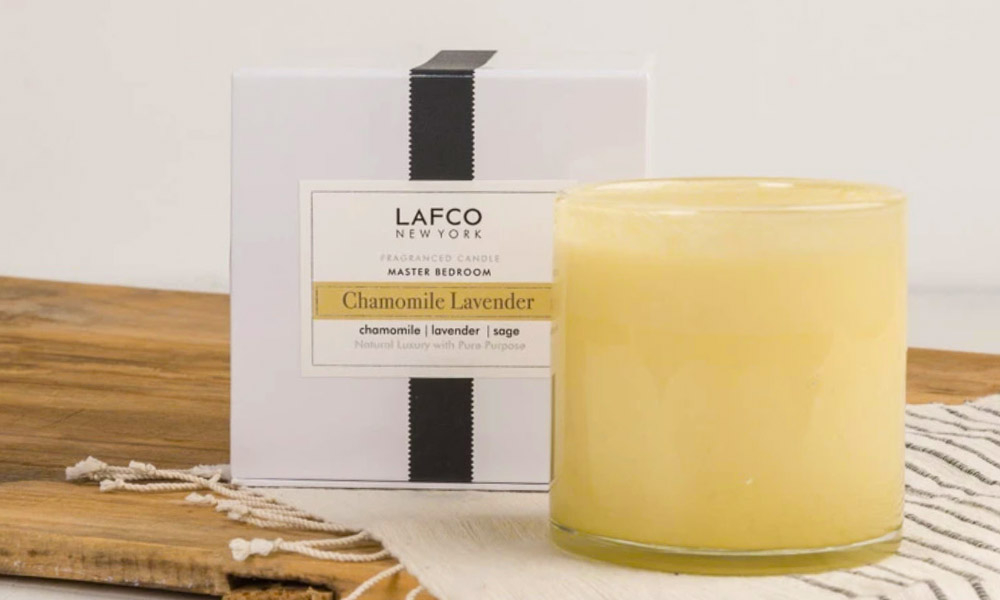 One of LAFCO's most popular fragrances, Chamomile Lavender features the fragrances of chamomile, lavender, and sage. Top notes of bergamot and chamomile welcome you as notes of lavender and eucalyptus make their way in. Base notes of rosemary, honey flower, and patchouli ground this calming fragrance.
Enjoy this fragrance in the Signature 15-ounce and Classic 6-ounce reed diffusers, both presented in a cream-colored artisanal glass vessel. Chamomile Lavender is also available in the Classic 6.5-ounce, Signature 15.5-ounce, and 30-ounce 3-wick fragranced candles.
Try using the LAFCO Fragrance Finder to pick a complementary fragrance for one of the products above or sample three of them with the LAFCO Discovery Trio.