Palo santo (Bursera graveolens) is a tree native to the dry tropical forests of Peru, Ecuador, and other parts of South America. It's known for its fragrant resin and is popular for use in perfumery, aromatherapy, and alternative medicine.
The name "palo santo" translates to "holy wood" in Spanish and refers to the practice of burning the tree's wood to clear bad energy. This practice is part of an Incan tradition used during spiritual ceremonies, similar to the Native American tradition of smudging with sage. Palo santo is thought to restore harmony and neutralize conflict and may even draw benevolence and sacredness into a space.
The three forms of palo santo most used are its wood, resin, and essential oil. The oil of palo santo is commonly used in perfumery and home fragrance. Here's what you need to know about what palo santo smells like, complementary scents, and where to find it in LAFCO fragranced products.
What Does It Smell Like?
Palo santo is a subtle, woody fragrance with hints of citrus and mint. To some, it has a slight licorice smell. Those who enjoy the licorice fragrance often find that the scent of palo santo invokes a sense of nostalgia, though some find the scent a little too potent.
The fragrance of palo santo can be described as:
Woody
Sweet
Subtle
Pine-like
Reminiscent of licorice
Tinged with citrus and mint
Historically, palo santo was used in a way similar to sage and the two scents are easy to confuse. By comparison, however, palo santo has a fresher, sweeter fragrance than sage. Its fragrance is thought to be purifying, balancing, and restorative.
The primary fragrance chemicals that give palo santo its signature scent are limonene and α-terpineol. Limonene is found in high concentrations in lemon, lime, and orange peels which may explain why palo santo has slight citrus fragrance. The α-terpineol gives it its sweet, woody scent.
22 Complementary Fragrances
With its sweet, woody fragrance, palo santo pairs well with earthy notes as well as herbal and spicy fragrances. It also complements other woody and resinous fragrances.
Palo Santo blends well with the following fragrances:
Birch bark
Black pepper
Cedarwood
Cinnamon
Clary sage
Cypress
Douglass fir
Frankincense
Grapefruit
Guaiac wood
Lavender
Lemon
Lemon balm
Matcha
Mint
Myrrh
Opopanax
Rose
Sandalwood
Spruce
Vanilla
Vetiver
Primarily used as a base note, palo santo complements citrus, herbal, and spicy top notes like bergamot, cinnamon, and mint. To create a rich, warm fragrance blend palo santo with other woody scents like cedarwood or spruce or with sweet notes of vanilla.
Enjoy Palo Santo in 2 LAFCO Products
The woody, sweet scent of palo santo makes a fragrant foundation for scented candles and reed diffuser oils. It's typically used as a base note in LAFCO fragrances including Woodland Spruce and Retreat.
Try these LAFCO products which feature the fragrance of palo santo…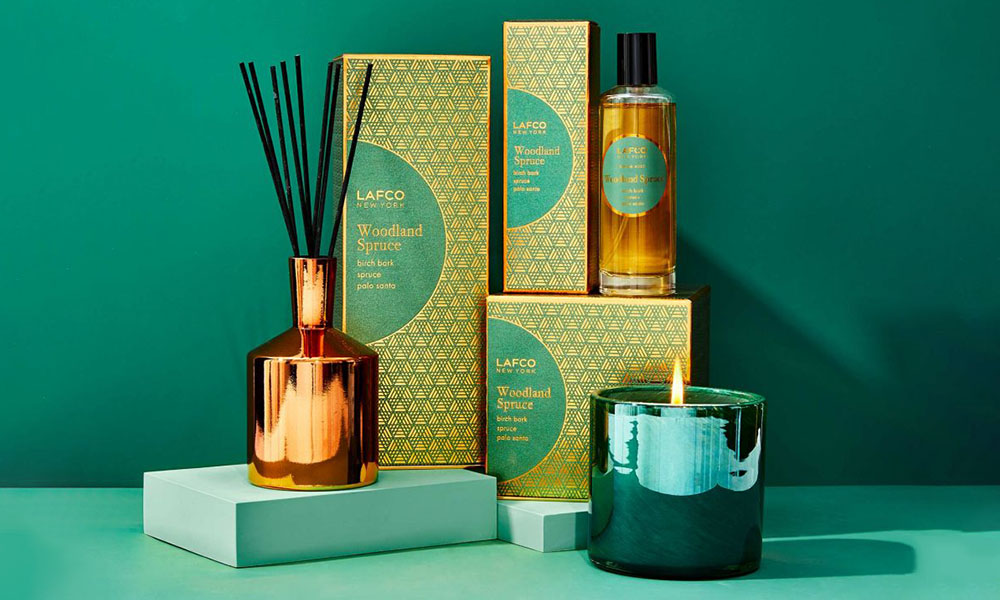 Presented in a deep green art glass vessel, this candle features the fragrance of palo santo paired with birch bark and spruce. Over a woody base of palo santo and cypress hovers a heart of fir balsam, birch leaf, and vanilla which is preceded by an initial impression of juniper, eucalyptus, and cinnamon.
Enjoy this fragrance in the Classic 6.5-ounce, Signature 15.5-ounce, or 3-wick 30-ounce candle. Woodland Spruce is also available in a 1.9-ounce votive, reed diffuser, room spray as well as a diffuser refill for the Pura Smart Device.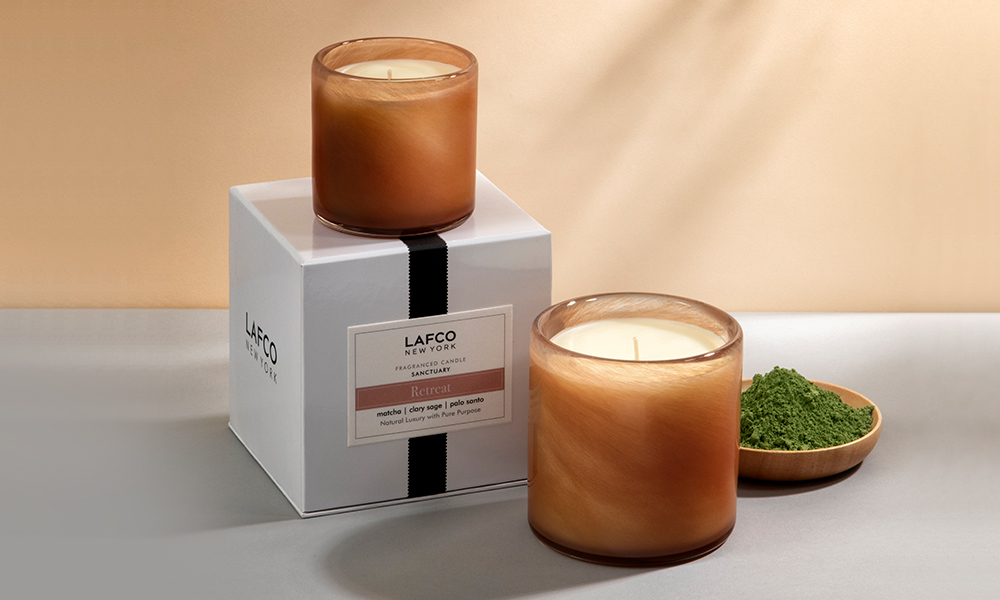 Winner of the 2021 Allure Best of Beauty Award, this fragrance is purifying and uplifting. Herbal notes of clary sage and earthy matcha combine with woody palo santo to create a blissful ambiance. Bright notes of bergamot and fresh mint form the initial impression before giving way to herbal, spicy, and woody notes.
Enjoy this fragrance in the Classic 6.5-ounce, Signature 15.5-ounce candles or the 1.9-ounce votive. Retreat is also available in a reed diffuser or Pura Smart Device diffuser refill as well as hand cream and liquid soap.
Layer Fragrances with 3 Complementary Products
Fragrance can have a significant impact on the atmosphere of your home. By layering fragrances using different scented products you can create a custom blend unique to your home.
The following LAFCO fragrances can be layered with either of the products featured above.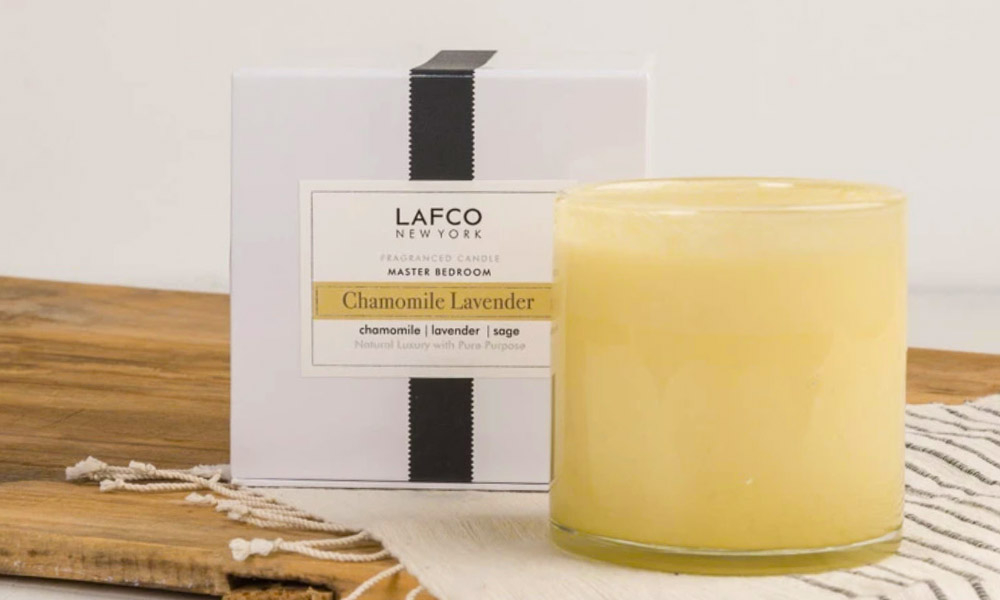 Complement the purifying powers of palo santo with calming Chamomile Lavender. Available in the Classic 6-ounce and Signature 15-ounce sizes, this reed diffuser harnesses the brightness of bergamot and balances it with herbal chamomile, rosemary, and lavender. A hint of patchouli gives the fragrance a warm, rich foundation.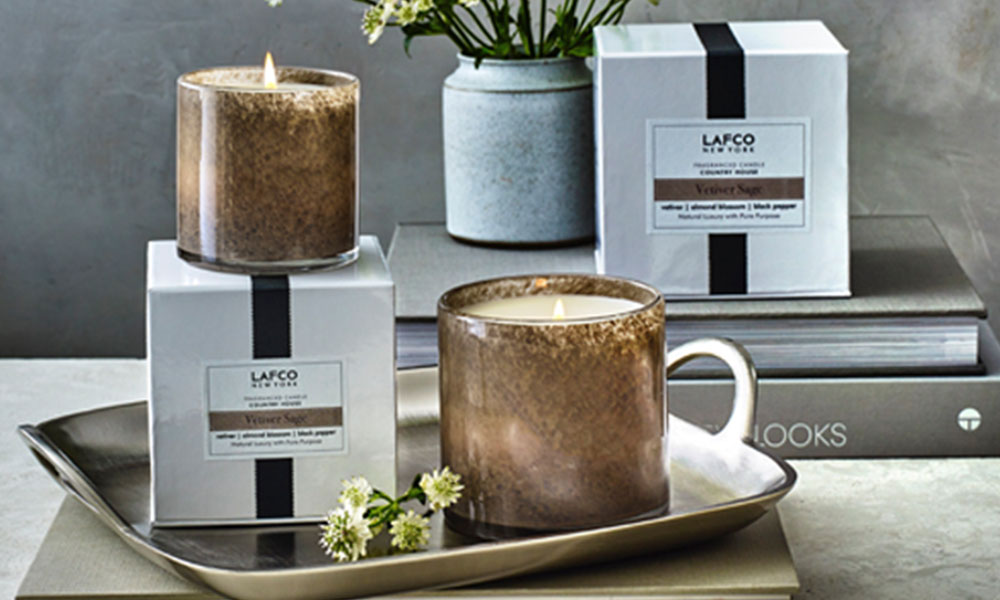 The fragrance of fresh sage is similar to that of palo santo which makes this scented candle an ideal pairing. Aromatic sage and lavender accented with hints of black pepper form the initial impression for this fragrance before giving way to a heart of orris, iris, chamomile, and sage clary. Undertones of santal amyris, vetiver, patchouli, and amber give the fragrance a deep richness.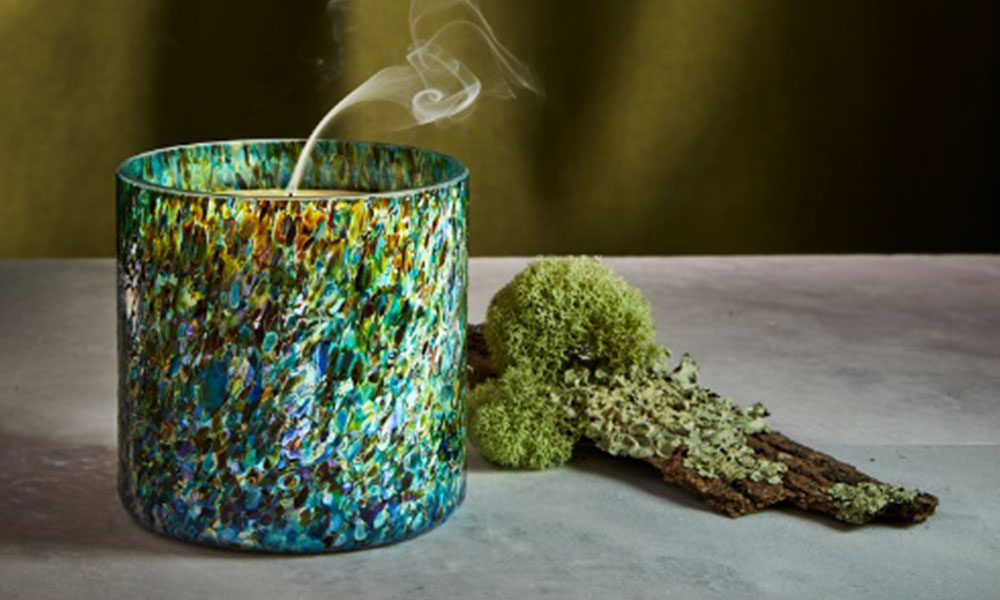 Part of the Absolute Collection, this fragrance features oakmoss absolute balanced with hints of opoponax and vetiver. This fragrance is available in a scented candle or reed diffuser, both presented in a beautifully marbled art glass vessel.
Once you've created the perfect fragrance for your home, you'll want to stock up. Try the Chill Out gift set which includes both a Retreat fragranced candle and a Chamomile Lavender reed diffuser. You could also pair a Woodland Spruce reed diffuser with a Retreat candle or create a burst of fragrance with Woodland Spruce room mist.
Looking for long-lasting fragrance that can be layered according to your preferences? Check out the Pura Smart Diffuser and purchase the Woodland Spruce and Retreat diffuser refills.