Neroli is the name given to the fragrance oil extracted from the delicate white blossoms produced by bitter orange trees. The bitter orange tree is an evergreen species widely cultivated in France for its fragrant blooms. Each spring, the blossoms are carefully hand-gathered and steam-distilled.
It takes approximately one ton of the small white flowers to produce just a quart of neroli oil. The painstaking process through which this oil is produced accounts for its high price tag. Though pricey, neroli oil is a light and versatile fragrance that is highly sought after for its unique aroma and therapeutic properties.
With its light, refreshing fragrance, neroli is prized in perfumery as a top note. Here's what you need to know about the scent of neroli and where you can find it in luxurious LAFCO products.
The History Of Neroli
The fragrance now known as neroli came into fashion in the late 17th century, largely due to the influence of Anne Marie Orsini, the Duchess of Bracciano and Princess of Nerola, Italy. She was enamored with the scent of the bitter orange tree's blossoms and used the extracted oil to perfume her bathwater and scent her gloves. Her use of the fragrance was so influential that it eventually took on the name 'neroli,' derived from her own title as the Princess of Nerola.
Over the years, neroli continued to grow in popularity and found its way into various applications beyond personal scenting. By the 18th and 19th centuries, it had become a staple in European perfumery, often used as a top note in many popular fragrances of the time.
In the 20th century, neroli began to be recognized for its therapeutic properties as well. It became a popular choice in aromatherapy for its calming and stress-reducing effects. The oil also found its way into skincare products, lauded for its ability to rejuvenate and heal the skin.
More recently, neroli has been rumored to be one of the top-secret ingredients in Coca-Cola, adding another layer of intrigue to its already rich history. While this claim has never been officially confirmed, it speaks to the enduring allure and versatility of this luxurious oil.
Today, neroli continues to be a prized ingredient in perfumes, skincare products, and even in some culinary applications, despite its high cost. Its rich history and multifaceted uses make it one of the most interesting and enduring fragrances in the world.
What Does It Smell Like?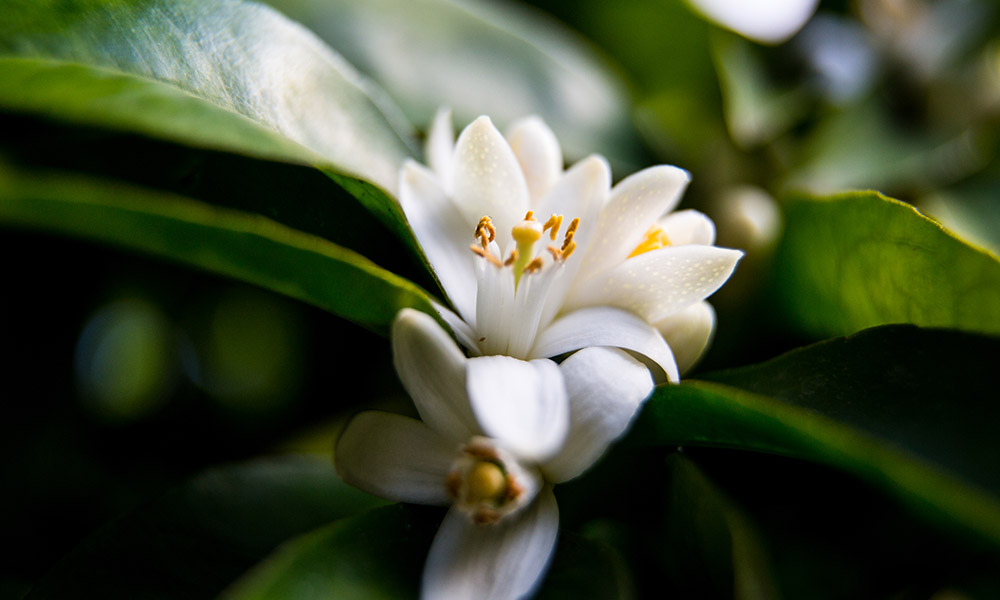 Neroli oil offers a balance of sweetness and floral fragrance that captivates the senses. Commonly used as a top note in perfumery, this oil has a unique ability to blend harmoniously with a variety of other light scents, including citrus and floral notes.
The initial impression is often one of refreshing brightness, which can be attributed to its subtle citrus undertones. As the scent unfolds, you'll notice a rich complexity that includes hints of honey and a touch of spice.
This layered aroma makes neroli oil a versatile choice for a wide range of fragrances, from fresh and invigorating daytime scents to more subdued and romantic evening blends. The scent is not just pleasing but also enduring, often lingering in a way that is noticeable yet never overpowering.
Some terms used to describe the fragrance of neroli include:
Sweet
Floral
Complex
Refreshing
Romantic
Honeyed floral
Citrusy
Slightly green
Slightly bitter
24 Complementary Fragrances
Neroli's unique scent profile makes it a versatile player in the world of fragrances. Its balance of sweet, floral, and citrus notes allows it to blend seamlessly with a variety of other scents, enhancing and elevating the overall aroma. Here are some fragrances that are commonly paired with neroli to create captivating blends:
Citrus Notes: Lemon, bergamot, and grapefruit are often used alongside neroli to amplify its natural citrus undertones. These combinations result in fresh and invigorating scents, perfect for daytime wear.
Floral Notes: Lavender, jasmine, and rose are excellent companions for neroli, adding depth and complexity to floral arrangements in perfumes. These blends are often described as romantic and are suitable for both daytime and evening occasions.
Woody Notes: Sandalwood, cedarwood, and vetiver can ground the lightness of neroli, creating a more subdued and sophisticated scent. These combinations are often found in unisex or masculine fragrances.
Spicy Notes: To add a bit of warmth and intrigue, neroli can be paired with spices like cardamom, clove, or cinnamon. These blends are often reserved for evening wear or special occasions.
Herbal Notes: Scents like basil, mint, and clary sage can add an aromatic green quality to neroli-based fragrances, making them more complex and multi-dimensional.
Gourmand Notes: For a sweeter profile, neroli can be blended with vanilla, chocolate, or even coffee notes. These combinations create a rich and indulgent aroma, often used in niche or luxury fragrances.
Enjoy Neroli in Two Popular LAFCO Products
Neroli is one of the most widely used floral fragrance oils in perfumery. It's a versatile top note that blends well with a range of fragrances. Savor the scent of neroli with the following LAFCO home fragrance products.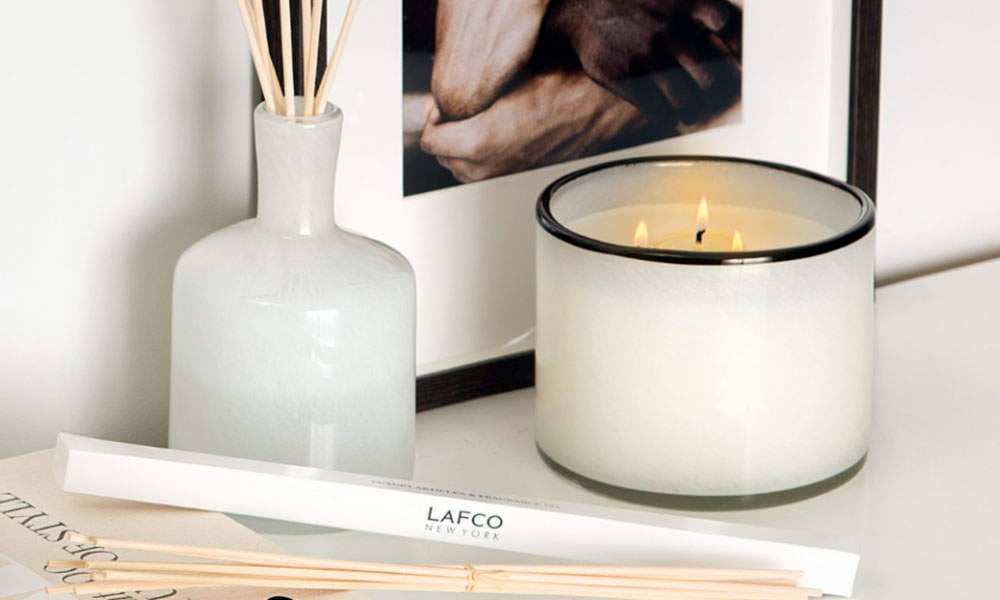 Fresh and effervescent, our Champagne candle captures the spirit of celebration. With top notes of mandarin zest and raspberry, the scent opens with a burst of fruity sweetness. The heart features invigorating grapefruit and neroli, adding a bright citrusy touch. Accents of spicy ginger add complexity, while floral rose and earthy vetiver bring a balanced finish.
Housed in a hand-blown glass vessel, each candle is a unique work of art. It is available in six sizes ranging from the 1.9-ounce votive up to a 86-ounce 4-wick candle.
Looking to start your holiday shopping early? Make someone on your gift list incredibly happy with the Champagne Holiday Hand Care Duo. This gift set includes a full-size bottle of liquid soap and luxurious hand cream, both in LAFCO's popular Champagne fragrance.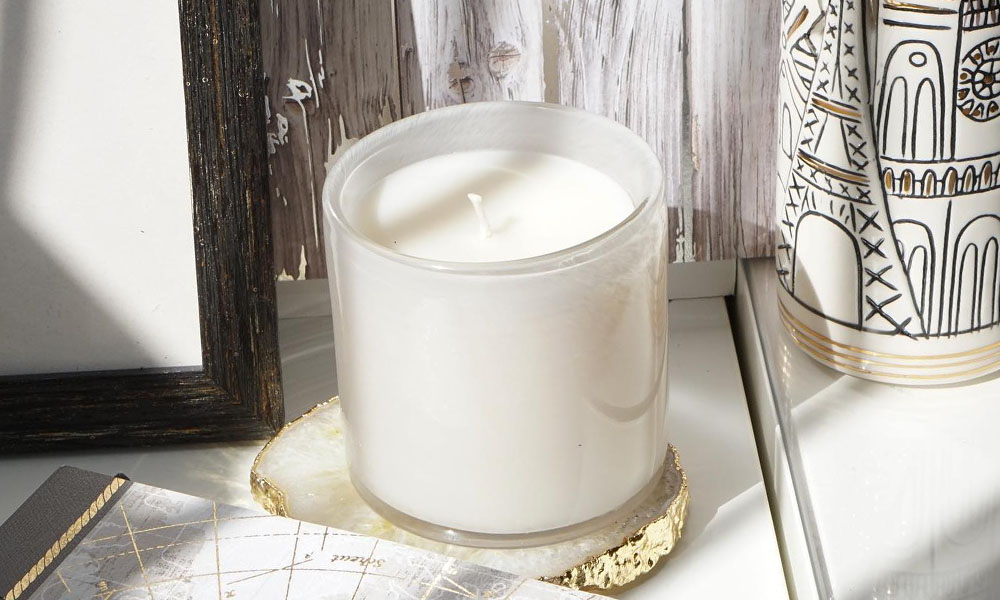 Indulge in the luxurious aroma of our Star Magnolia Signature reed diffuser, a 15-ounce offering that fills your space with an elegant floral blend. The fragrance opens with the opulent sweetness of magnolia, further enriched by the lush notes of jasmine and rose. To add a touch of brightness, citrusy accents of neroli and bergamot are seamlessly woven into the heart of the scent. The experience is rounded off with subtle undertones of orange flower, sheer amber, and bois de rose, creating a complex and layered aroma that captivates the senses.
This long-lasting diffuser comes in a beautifully designed handblown glass vessel in creamy white, adding an element of artistry to your home decor. The natural hand-cut reeds ensure up to 9 months of continuous, layered fragrance.
Layer Fragrances with 4 Complementary Scents
Create your own custom fragrance experience by combining neroli-based fragrance blends with other home fragrance products. The scent of neroli is just light enough to bring balance to warming fall and winter fragrances yet sweet enough to work with spring and summer blends.
The following LAFCO fragrances can be layered with the products above to complement the refreshing effects of neroli:
Watermint Agave: Both herbal and refreshing, this fragrance features top notes of blood orange, petitgrain, and mint oil balanced with the sweetness of fig and a heart of floral violet and water lily.
French Lilac: The scent opens with the powdery softness of French lilac, enhanced by the sweet and almondy nuances of heliotrope. A touch of intense, green hyacinth adds freshness, rounding out this lush and layered fragrance.
White Grapefruit: Sweet and citrusy with just a hint of fresh greens, this refreshing fragrance blend is presented in a beautiful yellow glass reed diffuser with hand-cut reeds.
Chamomile Lavender – One of LAFCO's most popular fragrances, this blend combines the soothing scents of chamomile and lavender with the sweetness of bergamot and herbal rosemary.
Looking for a long-lasting fragrance solution? Try the Pura Smart Device and enjoy the scent of neroli with a Champagne or Star Magnolia fragrance refill. This device allows you to set custom fragrance schedules and pairs to your phone, so you'll always return home to a burst of fresh fragrance.
Shop the entire Pura Smart Device collection here.