Verbena has a lemony scent, but it is lighter than the fragrance of pure lemon and has sweet, fruity undertones. Though widely known for its aromatherapy applications, verbena has a variety of medicinal and culinary uses as well. The essential oil extracted from verbena is valued for its antioxidant, anti-inflammatory, and anxiolytic properties.
Here's what you should know about verbena and where to find it in LAFCO products.
What is Verbena?
Also known as vervain or verveine, verbena is a genus of about 150 flowering plants belonging to the family Verbenaceae. Verbena is typically an herbaceous or semi-woody plant but may be annual or perennial depending on the species. Verbena produces small, five-petaled flowers in shades of blue, white, pink, or purple.
The majority of verbena species are native to North or South America and Asia, though common verbena (Verbena officinalis) is native to Europe. Some species are used ornamentally because they are drought-resistant and tolerant of partial to full sun. Verbena is also popular for use in butterfly gardens because it attracts hummingbirds and various butterflies including the pipevine swallowtail (Battus philenor) and the hummingbird hawk-moth (Macroglossum stellatarum).
Verbena has a long history of use in traditional medicine and herbalism, but it has also been associated with divine forces. In ancient Egypt, verbena was known as "tears of Isis" or "Hera's tears." In early Christianity, it was said that verbena was used to staunch Jesus' wounds – this is how it came to be called "holy herb" or "Devil's bane." In Wicca, vervain flowers signify the goddess Diana.
The Health Benefits of Verbena
Verbena essential oil is typically extracted from Verbena officinalis through steam distillation of the leaves and stems of the plant. This oil is yellow or green in color and has a fruity, citrusy scent. Many describe it as a "clean" scent which may be why it's popular for use in natural cleaning products.
Historically, verbena has been viewed as a healing plant. The Aztecs and numerous Native American tribes used the roots and flowers of the verbena plant as a diuretic and an herbal remedy for headaches, insomnia, and circulatory problems. Verbena has natural anti-inflammatory, antibacterial, astringent, and antispasmodic effects.
Here are some of the potential benefits of verbena:
Its antioxidant properties may help relieve inflammation and protect against oxidative stress.
When consumed as tea, verbena may help dieters lose more weight and burn more fat.
It may help decrease damage done to the muscles during intense exercise.
Verbena may have a calming effect which could ease symptoms of anxiety or chronic stress.
It may help promote the development of new blood vessels in the brain.
Its antibiotic benefits may help protect against antibiotic-resistant bacteria and fungi.
Verbena may help reduce gum inflammation and protect gum health.
It may have cardiovascular benefits such as reducing damage caused by reduced blood flow.
The most common medicinal application for verbena is in tea but the essential oil can be used in aromatherapy to relieve anxiety and depression or applied topically to speed wound healing.
How to Enjoy Verbena Fragrance at Home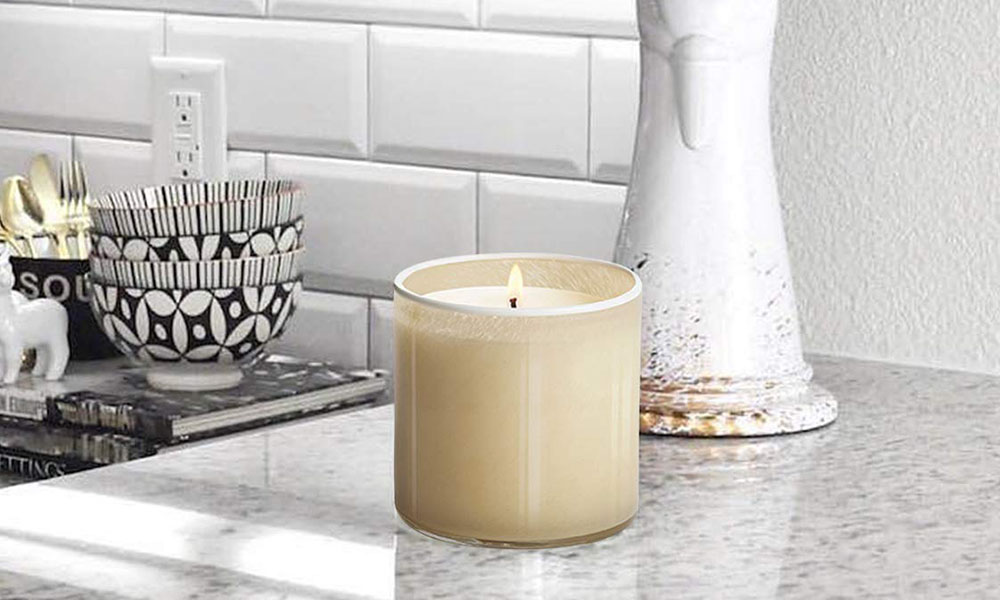 While verbena is a component in several LAFCO fragrances, it is best represented in the Lemon Verbena scented candle. This candle is crafted from renewable soy wax and concentrated essential oil-based fragrance with a 100% cotton wick.
This citrusy fragrance presents with top notes of verbena, lemongrass, nashi pear, and salt flower. As these scents fade, notes of jasmine, white gardenia, tarragon, and clove peek through before fading into a lasting impression of white musk and Hawaiian sandalwood.
Enjoy this lemon verbena fragrance in the 15.5-ounce Signature scented candle. The candle is contained in a frosted cream-colored, hand blown glass vessel.
If you're looking for complementary fragrances that pair well with vetiver, consider other citrus fragrances as well as fruity and floral fragrances. Orange, bergamot, patchouli, lavender, and sandalwood essential oils pair particularly well with verbena.
The following LAFCO fragrances pair well with verbena:
Enjoy pure essential oil-based fragrance with LAFCO scented candles. Browse the selection of over 30 different scents or use our Fragrance Finder to discover your new favorite.