A candle is a candle, or so you may think. All you have to do is walk into a bed and bath store, however, to find that nothing could be further from the truth. Not only do candles come in all shapes and sizes, but they are made from a variety of different materials with an endless array of fragrances.
Though one candle might look like any other, all candles are not created equal. Here's what you need to know about the different types of candles and a preview of some LAFCO fragrances you should explore.
What Are the Different Types of Candles?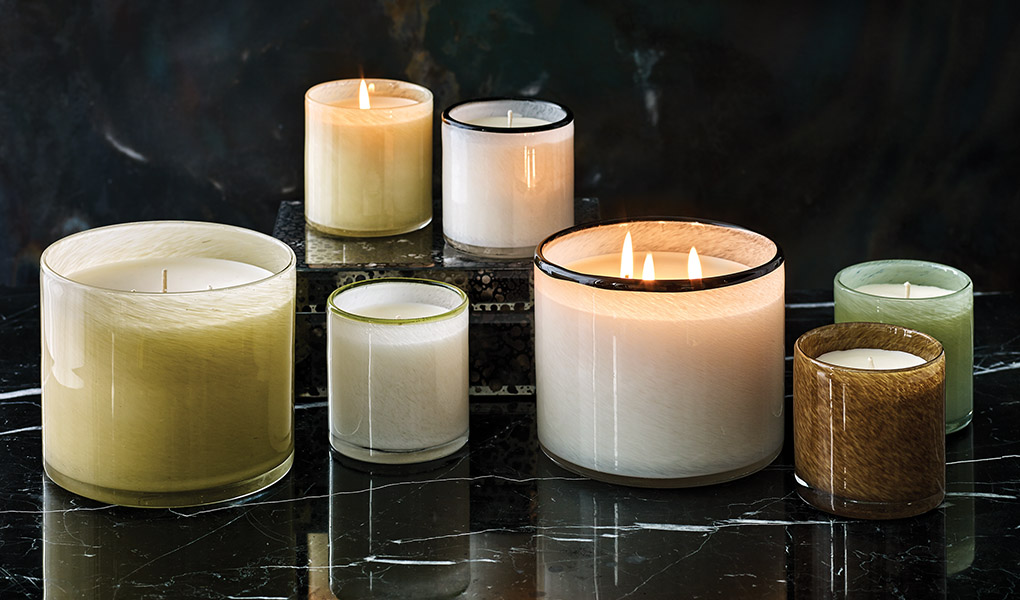 Few decorations work as hard as a candle. In addition to acting as a versatile element of home décor, candles also provide light and, in many cases, fragrance. The beauty of candles is that they come in a wide range of shapes and sizes as well as colors, scents, and designs.
Here's an overview of some of the most popular types of candles:
Molded Candles – One of the most basic candle types, molded candles are poured into molds of various shape then removed from the mold once the wax has hardened.
Poured Candles – A poured candle consists simply of melted wax poured over a wick in a container. Poured candles are particularly suitable for added fragrance.
Tea Lights – These are very small candles poured into metal or glass cups. Often used for ambient lighting, tea lights can also be used under plate warmers and chafing dishes.
Votives – Often placed in glass containers, votives are small molded candles with an average burn time of 10 to 15 hours, depending on the materials used to make the candle.
Pillar Candles – Typically round or square in shape, pillar candles are long and sturdy. These candles come in various heights with one or more wicks and often offer long burn times.
Taper Candles – Often used in candle holders, taper candles vary in length and typically have rounded points where the wick burns to produce light. They are often made with beeswax.
Carved Candles – These candles are made by dipping a pillar or taper candle in liquid wax to create layers. While the wax is hot, the candle is carved to mold and shape the wax.
By now it should be clear that candles come in all shapes and sizes. The type of candle you choose should be determined by your preferences and by the desired application. If you're simply looking for a scented candle to add some fragrance and complement your décor, consider LAFCO fragranced candles. Hand-poured in handblown art glass vessels, LAFCO candles come in dozens of different fragrances.
What to Look for in a Scented Candle
Home décor involves more than choosing a color scheme. From the color on the walls to simpler elements like furniture and artwork down to the simplest knickknacks, it all comes together to create ambience. If you want to take your home décor up a notch, consider adding a scented candle or two.
Here are some factors to consider when shopping for candles:
Size and Shape – The size and shape of the candle should be determined by the desired application. Smaller candles like votives and tea lights are ideal for ambient light while pillars and tapers add an element of décor in addition to providing brighter light.
Materials – Most candles are made from some kind of wax, but the type of wax plays a role in how quickly and how cleanly it burns. Inexpensive candles are often made from paraffin wax, but high-quality candles are made from premium materials like soy wax (as are LAFCO candles) and beeswax.
Wick Type – The type of wick determines how well the candle burns and how much care it requires. Cotton wicks burn cleaner and slower than woven and wire wicks.
Fragrance – Scented candles are great for creating ambience but beware the difference between synthetic and natural fragrance. Natural, essential oil-based fragrances provide a clean and long-lasting fragrance compared to synthetic fragrances.
The quality of a candle really comes down to the materials with which it is made. If you're looking for a candle that offers a clean, non-toxic burn and a wide variety of fragrances, nothing beats a LAFCO scented candle.
Try These Popular LAFCO Fragrances
Every LAFCO fragranced candle is made with solid soy wax and a 100% cotton wick. Our candles are scented with essential oil-based fragrances, nothing artificial, and come in a variety of sizes ranging from our 4-ounce travel candle to the large 30-ounce three-wick candle. LAFCO candles are presented in handblown art glass vessels designed to enhance your home décor and add an element of luxury.
Enjoy these popular LAFCO fragrances at home:
If you can't decide which fragrance to try, you don't have to! Choose from 30 unique fragrances to build your very own Discovery Trio sample set. For just $16 you can test three LAFCO fragrances and save $16 off your next full-sized purchase. Don't forget to check out our Fall and holiday limited editions like Spiced Pomander, Winter Currant, and Frosted Pine.