We all have favorite holiday traditions. For some, it's gathering up the family to hunt for the perfect Christmas tree the morning after Thanksgiving. For others, it's frying up a batch of potato latkes or reciting traditional Hanukkah prayers while lighting the menorah. You may even have a few holiday traditions you don't remember the origins of, but they still warm your heart each and every year.
Though the holidays may be yet a few weeks away, the start of fall signals a shift toward cooler days and darker nights. As cold as it may get outside, however, you'll always be warm in your heart as you think fondly of holiday seasons past and look forward to what the future holds.
Whether you're celebrating the holidays in-person this year or sending love from afar, get yourself into the holiday spirit with our newest fall fragrance. Our new Spiced Pomander candle will bring light to your hearth and a burst of warm holiday fragrance into your home.
What Are the Ingredients?
The word pomander comes from the French pomme de'ambre meaning "apple of amber." It's the name given to mixtures of fragrant dried herbs carried in round cases in the late Middle Ages through the 17th century to ward off illness and cover unpleasant odors. Some view it as an early form of aromatherapy.
During the Renaissance, pomanders were made by dissolving a ground mixture of benzoin resin, calamite, labdanum, and balsam in rose water and rolling it into an apple shape. It was then coated with a mixture of powdered cinnamon, sweet sanders and cloves. The tradition evolved into the pouncet box during the late 16th century and has simplified into the modern pomander made by studding an orange or other fruit with whole dried cloves and letting it cure.
Our newest fall fragrance, Spiced Pomander, represents a modern twist on this holiday tradition. Top notes of bitter orange and clove settle into the warmth of cinnamon bark and frankincense, fading away to lasting hints of vanilla, honey, and musk. Available in our unique solid soy wax candle made with essential oil-based fragrances and a 100% cotton wick, this fragrance is one you won't want to miss.
Where Should You Use It?
Though you may not be opening your home to as many friends and family this year as you have in years past, there's still plenty to love about the holiday season. As you simmer a batch of spiced apple cider or bake up a fresh pumpkin pie, breathe in the fragrance of fall with a Spiced Pomander candle.
Here are some of the best ways to enjoy Spiced Pomander in your home this fall:
Kitchen – Keep a 5 ounce Signature Spice Pomander candle on the windowsill or near the stove in your kitchen. Light the candle as you clean up after dinner to cover lingering food odor and to get your mind in a relaxing mood for the rest of the evening.
Family Room – Keep a 5 ounce Signature Spice Pomander candle lit on the mantle in the family room or living room to fill the room with fall fragrance. With its beautiful burnt orange glass vessel, this candle pairs well with fall décor or stands as a work of art all on its own.
Powder Room – Set a Spiced Pomander votive in a small decorative dish in the powder room or guest bath to scent the air with a hint of holiday cheer. You can even do without the dish, letting the golden glass vessel stand alone as a subtle element of holiday décor.
The holidays are about spending time with the ones you love. If you're not able to share the season with those closest to your heart, spread some holiday cheer by giving the gift of fragrance. A Spiced Pomander candle is sure to brighten anyone's day – you don't need to wait for the holidays to show your love and appreciation for the people who matter most.
What Can You Pair It With?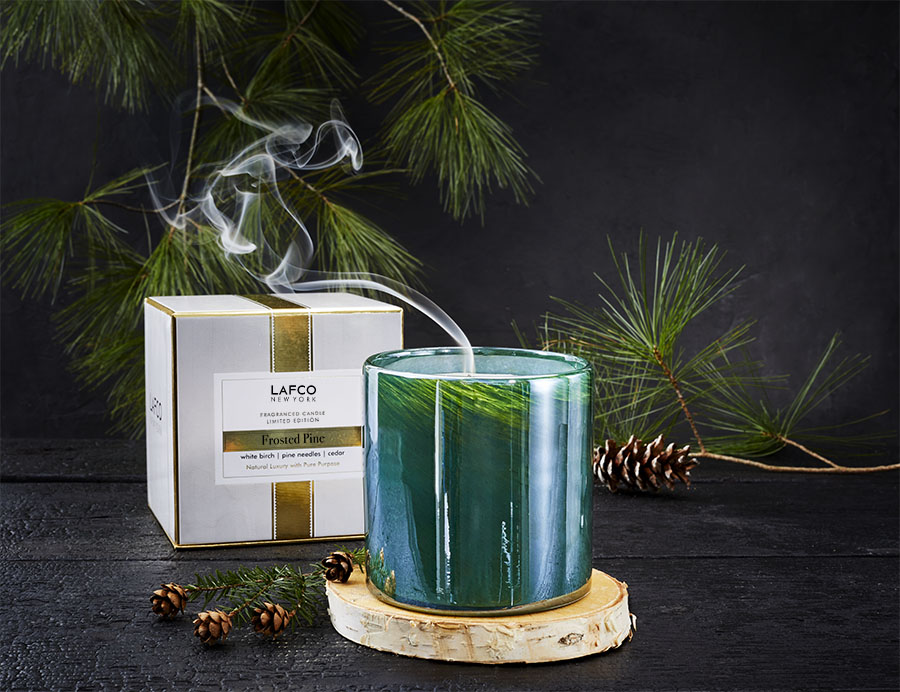 The only thing better than breathing in the autumn-inspired scent of Spiced Pomander in your kitchen or foyer is enjoying it alongside complementary fragrances throughout the home. Whether you want to heighten the holiday mood or hide from the winter wind, these fragrances are the perfect pick.
The following fragrances may pair well with Spiced Pomander throughout different rooms in your home:
Frosted Pine – Presented in a golden glass vessel with hand-cut reeds, this festive fragrance is inspired by the snowy forests of winter. The scent of freshly fallen pine needles mingles with hints of white birch and smoky cedar, perfectly capture the essence of the holiday season.
Winter Currant – Brighten up even the coldest day with this sparkling scent that combines the sweetness of heliotrope and red currant with hints of mandarin nectar. Available in two sizes including our 1.9-ounce votive and 6.5-ounce Classic candle.
White Maple Bourbon – Indulge in the soothing fragrance of smooth bourbon, white maple wood, and vanilla bean in this 30-ounce three-wick candle. Each breath will remind you of quiet evenings spent curled up next to the fire, safe from the chill winter air.
Enjoy the fragrance of fall with our newest scent Spiced Pomander, available in votives as well as our Signature 15.5-ounce size. This fragrance puts a modern twist on traditional holiday fragrance you're sure to love, so stock up now so you can enjoy it throughout the season.