The dog days of summer may be lingering but there's hope on the horizon. As the summer heat burns off, cooler fall temperatures will take their place. If you're struggling in the meantime, LAFCO's Limited-Edition Collection of fall fragrances might be just what you need.
Enjoy classic LAFCO fall fragrances like Spiced Pomander and Birchwood Molasses, both available in scented candles and Pura Smart Diffuser refills. Hot as it may be outside, your home can be a refreshing respite. Crank up the air conditioning and light a Spiced Pomander candle. Before long, you'll be ready to pull on your favorite flannel and cuddle up on the couch with a mug of hot cocoa.
To help you capitalize on those cozy fall feelings, we've created a delicious recipe that pays homage to the fragrance notes that make Spiced Pomander so perfectly autumnal. Learn more about the LAFCO Limited-Edition Fall Collection and the Spiced Pomander-inspired recipe below.
Spiced Pomander: A Classic Fall Fragrance Reimagined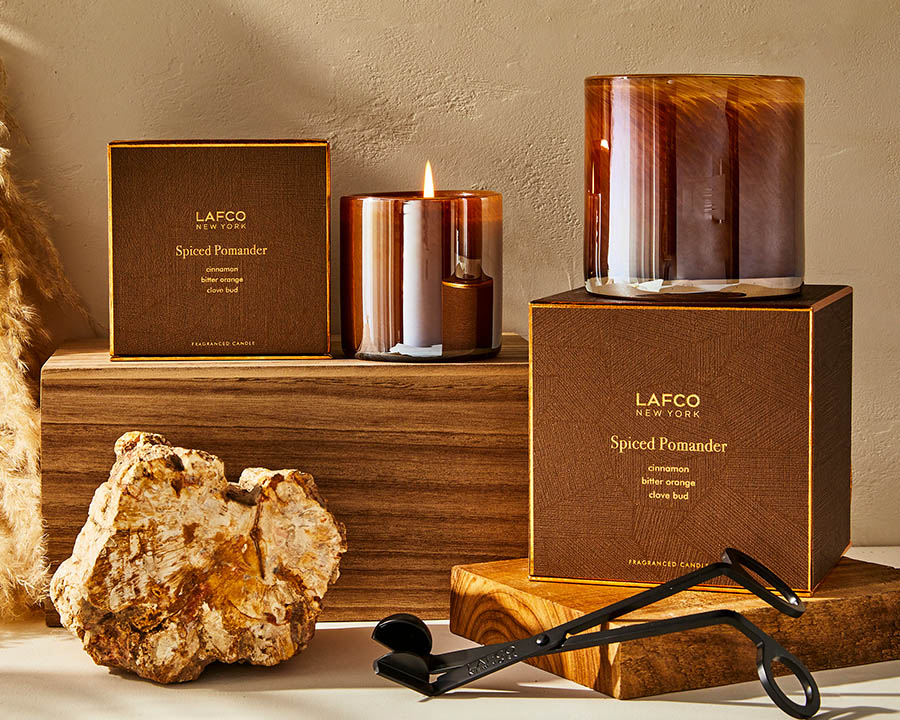 Warm notes of cove bud and fresh cinnamon paired with bright bitter orange herald the fast-approaching holiday season. Even if you're not quite ready to say goodbye to summer, the warm glow from a Spiced Pomander candle will settle your spirit in preparation for Fall's arrival.
This candle is beautifully presented in a caramel-colored handblown glass vessel. Sustainably sourced solid soy wax and a 100% cotton wick ensure a clean, long-lasting burn while essential oil-based fragrance delivers a luxurious olfactory experience. Enjoy the Spiced Pomander candle in LAFCO's two most popular sizes: the 6.5-ounce Classic and the 15.5-ounce Signature.
Bright bitter orange, sweet orange blossom, and spicy ginger form the fragrance's initial impression. After a few moments, warm notes of cinnamon, nutmeg, and clove make themselves known, blended with subtle hints of lush apricot. Rich notes of amber, sandalwood, and musk have a grounding effect, giving the fragrance depth and balance.
Indulge in an Exquisite Dessert Inspired by the Fragrance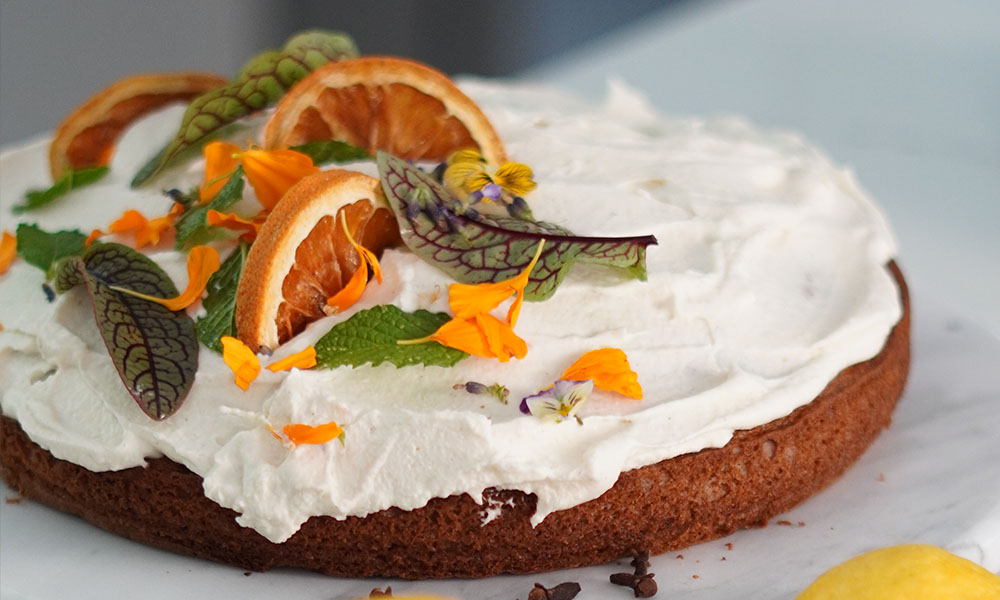 Enjoy a true multi-sensory experience with this delicious recipe developed by Emmanuel Baiden (@mannyeats_ on Instagram), inspired by LAFCO's classic fall fragrance. Moist cake infused with bitter orange, cinnamon, and clove reflects the aromatic warmth of Spiced Pomander. The zesty citrus and rich spices harmonize beautifully with a generous layer of sweet, whipped cream and a drizzle of olive oil.
Citrus Olive Oil Cake with Salted Cinnamon Whipped Cream
Cake Ingredients:
1 cup granulated sugar
2 tablespoons fresh orange zest
1 teaspoon ground cinnamon
½ teaspoon ground clove
2 large eggs
2 teaspoons vanilla extract
¾ cup extra-virgin olive oil
½ cup full-fat buttermilk
1/3 cup fresh-squeezed orange juice
2 cups all-purpose flour
2 teaspoons baking powder
1 teaspoon baking soda
Pinch of salt
Whipped Cream Ingredients:
2 cups heavy whipping cream
1/3 cup powdered sugar
½ teaspoon ground cinnamon
Pinch of salt
Instructions:
Preheat the oven to 350°F (175°C).
Grease a 9-inch round cake pan and line the bottom with parchment.
In a large bowl, combine the sugar, orange zest, ground cinnamon, and ground clove.
Whisk in the eggs and vanilla extract until well combined.
While whisking, drizzle in the buttermilk, orange juice, and olive oil until well combined.
In the bowl of a stand mixer, combine the flour, baking soda, baking powder, and a pinch of salt.
With the mixer running on low speed, slowly add the wet ingredients until just combined.
Spoon the batter into the prepared pan and transfer to the oven.
Bake on the middle rack for 30 minutes or until the edges are golden brown.
Cool the cake for 15 minutes in the pan then turn it out onto a wire rack to cool completely.
In a clean bowl, combine the whipped cream ingredients.
Whisk the mixture on medium speed until stiff peaks form then chill until ready to use.
Transfer the cooled cake to a serving platter and top with whipped cream.
Garnish with fresh mint and edible flowers, if desired, and serve with a drizzle of olive oil.
Enjoy a warm slice of this cake with a cup of herbal tea and dial up the fall-inspired ambiance by lighting a fragranced candle from LAFCO's Limited-Edition Fall Collection. Savor the harmony of citrus and spices as the soft flickering flame fills your home with gentle fall fragrance.