Your living room is where you go to relax after a long day at work or where you spend time playing with the kids on the weekend. There are no rules when it comes to designing this space, because it's all about what you and your family need. That being said, if your living room is on the small side, you may have a bit of a challenge ahead of you. Don't worry though, there are plenty of options!
A small living room may not be ideal for entertaining large groups, but you can still work with what you have to create a warm and inviting environment. With the right furniture and some creative design elements, you can make your small living room into a perfectly lovely and livable space. Read on to see some helpful design tips that may spark some inspiration.
Simple Ways to Decorate a Small Living Room
If your living room is small, you need to get creative to maximize your use of the space. With a little creativity and some clever planning, you can turn your small living room into a space the entire family will enjoy. Here are some simple ideas to consider:
1. Use a neutral color scheme.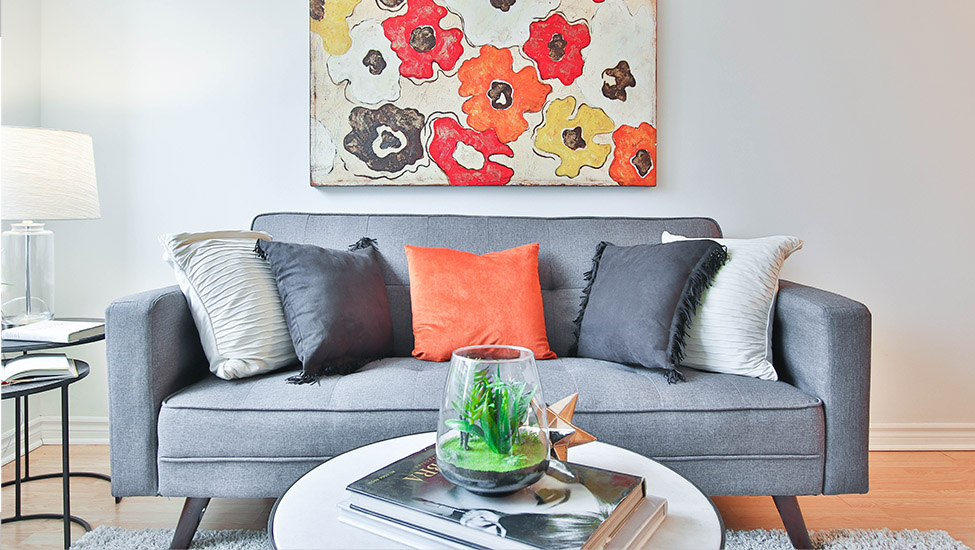 An accent wall is great, but the wrong color can make your living room appear smaller than it actually is. Go with a nice white or light gray color to give your living room a stylish, modern feel. Light colors will make your living room seem brighter and larger, so use throw pillows or wall art to add a splash of color without going overboard.
2. Get creative with different textiles.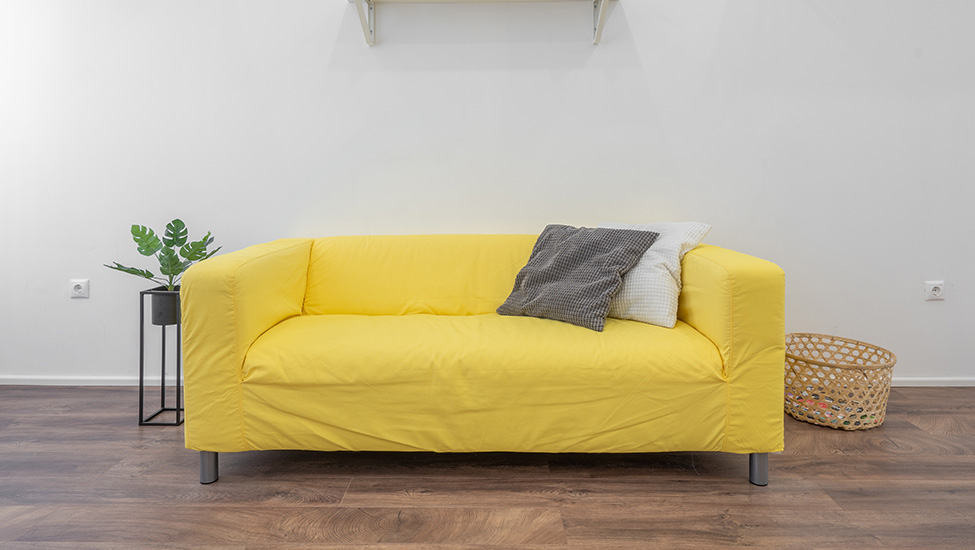 Just because you don't have a lot of space to work with doesn't mean you have to limit yourself on the design. Use fabric elements like a handmade throw pillow, a woven rug, or a macramé wall hanging to add character to your small space. These décor elements will give your living room a nice "boho" feel.
3. Use fragrance to create ambiance.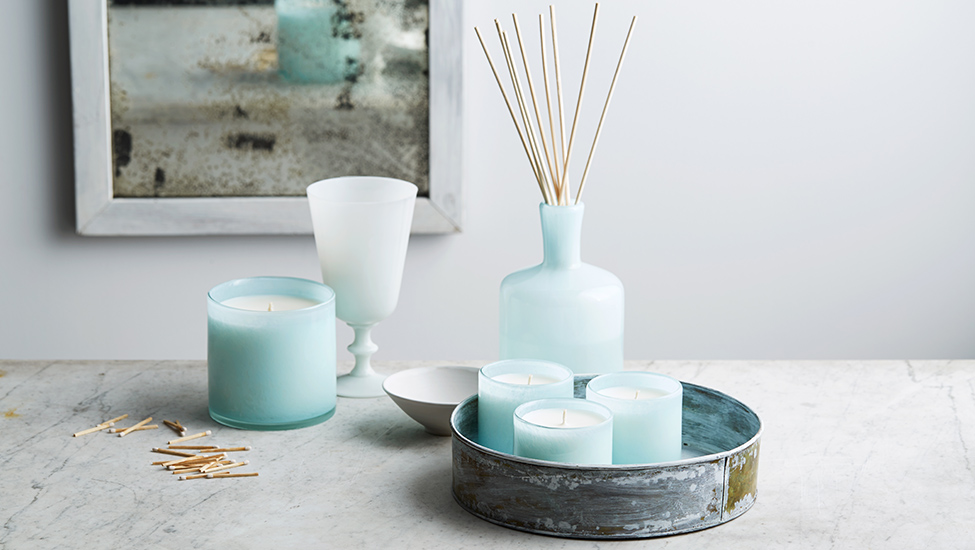 Home is more than just a location – it's also a feeling. The right fragrance can make a world of difference in bringing together your living room. Using LAFCO New York fragranced candles, room mist, and reed diffusers you can create the perfect ambiance in your living room. A fragranced candle is perfect for small spaces or a reed diffuser can deliver subtle, long-lasting fragrance for months on end. Both also add an air of elegance with their artfully crafted handblown glass vessels. Or, if you need a quick spritz of fragrance, try LAFCO room mist.
4. Be smart with your space.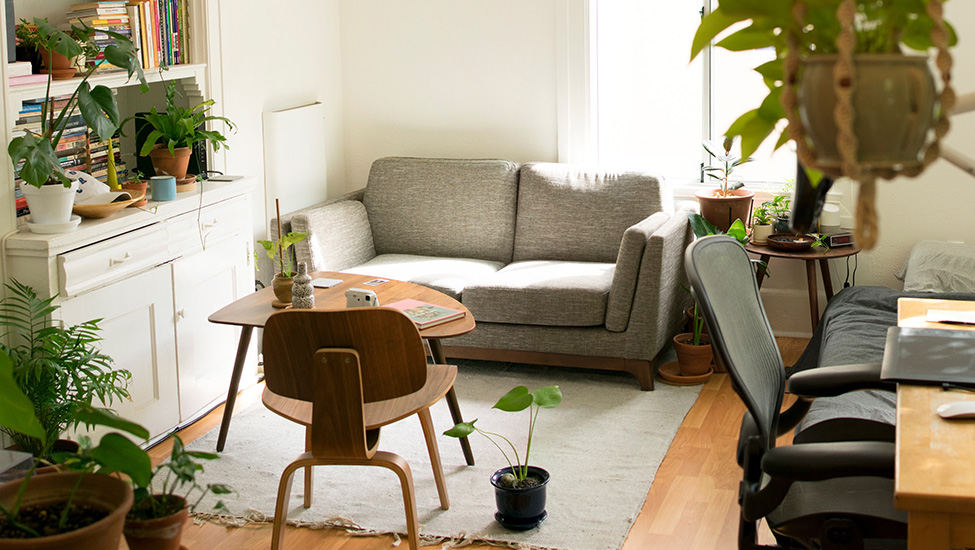 If you have a small living room, you want to make the best possible use of every inch you have. Avoid oversized furniture and look for multipurpose items like an ottoman that incorporates storage or a desk that folds down from the wall. The more single-purpose items you have in the room, the more space that is taken up. Choosing furniture wisely can give you more room to move without feeling cramped.
5. Decorate with live plants.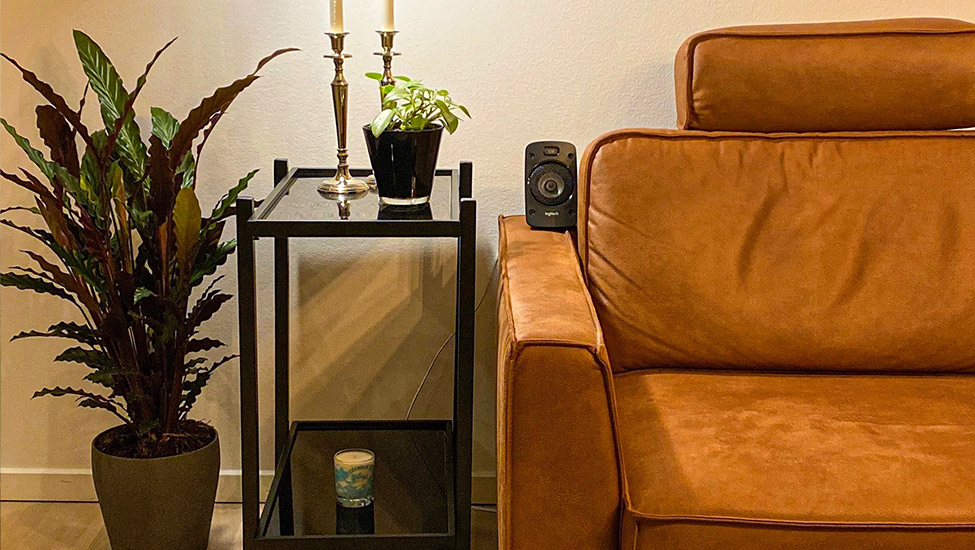 Nothing brings life to a living space than a few house plants. You don't necessarily need to go big with a giant ficus or cover an entire wall with a wandering philodendron, but consider using potted plants as décor elements. A nice flowering plant in a geometric vase can be just as much a statement piece as a sculpture. If you're not interested in maintenance, succulents are the way to go! Of course, you can always go with silk flowers as an alternative if you want the color without the work.
6. Find the perfect sofa.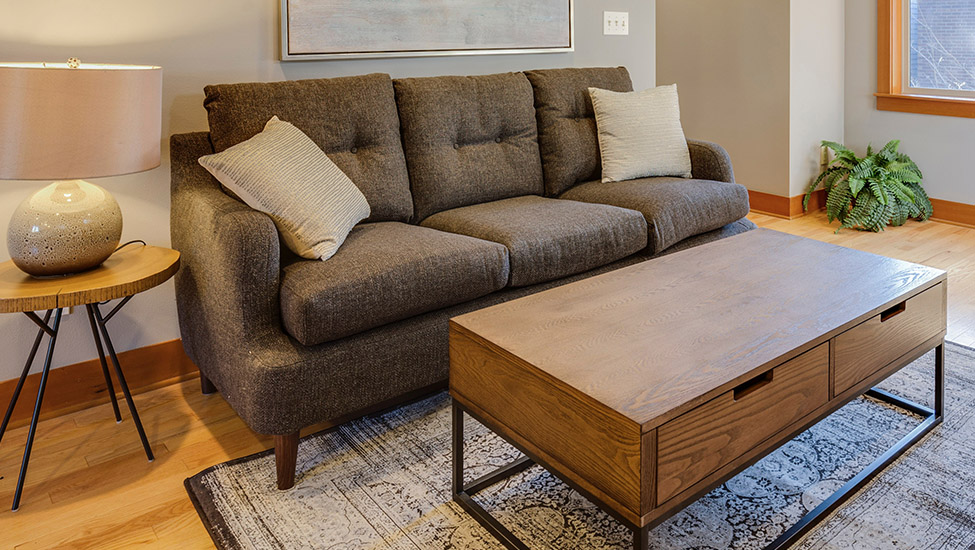 The living room is all about comfort and time spent with family, so don't waste your money on a sofa that isn't comfortable. At the same time, however, the sofa is often the focal point of the living room so you'll want to make sure it fits the space without taking up too much room. Look for something that is long without being too deep so you can push it up against a wall to give your living room a little more depth.
7. Use vertical design elements.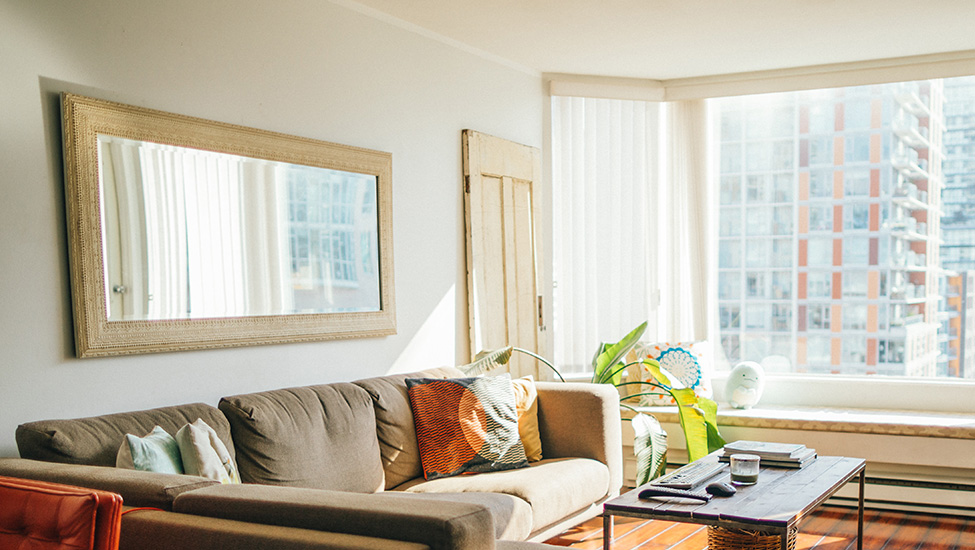 If your living room feels cramped, try incorporating some vertical design elements to make the ceilings seem higher. Narrow floor-to-ceiling shelving could work, or you could paint vertical stripes on the walls. Just be sure not to go too bold with strikingly contrasting colors. Try painting swaths of subtly different shades of one color so it doesn't draw too much focus.
8. Choose your décor items sparingly.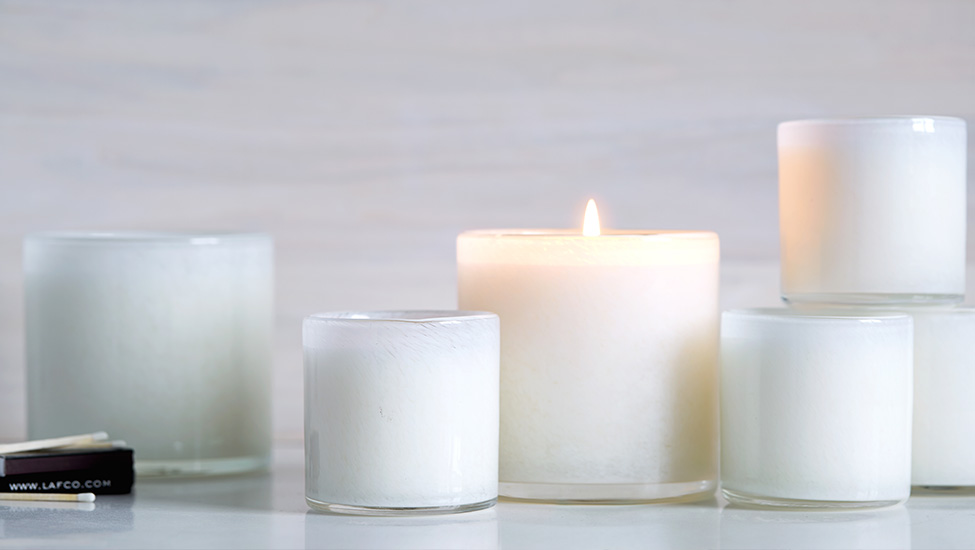 When it comes to decorating small spaces, less is usually more. In your living room, you want to focus on the big necessities like the sofa, coffee table, and shelving. Although, when it comes to the smaller décor items, look for items that add style as well as function so you don't clutter things up too much. A classy LAFCO New York fragranced candle is ideal because it comes in an artisanally crafted glass vessel that can even be repurposed after the candle burns out.
9. Create space using a mirror.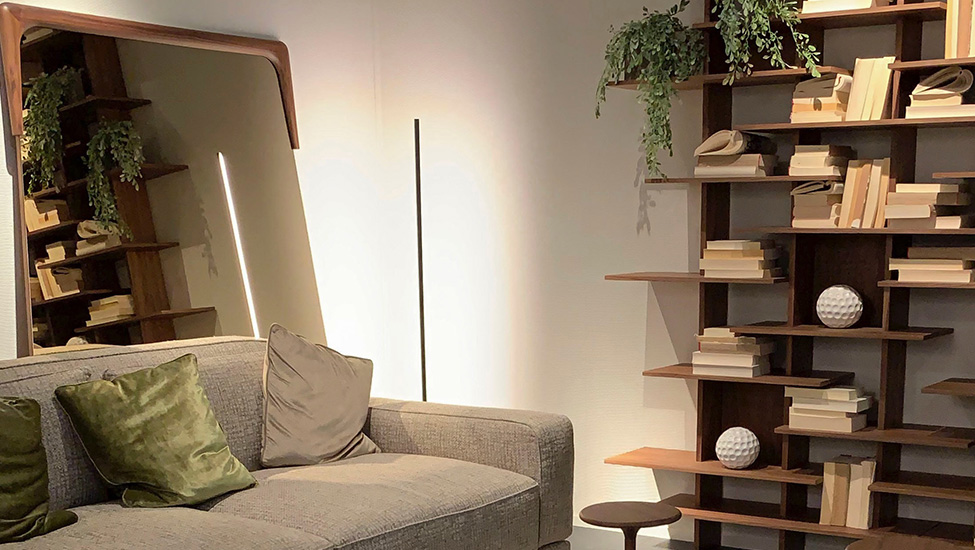 If you can't knock out a wall to actually make your living room bigger, you can make it appear bigger by adding mirrors as a design element. Try hanging decorative mirrors on the wall or lean a large floor mirror up against the wall in a corner. Just be sure the styling of the mirror complements the décor of the room instead of detracting from it.
10. Consider furniture alternatives.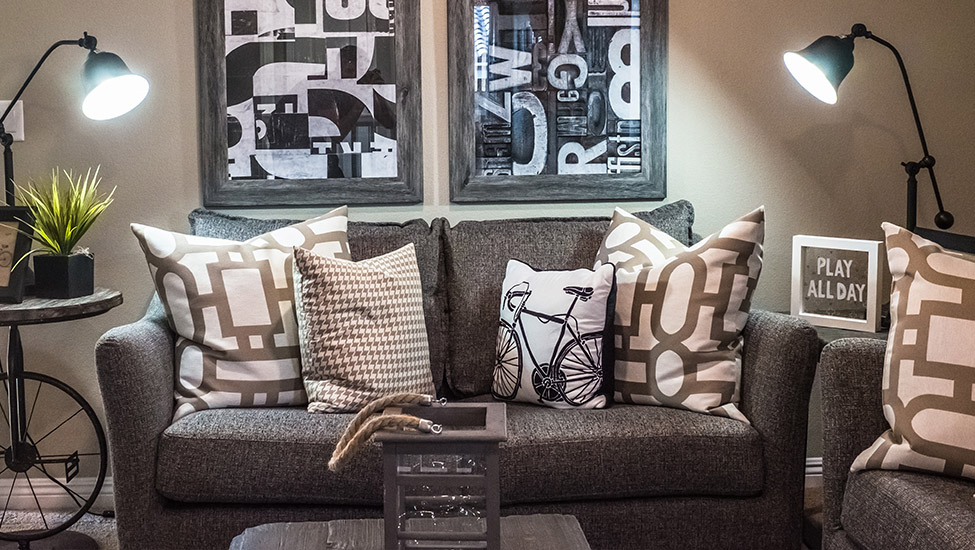 Nothing makes a living room like a great sofa, but some living rooms simply don't have the space for it. If you'd rather not take up the entire room with a giant sectional, consider something called a "snuggler" – a comfy 1.5 or 2-seater perfect for a parent and child or a couple. If you have a long, narrow living room you could try putting a corner sofa at one end to define the space instead of making it appear even longer and narrower.
11. Use stools for extra seating.
If you like to entertain but you don't have quite enough space, you may need to get creative with seating. One option is to swap out your coffee table for something high enough that you can slide a pair of stools or a bench under. The furniture stays out of the way when you're not using it but gives you a quick opportunity to transform into an entertaining space.
12. Direct attention away from the door.
Many homes are designed to have the front door open right into the living room. If your living room is on the smaller side, this can make things a bit awkward. Try using furniture to direct attention away from the door. For example, you might try placing the furniture in a way that separates the entrance from the living room.
13. Make use of natural light.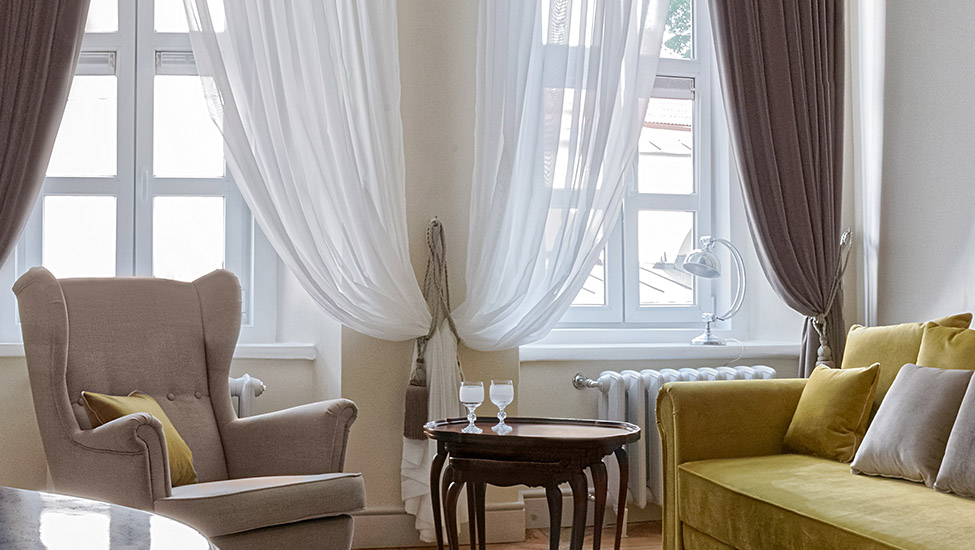 Nothing makes a room feel larger like a bright window. If your living room has a window or two, don't make the space seem smaller by blocking them with furniture or by hanging heavy drapery. Sheer or semi-sheer curtains are all you need for privacy without blocking the light.
Your home is your own and no one can tell you how to decorate it. That being said, there are certain tricks of the trade you can employ to make the space attractive and usable for yourself and your family. A small living room may seem like a limitation but it's really an opportunity for you to do some creative thinking and to let your design mind free.