Aside from your bedroom, the bathroom is probably one of the most frequently used rooms in your house. After you get out of bed, it's the first place you go every morning to get ready for your day. It's also the last place you go at night to brush your teeth and get ready for bed.
For as much time as you spend in your bathroom, do you actually enjoy it? You have probably spent hours decorating your bedroom, your living room, and even your guest rooms – but what about the bathroom? It may have not received the same TLC as the other rooms in your house.
If your bathroom is small, you may not think it's worthwhile to really decorate it, but you may be surprised to learn that there are actually plenty of creative ideas you can use to turn your bathroom from drab to fabulous in no time.
All it takes to turn your small bathroom into a place you enjoy spending time is a little bit of creativity. Read on to discover 42 creative ideas for decorating a small bathroom.
Simple Ideas for Decorating a Small Bathroom
Just because your bathroom is small doesn't mean you can't give it a makeover. The right wallpaper, hardware, and accessories can transform your bathroom into a completely new space. Here are some ideas you should consider:
1. Colorful Wallpaper
Hanging wallpaper can be a nightmare of a project in a large room, but a small bathroom is much easier. You could even get away with installing bright colorful wallpaper on just one wall as an accent. The options are endless!
2. Live Plants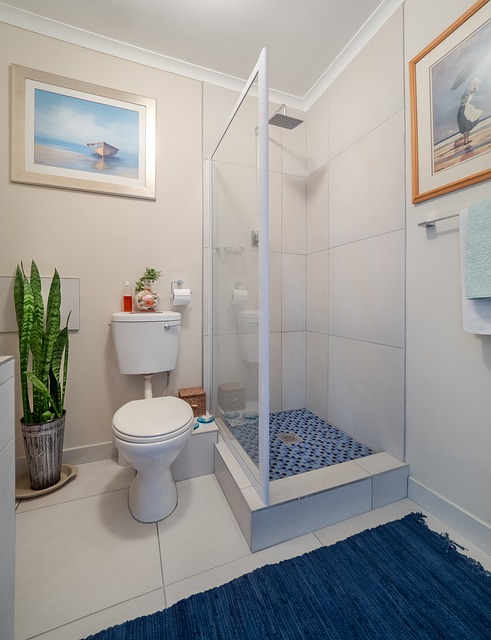 Nothing can transform a dull room more quickly than something living. Live plants can add color and freshness to your bathroom, but make sure you choose plants that will do well with the amount of light you have. Keep in mind as well that bathrooms tend to get damp, so don't choose plants that prefer dryer conditions (for example, succulents).
3. Hanging Shelves
One of the most practical ways to decorate a small bathroom is to turn unused wall space into storage space with a few hanging shelves. Get creative with corner shelves or try installing shelves over the doorway to take advantage of unused space. Don't be afraid to play with colors or try something new with vintage framework.
4. Stylish Accessories
To give your bathroom a quick style boost, head to your local home décor store and buy a set of matching bathroom accessories. Things like soap dishes, toilet paper holders, and even trashcans can bring the different elements in your bathroom together in a stylish new way. You can even repurpose your LAFCO candle vessel into a toothbrush holder or makeup brush holder.
5. Wall Art
Something as simple as hanging art on the wall can give your bathroom an entirely different feel. Choose a theme with your art to keep things consistent, but don't be afraid to get creative! Marine, floral, and woodsy are popular bathroom themes. You could hang vintage post cards or posters, photographs that match the feel you're going for, or even create some art of your own to hang on the walls.
6. Accent Colors
Give your bathroom a facelift without completely remodeling. All it takes is a paintbrush and your choice of accent color and you can add pops of color wherever you like. Try painting your hanging shelves a nice bright blue or go even simpler with a new set of towels in your favorite contrasting color.
7. Glass Toiletry Holders
If you're tired of your bathroom counter being cluttered up by miscellaneous toiletries, why not contain them while giving your bathroom an aesthetic boost all in one go? Turn your LAFCO fragranced candle vessel into a decorative holder for cotton balls or cotton swabs or find some uniquely shaped jars at your local thrift store and give them a makeover with some glitter or paint.
8. Colorful Rug
Without completely remodeling or changing your bathroom's color scheme, you can give it a boost of decoration with a nice colorful rug. If you have more floor space to work with, try decorating with a set of bathmats in complementary colors or patterns.
9. Hanging Organizers
In a small bathroom, you need to maximize your use of space. Hanging organizers keep bathroom necessities contained without taking up space in your medicine cabinet or on your shelves. Try hanging an organizer on the side of your vanity for your curling iron and blow-dryer or hang a bin inside the vanity to keep these items out of sight.
10. Modern Backsplash
A modern backsplash can completely transform the look of your bathroom and you can easily install it in a matter of hours. Choose small, colorful tiles in complementary colors to your current décor scheme or go all out with something new and choose accessories to match.
11. Vintage Vases
Whether you choose to decorate with live or artificial plants, using vintage vases can give your bathroom a hint of sophistication. Check your local thrift store for unique glassware or peruse flea markets to find a few pieces that catch your eye. If all else fails, take some cheap glassware and give it a facelift with a coat of paint.
12. Clean and Simple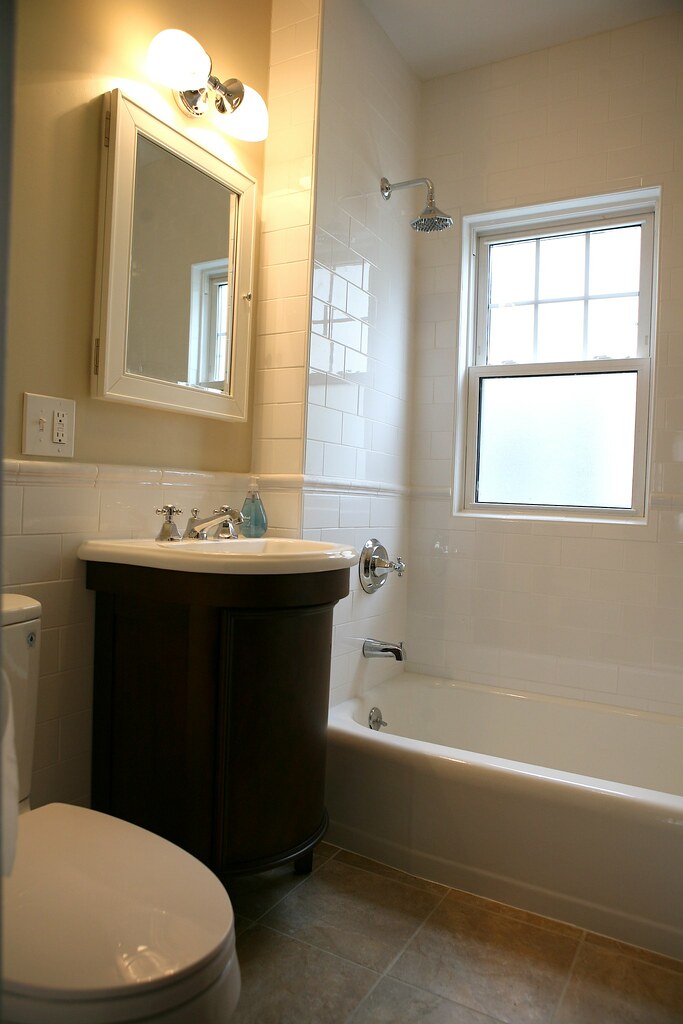 If you're tired of your cluttered bathroom, the best upgrade is to give it a good cleaning. Put away everything you don't use on a daily basis and make room for the necessities somewhere within reach. For simplicity, all you really need to do is paint everything white to give it that nice, clean look.
13. Makeup/Toiletry Shelves
Do you find yourself spending way too much money on makeup and toiletries? If so, you hardly want to keep them hidden away. Give your makeup and toiletries the attention they deserve by hanging small shelves near the mirror so you can not only see them well but reach for them easily while getting ready.
14. Towel Racks
If you don't already have a place to hang your towels, installing towel racks is a quick and easy bathroom upgrade. Make use of space on the back of your bathroom door or on that unused wall you haven't been able to fill. Choose vintage hardware for your racks or go with something clean and simple.
15. Decorative Hooks
Looking for a place to hang your towels? Decorative hooks serve an obvious purpose here, but they can also be used for decoration. Check your local thrift store or flea market for interesting shapes and give them a boost with colorful paint.
16. Built-In Shelves or Cubbies
If you find yourself struggling to find space for everything in your bathroom, maybe the ultimate decoration is a practical one – built-in shelves or cubbies. Open shelving is great if you have limited wall space, or you can build closed shelves or cubbies if you have a nook to fill.
17. Upgraded Vanity
Swapping out your bathroom vanity is one of the best ways to transform your bathroom. If your bathroom is very small, just be sure to choose one that has a low profile – the last thing you want to do is make your already-small room even smaller.
18. Try Aromatherapy
Even if you don't have the time or budget to remodel your bathroom, you can use aromatherapy to make it feel brighter and more open. LAFCO New York offers a variety of fragrances with their reed diffuser that works perfectly in small bathrooms while adding that perfect dash of color you are looking for.
19. Patterned Walls
You don't necessarily need to redo your walls to give them a new look. Take your current color palette and choose something in a complementary or contrasting color. From there, create patterns using painter's tape and paint over it with the new color. When you take off the tape, your new unique pattern will be revealed!
20. Graphic Shower Curtain
There's nothing wrong with plain and simple, but if you're tired of being bored by your bathroom décor, shake things up with a graphic shower curtain. If nothing else, it will become the focal point of the room and something for your guests to remember.
21. Pedestal Sink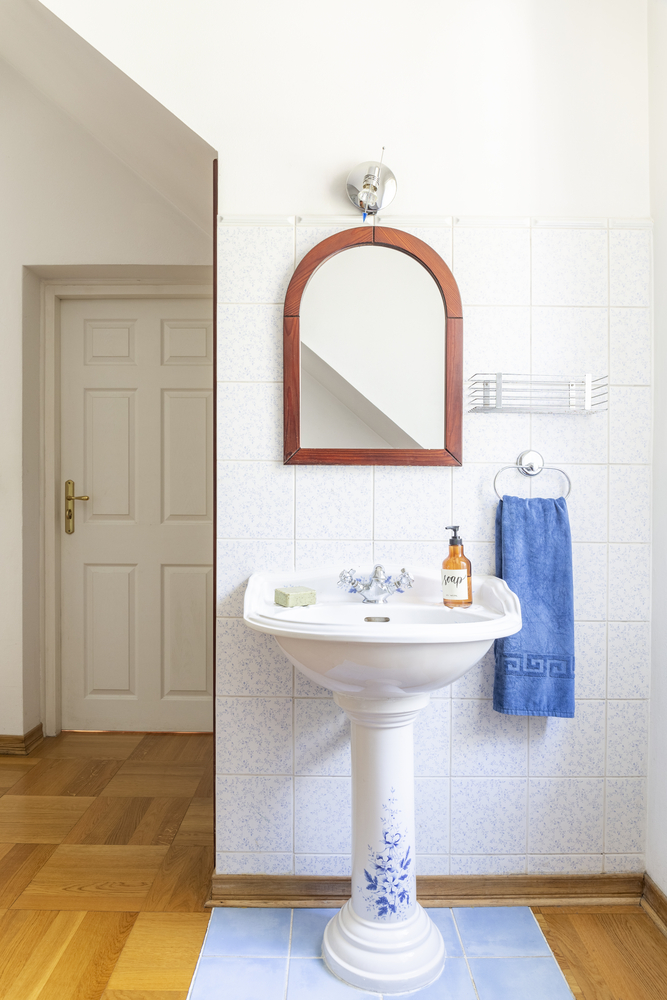 If you find that your current sink is taking up too much space in your small bathroom, consider swapping it out for a pedestal sink. You might lose some storage if you're getting rid of a full vanity, but the extra floor space will make the room seem much more open.
22. Black and White
Can't decide what color scheme to go with? Something simple like black and white will make your bathroom look clean and sleek instead of cluttered. Try painting the walls white and use simple black accents for your decorations and drapery.
23. Hanging Planters
Having trouble finding shelf space for decorative items? Why not hang a few planters from the ceiling? Place them in the corners or in front of your window so they don't take up valuable space and make the place seem even more cluttered.
24. Oversized Mirror
If you have an entire wall to fill and you're out of ideas, consider hanging an oversized mirror. In a small bathroom, you have to make use of every bit of space you have, and a large mirror will not only cover a significant amount of space, but it serves a functional purpose as well.
25. Wood Paneling
An entire room covered in wood paneling may be an outdated look but using wood paneling for an accent wall is a great idea for giving your bathroom a stylish makeover. If you want to keep it from looking too outdated, paint the paneling white or give it a distressed, almost rustic look to match the feel you're trying to achieve.
26. Bead Board Walls
Bead board is another simple solution for transforming your bathroom walls. You can also get creative by painting the bead board one color and the wall above it another. As an added bonus, the bead board will be easier to clean than painted walls.
27. Ladder Towel Rack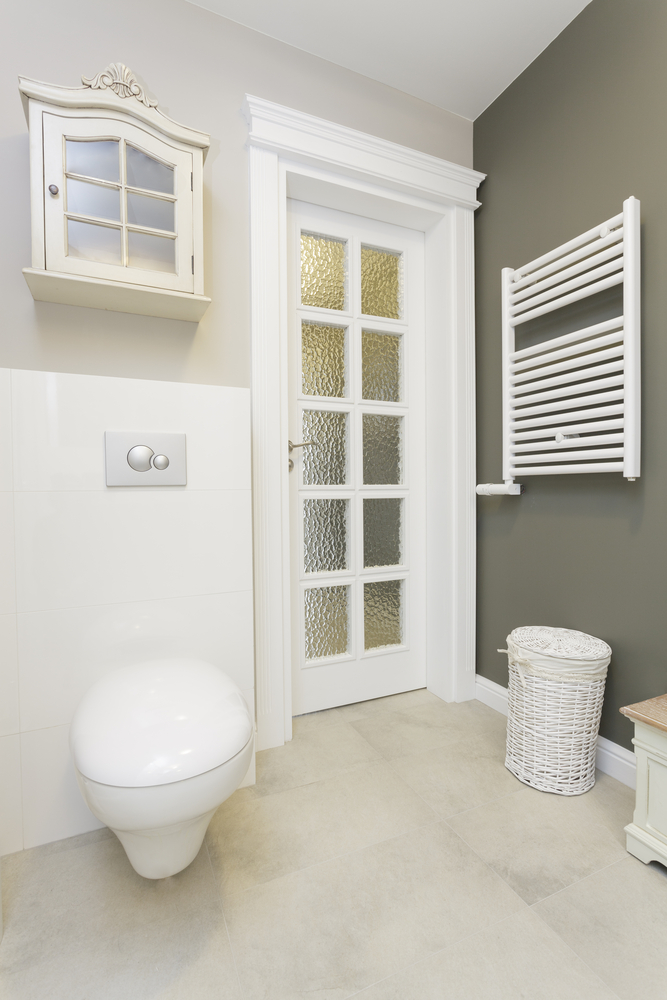 If you're at a complete loss for how to incorporate towel storage into your bathroom without sacrificing style, consider using an old ladder as a towel rack. Paint it whatever color you like then simply lean it against the wall and hang your towels on it.
28. Wire or Woven Baskets
Baskets serve a dual purpose in a small bathroom. They give you a place to store odds and ends, of course, but they can also be a decorative element in and of themselves. Display them on open shelves or hang them on the wall to use them as shelves.
29. Matching Laundry Bins
Do you have a habit of tossing dirty clothes and towels on the floor? If so, maybe the only upgrade you need to make in your bathroom is adding laundry bins. Choose a matching set in complementary or contrasting colors to your current décor scheme.
30. Track Lighting
Nothing brightens up a dull space like track lighting. If you're looking for a simple way to make your bathroom brighter and cleaner, track lighting could be the way to go. Even if you don't want to go for the track lighting look, replacing your outdated light fixture could transform the aesthetic of the entire room.
31. Contrasting Colors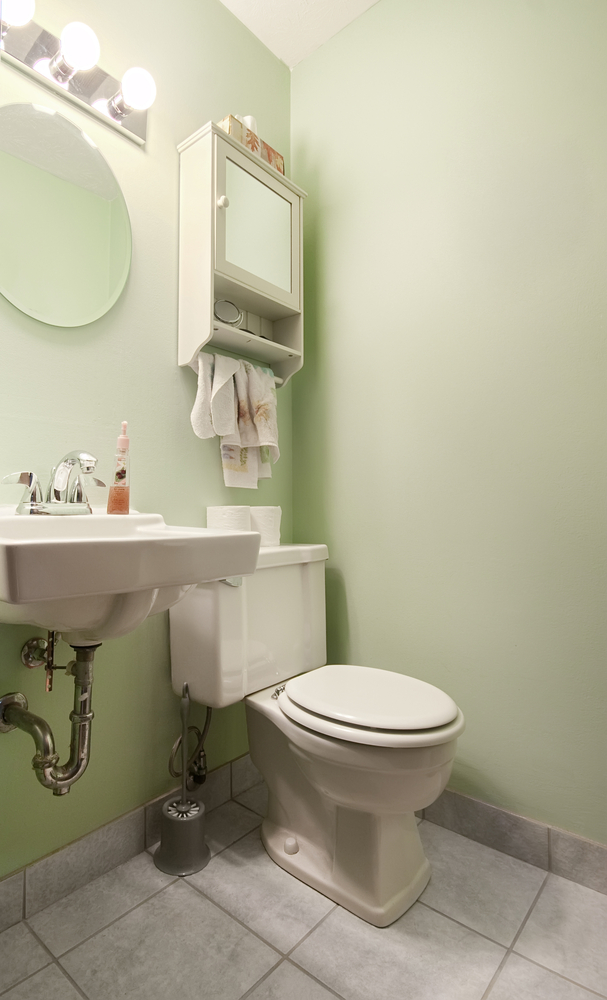 Give your bathroom an upgraded look over the course of the weekend by swapping out bits and pieces for replacements in contrasting colors. Choose a color palette you like then head to the home décor store and see how many pieces you can find within that palette. Don't be afraid to go bold with colors!
32. Monogrammed Accessories
You don't necessarily need to transform your entire bathroom to give it an upgrade. Sometimes all it takes is a matching set of monogrammed towels to give your small bathroom a new look. If you're going to go all out, spring for the monogrammed shower curtain as well!
33. New Drapery
If you have a window in your bathroom, you don't want to cover it with heavy drapery, but you can give your drapes a facelift to boost the appearance in the room. Choose a lightweight set of curtains that adds to the current décor scheme or use a new set of patterned curtains to create a new color palette that you can build on with accessories.
34. Decorative Soap Dispenser
Want to give your bathroom a new look without making serious changes? Try replacing some of the items you use most with more modern or decorative versions. Start with your soap dispenser and fill it with a luxury fragranced soap from LAFCO New York that matches the look and feel you're trying to achieve.
35. Old Fashioned Fixtures
Transform your room with a hint of elegance by hanging old-fashioned light fixtures. If you can't find any vintage fixtures, check online for modern fixtures that have a touch of old-fashioned elegance. You could even spray paint simple fixtures to give them a distressed, rustic look.
36. A Touch of Metal
Nothing will brighten up your small bathroom like replacing your outdated accessories with a touch of metal. Polished mirror frames, metal light fixtures, and even metallic accessories can give your bathroom a whole new look.
37. Dark Ceiling
If you already like the décor in your bathroom but want to add a touch of something unique, paint your ceiling a bold new color. You could also go for texture instead and hang wooden beams, paneling, or bead board.
38. Colorful Plates
Patterned china is beautiful but, for most people, it only comes out during the holiday. If you want to enjoy your china all year round, hang it on the wall in your bathroom as pieces of art. You can easily find plate racks at your local home décor store for a non-permanent hanging option.
39. Wall-Mounted Faucet
Looking to take back some of your limited counter space? Consider installing your bathroom faucet directly into the wall to save space. You can even pair it with a decorative bowl sink to complete the look.
40. Colored Trim
If you want to give your bathroom a pop of color without putting in too much time or effort, try painting the trim in a bold, contrasting color. You can even match it to your towels or other bathroom accessories to create a more cohesive look.
41. Bar Cart
Give yourself some added storage in your small bathroom without the work of hanging shelves or built ins. A bar cart is a simple solution that can be moved around the bathroom as needed and can give you added storage for things like towels, toiletries, and accessories.
42. Painted Tub
If you're at a complete loss for how to add a pop of color to brighten up your small bathroom, why not paint the tub? Taking a paintbrush to the outside of a claw-footed tub gives it an entirely new look and you can add to it by choosing accessories and décor pieces in a matching color.
If you want to give your bathroom a bit of an upgrade but you don't have a lot of time or money to spare, LAFCO New York has the perfect solution. Instead of physically changing the appearance of your bathroom, why not upgrade the ambience with a luxurious fragranced candle or a reed diffuser? A change of fragrance may be all you need to give your bathroom a completely different feel.
Check out LAFCO New York's complete collection of fragranced candles, reed diffusers, room mists, and scented soaps to give your bathroom a quick and easy upgrade today.