Roses are the image most frequently associated with romance. Known for their lush red petals and subtle floral scent, roses speak the language of love. What you may not realize, however, is that not all roses are associated with romance. In fact, the Damask rose has a long history of use for its therapeutic properties, particularly in aromatherapy.
Rose essential oil offers rejuvenating and stimulating properties as well as a soothing, stress-relieving aroma. Read on to learn more about the benefits of this floral fragrance and to see how you can enjoy it for yourself with LAFCO fragranced products and gifts.
What is Rose?
The rose is a woody perennial flowering plant belonging to the genus Rosa in the family Rosaceae. There are more than three hundred species of roses and tens of thousands of cultivars. You'll find roses in all sorts of shapes and sizes, growing on delicate stems as well as climbing plants and shrubs. The flowers for which the rose plant is known vary in size and shape, but they are usually large and showy, ranging in color from white to yellow to red.
Though most rose species are native to Asia, they have been cultivated throughout the world. Roses have great cultural significance in many societies and are popular as ornamental plants. Rose oil, obtained through steam distillation of the crushed petals, is widely used in perfumery and cosmetics but has also been used in traditional medicine.
The species most commonly used in aromatherapy is the Damask rose (Rosa x damascene), also known as the rose of Castile. It is a hybrid derived from Rosa gallica and Rosa moschata, commercially harvested for rose oil and to make rose water. The petals of this rose hybrid can also be used as a garnish, to flavor food, to make herbal tea, or preserved in sugar.
The Health Benefits of Rose Essential Oil
Rose essential oil or rose oil is known for its stress- and anxiety-relieving benefits. In a 2009 study, healthy volunteers experienced greater feelings of calm and relaxation compared with a placebo when absorbing rose essential oil through the skin. Various studies support the benefits of rose oil for sleep and anxiety relief – it has also been shown to improve symptoms of depression.
In addition to relieving stress, rose oil has been shown to ease pain and provide relief from menstrual discomfort. In a 2015 study involving postoperative children, patients who inhaled rose oil reported a significant decrease in pain. In a 2013 study, patients with menstrual pain who received abdominal massage using rose oil versus almond oil only reported less cramping afterward.
Not only does rose oil help with stress, mood, and pain, but it offers antibacterial and anti-fungal properties as well. Researchers have found that rose essential oil can be effective against a wide range of microbes including E. coli and some strains of bacteria that cause strep throat and staph infections.
Rose essential oil can be used in a variety of ways, but it is highly potent and should be diluted whether inhaled or applied topically. It can be used in the bath or inhaled through a diffuser. Rose oil is also popular in fragrances designed for aromatherapy products like scented candles and room mist.
Rest and Relax with LAFCO Rose Fragrances Products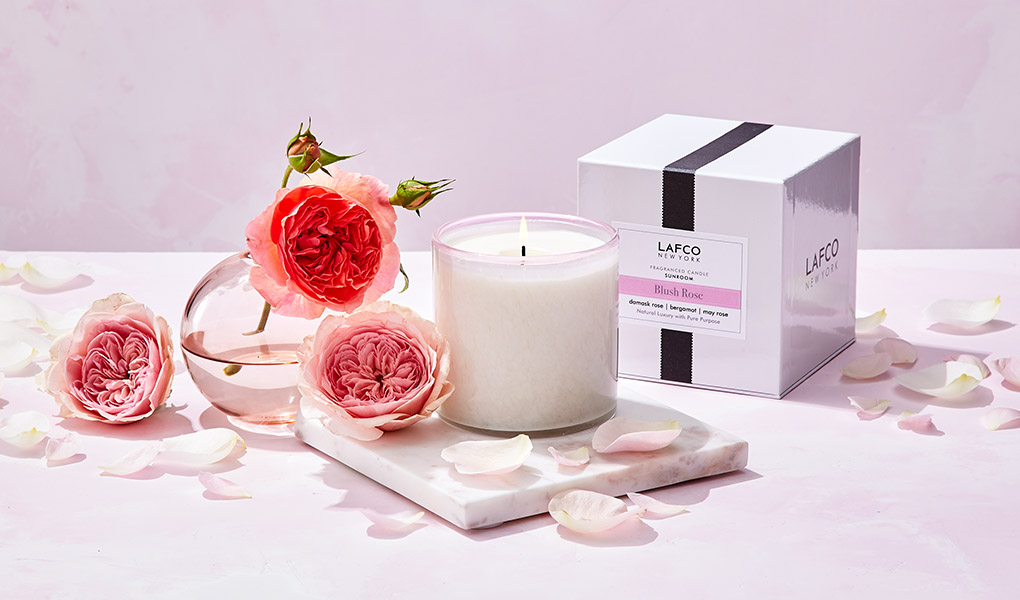 The floral aroma of fresh rose is just what you need to put your mind at ease. Whether you're soaking in a hot bath or relaxing in the sunroom during your afternoon break, rose essential oil will soothe your spirit and lift your mood. It pairs well with other fragrances and offers versatile applications.
Here are some of the best LAFCO products featuring the scent of rose:
Enjoy the soothing scent of rose in a LAFCO fragranced candle or find it in other fragrances like Champagne, Duchess Peony, and Marine. Explore the LAFCO family of fragrances and try three of your top picks with a Discovery Trio of sample-sized candles for just $16.