Fragrance can transform the ambiance in your home with minimal effort on your part. Turn your bedroom into an oasis of calm or your home office into a space where you feel motivated to be productive. No matter what vibe you're going for, fragrance can help you get there.
When it comes to home fragrance, there are an unlimited array of options, each with their own pros and cons. If you're looking for a simple solution to deliver lasting fragrance, a diffuser might be the right choice. LAFCO offers two excellent options: a classic reed diffuser and the Pura smart diffuser.
Here's what you need to know about these two options and how to choose the right one.
What Are the Benefits of Diffusers?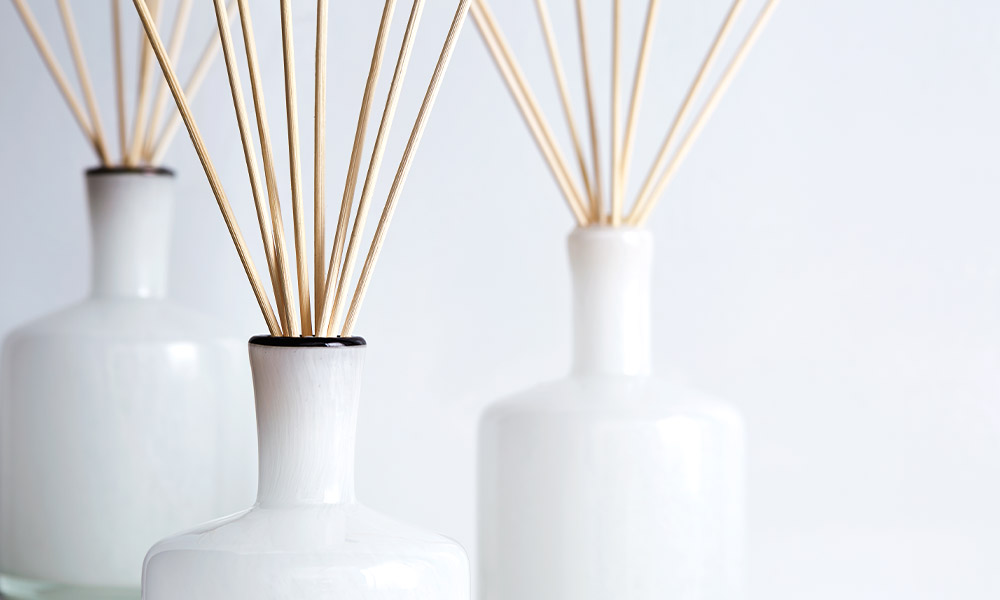 A quick spritz with room spray gives you an hour or two of fragrance and the aroma from a candle lasts about as long as it's lit. If you want to fill your home with lasting fragrance, a diffuser might be a better option than fragranced candles or room sprays. Diffusers, on the other hand, can last for months.
How long a diffuser lasts depends on the type and how much oil you use. Traditional reed diffusers come in a variety of different sizes with smaller models lasting a few months and larger models up to a full year. Plug-in diffusers, such as the Pura Smart Diffuser, are a little different. Rather than reeds, they use oil vials that disperse fragrance into the air. They generally last a few weeks at a time.
In addition to offering long-lasting fragrance, reed diffusers are a great way to layer scent in your home. By adjusting the number of reeds in a traditional diffuser or adjusting the intensity on a smart diffuser, you can create a subtle fragrance and layer other scents from candles or room mist on top of it. They also don't require the use of a flame and are very flexible in terms of placement.
Exploring the Different Types of Diffusers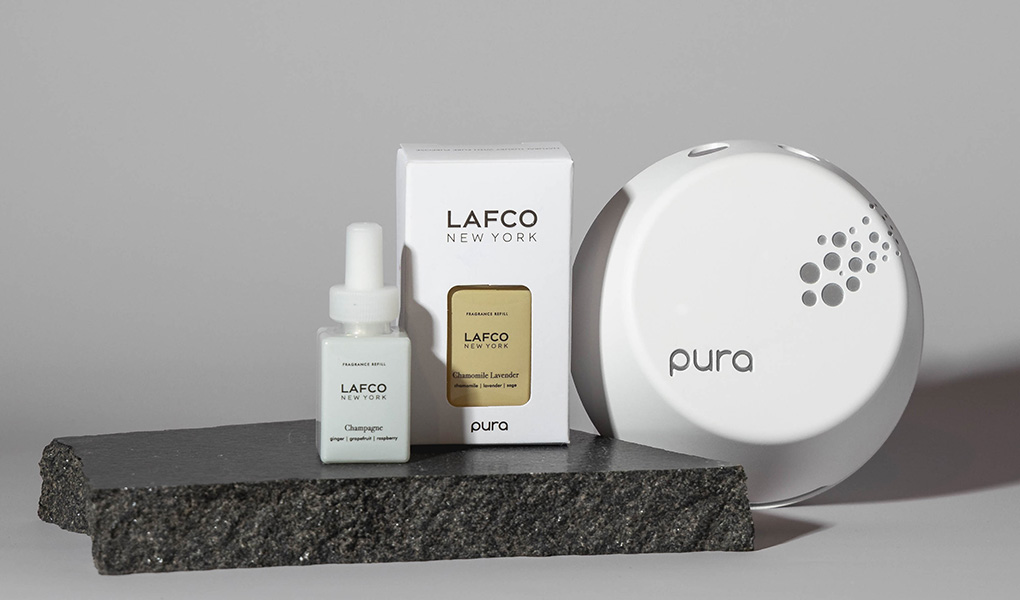 Diffusers come in a wide variety of shapes and sizes. Essential oil diffusers use a combination of pure or diluted essential oil with air or steam to disperse fragrance into the air. They come in several different types including nebulizing, ultrasonic, heat, and evaporative. If you're looking for something a little simpler – something you can set and forget – a reed diffuser or smart diffuser might be best.
Here's a quick overview of these two options:
Reed Diffuser – A reed diffuser consists of a vessel, reeds, and fragrance oil. After placing the vessel in the desired location, you simply fill it with fragrance oil and add reeds. The reeds absorb the oil, sucking it up the length of the reed until it reaches the top where it evaporates into the air, dispersing the fragrance.
Smart Diffuser – A smart diffuser is a plug-in device that uses electricity and fragrance oil to disperse scent. You simply insert a fragrance oil capsule into the diffuser then plug the device into the wall. Each fragrance refill contains a ceramic element encased in a wick. When the diffuser is plugged in, it uses electricity to warm the wick and disperse the fragrance.
Whether you prefer the lasting fragrance of a reed diffuser or the customizability of a smart diffuser, LAFCO has you covered. Choose from two different sizes of traditional reed diffusers with a wide variety of fragrances or pair two of your favorites with the plug-in Pura Smart Diffuser.
LAFCO Reed Diffuser vs. Pura Smart Diffuser
You can't go wrong with either a LAFCO reed diffuser or a Pura Smart Diffuser, but there are some key differences to consider when making your choice. Choosing a diffuser for your home doesn't need to be a difficult decision. What it really comes down to is your answer to a few simple questions:
How long do you want the fragrance to last?
Do you want to be able to customize the intensity?
How often do you want to change fragrances?
Do you want to be able to control the diffuser remotely?
A traditional LAFCO reed diffuser is designed to deliver between four and twelve months of continuous fragrance. They come in two sizes: Classic (6oz.) and Signature (15oz.). All LAFCO reed diffusers are presented in handblown glass vessels with natural, hand-cut reeds. You have some degree of control over the intensity of the fragrance by adding more reeds, and you can refresh the fragrance as it fades by flipping the reeds over.
LAFCO reed diffusers come in a wide variety of fragrances like Chamomile Lavender, Feu de Bois, and Rosemary Eucalyptus. You can also purchase fragrance oil refills to endlessly reuse your vessel.
The Pura Smart Diffuser is a plug-in diffuser that uses individual fragrance refills and a small amount of electricity to disperse scent. This particular diffuser enables you to insert two fragrance refills at once and switch between the two as desired. What makes this diffuser unique is the fact that it is a smart diffuser – you can control fragrance intensity, set a schedule, and switch between fragrances through a mobile app. Each fragrance refill lasts up to 2 weeks and the device can cover up to 1,000 square feet.
Get started with the Pura Smart Diffuser by purchasing the Pura Smart Diffuser Set which includes two of LAFCO's most popular fragrances: Chamomile Lavender and Champagne. You can also purchase refills in other popular scents like Feu de Bois, Retreat, and Sea & Dune.
Which One is Best for You?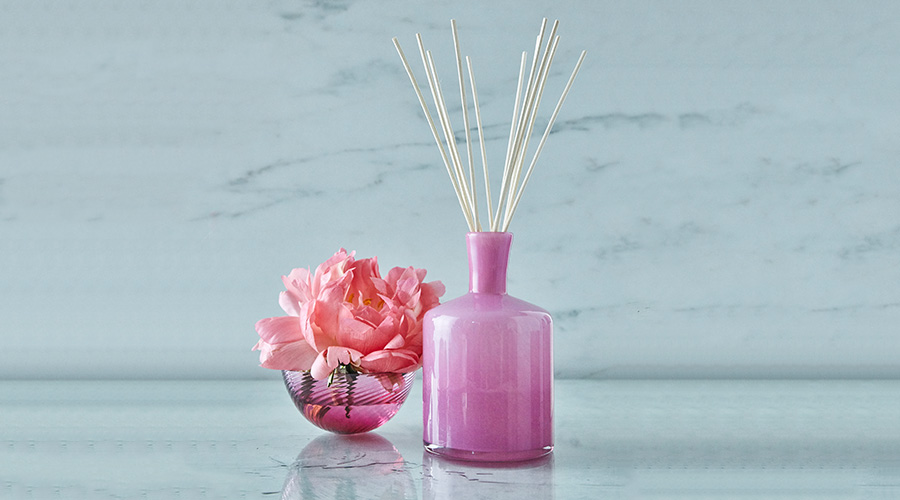 In the end, you can't go wrong with either a traditional reed diffuser or a smart diffuser, especially one from LAFCO. Because LAFCO uses only pure essential oil-based fragrance, you can enjoy  luxurious aroma without any synthetic additives. But which is the better option for you?
A LAFCO reed diffuser might be right for you if…
You want a fragrance solution you can "set and forget."
You're looking for a diffuser that doubles as a piece of home décor.
You want some ability to adjust the fragrance intensity.
You're looking for fragrance that lasts several months up to a year.
A Pura Smart Diffuser might be right for you if…
You like to switch fragrances frequently, about every 2 weeks.
You want to be able to control fragrance intensity via smartphone.
You would like to turn the diffuser off when you're not at home.
You want to layer different fragrances or switch between them.
While reed diffusers and smart diffusers are great for lasting fragrance, sometimes you just want a quick burst of freshness. Try LAFCO room mist to deliver a spritz of luxurious scent that lasts up to two hours or light a LAFCO fragranced candle.
Not sure which fragrance to choose? Use the LAFCO Fragrance Finder to pick the perfect fragrance according to your taste and preferences.