While standard plug-in diffusers can be an affordable and practical alternative to traditional home fragrance options, they aren't all created equal and don't let you have that much control over your fragrance experience. That's where the Pura Smart Home Fragrance Diffuser is different. Read on to learn more about how you can perfectly fragrance your home exactly when you want with your favorite LAFCO fragrances.
Introducing the Pura Smart Fragrance Diffuser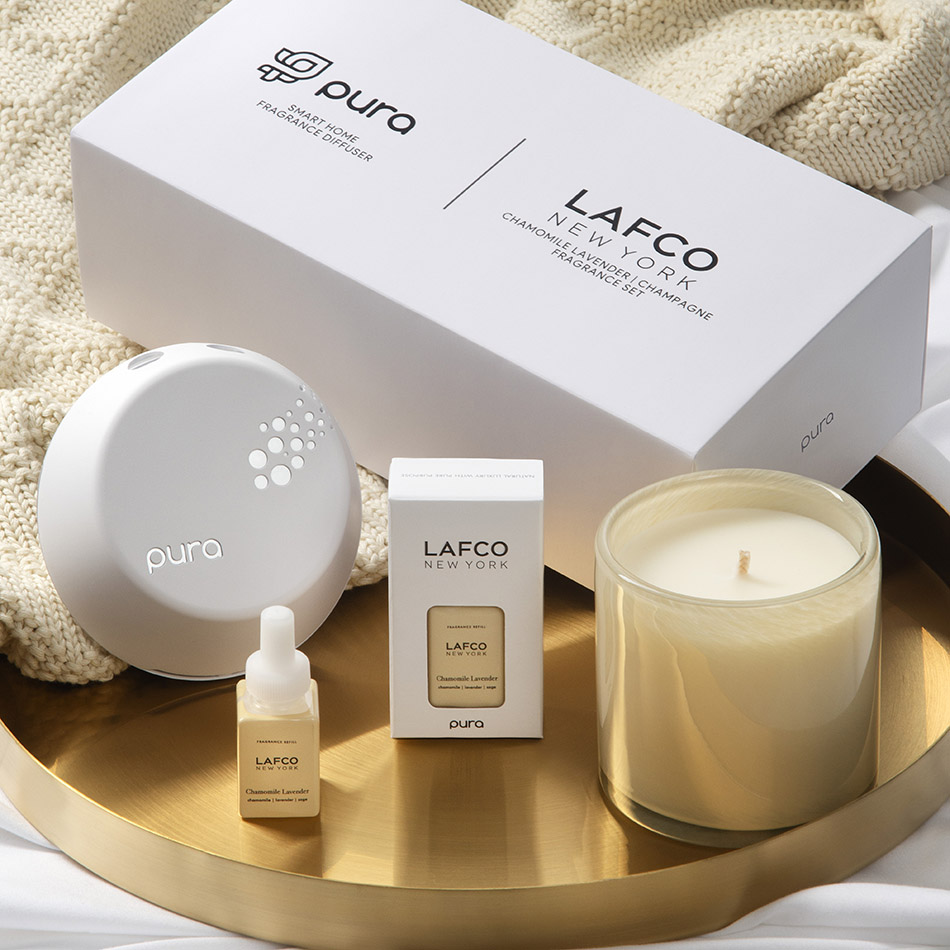 The Pura Smart Home Fragrance Diffuser helps you get the most out of your fragrance. This smart device plugs right into your wall and takes up to two small vials of concentrated fragrance. Manage the device right from your smartphone, adjusting the settings to control scent intensity or create a custom schedule so you don't waste fragrance when you're away. It's the perfect addition to any home.
Here are some of the benefits of the Pura smart device:
Personalize your scent experience from your smartphone
Set a custom schedule or activate away mode
Doubles as an LED ambient nightlight
Chemical-free fragrances safe for children and pets
Fragrances are non-GMO, gluten-free, vegan, and cruelty-free
All fragrances are ethically and sustainably sourced
The Pura Smart Home Fragrance Diffuser makes it easy to customize your scent experience from the convenience of your mobile device. Control the app from your smartphone to set a custom schedule, adjust the scent intensity, or swap between two different scents. The device itself works for spaces ranging from 300 to 1,000 square feet and is safe for both children and pets.
Pair Pura with LAFCO Fragrances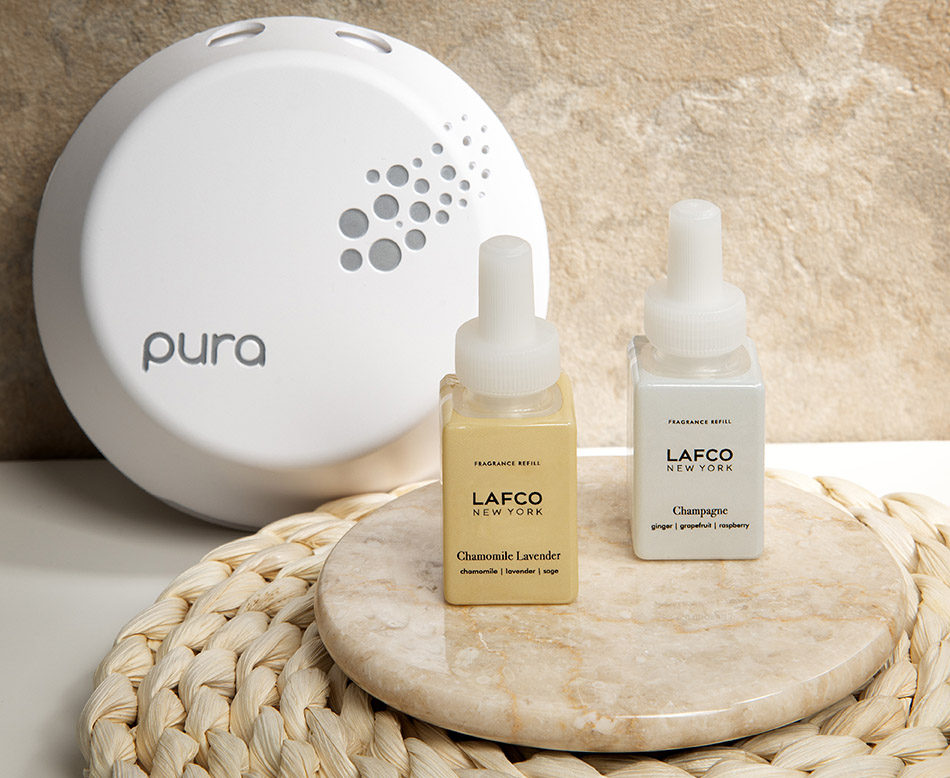 The key to maximizing the benefits of a good diffuser like the Pura smart device is to pair it with high-quality, natural fragrance. We've recently partnered with Pura to make two of our most popular fragrances compatible with their smart diffuser device.
At LAFCO, we strive to deliver a memorable, sustainable, and guilt-free experience. Our ingredients are ethically sourced, and our practices are environmentally friendly, which melds perfectly with Pura's commitment to sustainability. Our fragrance is made from refined, pure essential oils to deliver a true and natural scent. All of our highly concentrated fragrance blends are free from dyes, propellants, and other synthetic ingredients but still deliver a long-lasting,  scent.
As part of the partnership, Pura offers the following LAFCO fragrances:
Champagne – Revel in the luxurious scent of zesty mandarin and fresh raspberry that give way to notes of Tuscan lemon, tart grapefruit, and spicy ginger. This fragrance is bright and effervescent with undertones of soothing verbena and rose.
Chamomile Lavender – Perfect for the bedroom, this relaxing fragrance pairs top notes of bergamot and chamomile with a heart of lavender and eucalyptus. These fragrances give way to a lasting impression of rosemary, patchouli, and honey flower for a relaxing finish.
Enrich your home with the transformative power of fragrance using the Pura smart fragrance diffuser. Choose from a wide variety of scents, including two of LAFCO's most popular fragrances, Champagne and Chamomile Lavender. Shop now to receive 15% off your first order today!