Often times the perfect gift can communicate what words cannot, whether it's love, appreciation, or sympathy. That said, choosing the right present can be a challenge, even for the most talented gift-givers. When you're not sure what to give, a luxury candle gift set from LAFCO is sure to please.
For those who like to keep things simple, curated LAFCO gift sets offer convenience and value for the giver and a luxurious fragrance experience for the recipient.
Give the Gift of LAFCO Fragrance with These 5 Gift Sets
Every LAFCO candle is artfully crafted from sustainable soy wax with pure essential oil-based fragrances and presented in a handblown glass vessel. With dozens of fragrance blends to choose from, there's a LAFCO candle for everyone. With a LAFCO gift set, however, you don't have to agonize over your selection — just choose the set that best fits the occasion or the recipient.
Below is an overview of LAFCO's most popular gift sets…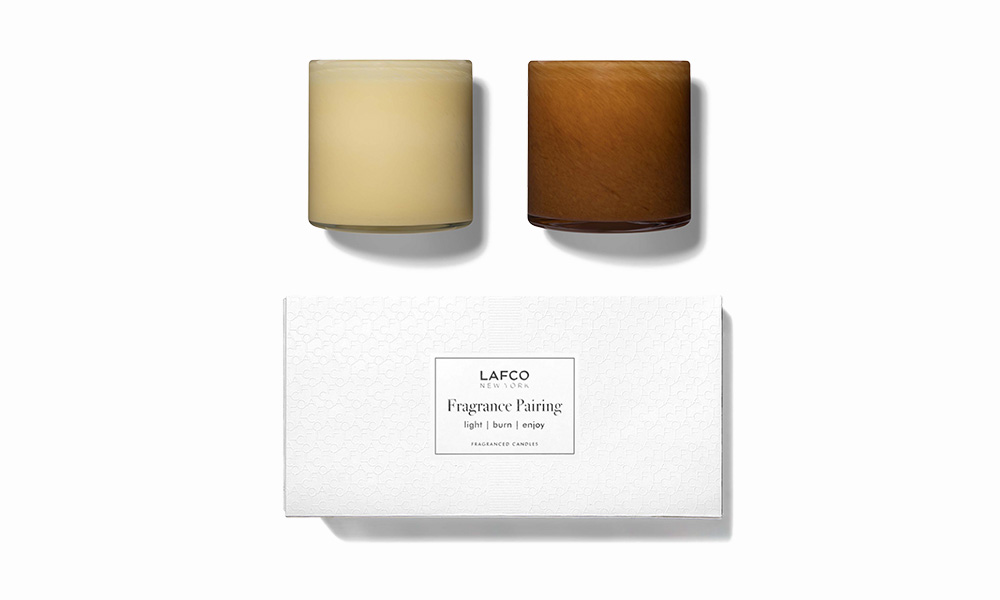 Discover the essence of tranquility and elegance with our Chamomile Lavender and Amber Black Vanilla gift set. This luxurious duo of scented candles is designed to transport you—or a lucky recipient—to a charming café tucked away in the heart of Paris, all without leaving the comfort of your home. When burned together, these candles create an atmosphere that's as soothing as it is sophisticated.
The fragrance profile is a carefully crafted blend that captures the best of both worlds. The calming notes of herbal chamomile and lavender provide a serene backdrop, perfect for unwinding after a long day or setting the mood for a peaceful evening. These soothing scents are complemented by the rich, warming undertones of amber and black vanilla, adding a touch of opulence and depth to the overall aroma. The result is a truly unique fragrance experience that engages the senses and elevates your surroundings.
Each gift set includes two 15.5-ounce Signature candles, meticulously crafted to ensure the highest quality. The candles are housed in handblown glass vessels, making each one a unique work of art. These vessels not only serve as a stylish decor piece but also ensure that the candles burn cleanly and evenly. The 100% cotton wicks contribute to a cleaner burn, free from the soot and smoke that can be produced by lesser-quality wicks.
With up to 90 hours of burn time for each candle, this gift set offers lasting enjoyment. Whether you're purchasing for yourself or as a thoughtful gift, the Chamomile Lavender and Amber Black Vanilla set promises to transform any space into a haven of luxury and relaxation.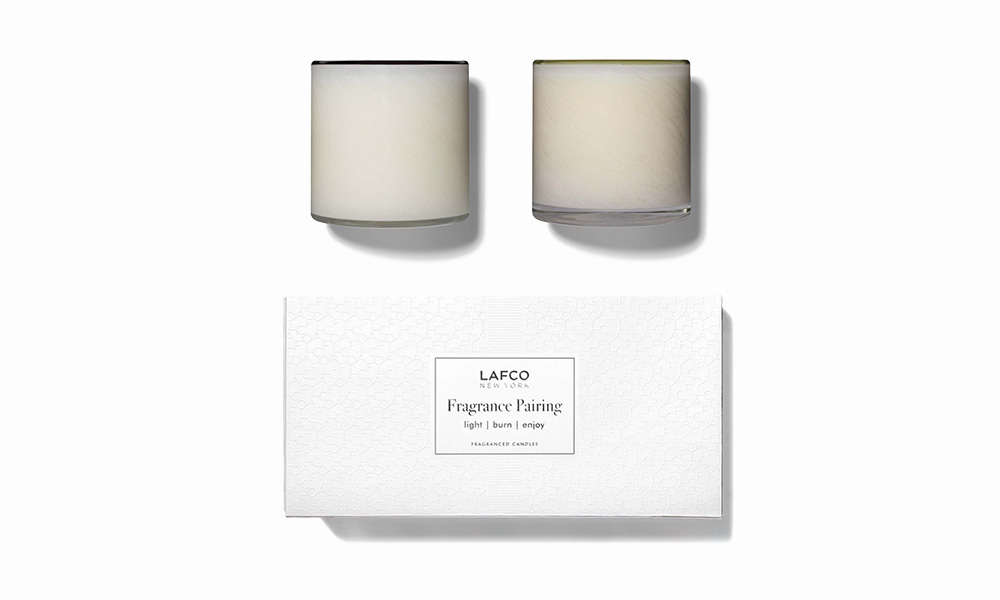 The Champagne & Feu de Bois candle gift set is more than just a present, it's an experience waiting to unfold. This carefully curated duo of scented candles is designed to elevate any occasion, making it an ideal gift for birthdays, anniversaries, housewarmings, or even as a thoughtful "thinking of you" gesture.
This candle set features two of LAFCO's most popular fragrances, each offering its own unique charm. The Champagne blend is lively and effervescent, capturing the spirit of celebration. The Feu de Bois fragrance offers the comforting warmth of a cozy fireside evening. When burned together, these candles create a harmonious blend that's subtle enough for year-round enjoyment, making it a versatile gift that suits any season.
Each 15.5-ounce Signature candle is crafted to the highest standards, ensuring a long-lasting and clean-burning experience. Housed in elegant, neutral cream-colored vessels, these candles will effortlessly complement any home décor, adding a touch of sophistication to the recipient's living space. The 100% cotton wicks contribute to a cleaner burn, allowing the gift recipient to fully savor the layered fragrances without any distractions.
With up to 90 hours of burn time for each candle, this gift set offers lasting enjoyment, making it a gift that keeps on giving.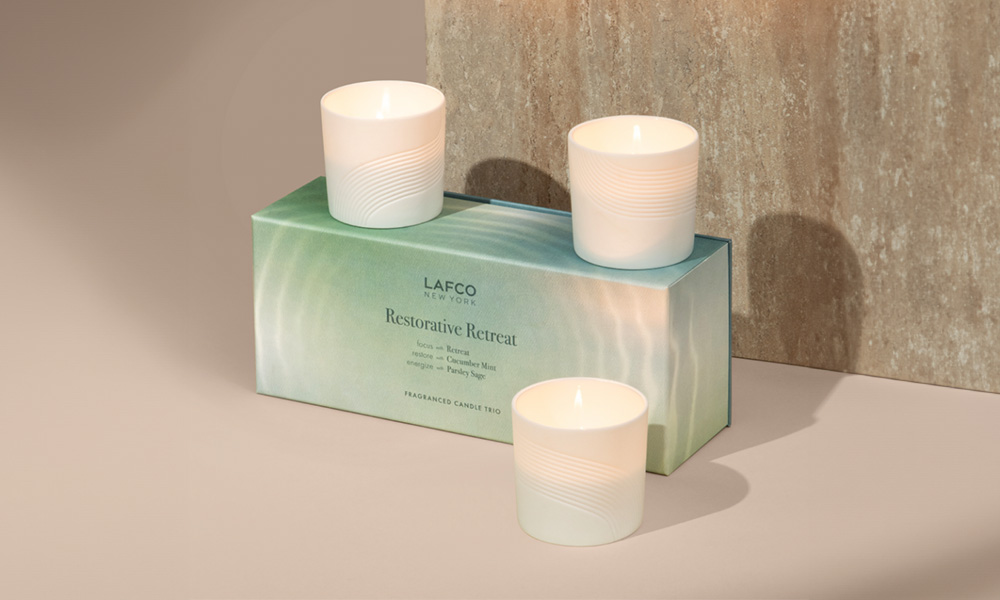 Looking for a gift that goes beyond the ordinary? The Restorative Retreat candle collection offers not just candles, but a complete at-home spa experience that's sure to impress. This limited-edition set is the epitome of thoughtful gifting, perfect for anyone in need of a little pampering or relaxation.
The set features a trio of 5-ounce candles, each designed to complement the others in creating a harmonious blend of scents. The fragrances included are Cucumber Mint, Parsley Sage, and Retreat. Cucumber Mint offers a refreshing and invigorating aroma, ideal for clearing the mind. Parsley Sage brings an earthy, herbal touch to the mix, grounding the overall scent profile. The Retreat fragrance ties it all together with its soothing and calming properties. When burned together, these candles create a symphony of scents that transforms any room into a serene oasis.
What sets this gift set apart is its attention to detail. Each candle is housed in a bespoke porcelain vessel, adding a touch of elegance and sophistication to the experience.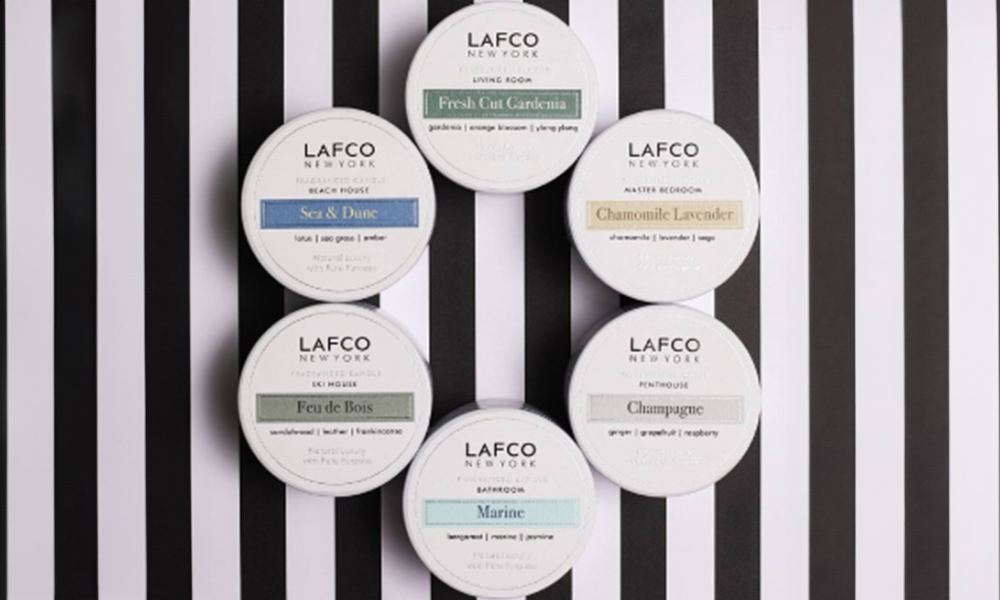 If you're on the hunt for a gift that's as versatile as it is luxurious, look no further than the Travel Candle Collection. This unique set is the perfect present for both travel enthusiasts and those who love to explore different fragrances. It's a mini getaway in a box, offering a world of scents that can be enjoyed anywhere, anytime.
This curated collection features six 4-ounce candles, each showcasing one of LAFCO's best-selling fragrances: Champagne, Marine, Chamomile Lavender, Sea & Dune, Feu de Bois, and Fresh Cut Gardenia. From the effervescent joy captured in the Champagne scent to the calming notes of Chamomile Lavender, this set offers a fragrance for every mood and occasion. It's like giving the gift of multiple destinations, each with its own unique atmosphere.
What makes this set particularly gift-worthy is its travel-friendly design. Each candle is poured into a tin vessel, making it easy to pack and take along on any adventure. Whether the recipient is hitting the road for a weekend getaway or simply wants to enjoy a different scent in each room of their home, these candles make it possible.
But don't let the travel-friendly size fool you, these candles pack the same high-quality fragrance as their full-sized counterparts. They're perfect for setting the mood in a hotel room, adding a touch of home to a far-off place, or simply enjoying a variety of scents in your own living space.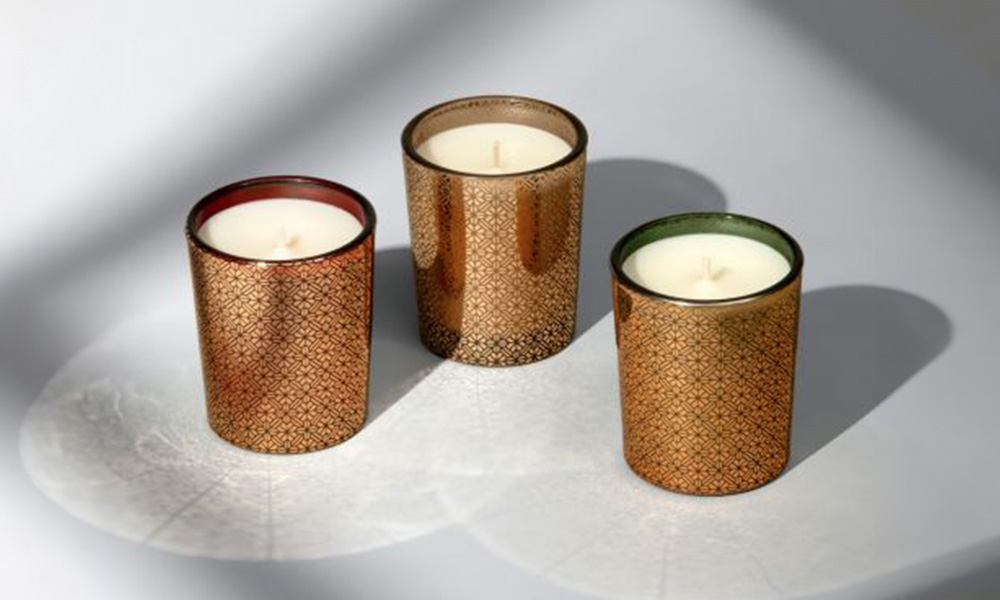 Starting your holiday shopping early? The Midnight Currant, Woodland Spruce & White Maple Bourbon candle set is a festive find that deserves a spot on your gift list. This limited-edition trio captures the essence of the holiday season, making it an ideal gift for friends, family, or even as a special treat for yourself.
The set includes three 1.9-ounce votive candles, each with its own unique holiday-inspired fragrance. Midnight Currant offers a sweet, fruity aroma that adds a touch of indulgence to any setting. Woodland Spruce brings the comforting warmth of a winter forest into your home, creating an atmosphere that's as cozy as it is festive. And let's not forget White Maple Bourbon, a rich and complex scent that evokes the luxuriousness of a holiday feast.
What makes this gift set even more appealing is its festive packaging. The candles come in a beautifully designed box that's ready for gift-giving—no wrapping required. It's the kind of attention to detail that turns a simple gift into a memorable experience.
Can't Find The Ideal Gift Set? Build Your Own
Struggling to find that perfect gift set that ticks all the boxes? Why not create your own with the LAFCO Gift Builder? This innovative option lets you tailor a gift that's as unique as the person you're giving it to, ensuring that your present is both thoughtful and personalized.
The process is simple yet flexible. You can shop by fragrance family to match the recipient's favorite scents, or by product type if you know they love candles, diffusers, or other specific items. Once you've made your selections, just click "Add to Gift Box," and you're well on your way to crafting the ideal gift.
One of the best parts? The usual $5 gift packaging fee is completely waived when your custom gift box contains two or more items. This means you can focus on selecting the perfect products without worrying about extra costs. Each gift box is elegantly packaged, making it ready for gift-giving as soon as it arrives.
And let's not forget the personal touch. Before submitting your order, you have the option to include a gift message. Whether it's a heartfelt note or a simple "Thinking of you," this added feature ensures your gift is as meaningful as it is beautiful.
The LAFCO Gift Builder offers a unique and personalized gifting experience, allowing you to curate a present that's perfectly suited to the recipient's tastes and preferences. It's the ultimate solution for those looking to give a gift that's both luxurious and thoughtful.
Finding the perfect gift doesn't have to be an impossible task. With a wide range of home fragrances and body care products to choose from, LAFCO has something for everyone.