Though you may not be familiar with the name petitgrain, you are probably familiar with the fragrance. This refreshing fragrance is derived from the leaves and twigs of the bitter orange tree – the same species used for neroli essential oil. Petitgrain has a unique aroma and provides a wide variety of potential health benefits.
Petitgrain essential oil is widely used in the perfume industry and is known for its relaxing properties. Though it can be taken internally, aromatherapy is one of the best ways to enjoy this refreshing fragrance. Here's what you need to know about petitgrain and how it is used in LAFCO fragrances.
What is Petitgrain?
Petitgrain is an essential oil extracted from the bitter orange tree (Citrus aurantium). The bitter orange tree is also known as Seville orange, sour orange, and marmalade orange. The leaves and green twigs of the tree are processed via steam distillation to produce petitgrain essential oil. It has a woody, orange aroma that is popular for use in colognes and perfumery.
The raw pulp of the bitter orange is not edible, but the fruit is still widely used in cooking applications. The bitter orange is commonly used to make British orange marmalade because it is higher in pectin than the sweet orange – this enables it to offer a better set and higher yield. Bitter orange was also used in early recipes for the French dish duck a l'orange. In some cases, bitter orange is used to make orange-flavored liqueurs and the unripe fruit is pickled for use in Southern Indian cuisine.
Outside of its culinary applications, bitter orange is used as a dietary supplement in extract form, purported to offer appetite suppressant and weight loss benefits. It contains natural substances similar to epinephrine which constrict the blood vessels, increasing blood pressure and heart rate. Some limited clinical trials show an increase in weight loss results, but there are also case reports showing that bitter orange supplements may be linked to heart problems and drug interactions.
The Health Benefits of Petitgrain
Due to its active ingredient, synephrine, petitgrain has a long history of use in herbal medicine as a stimulant and appetite suppressant. The fruit and leaves of the bitter orange have been used in soap and the wood of the bitter orange tree is popular for woodworking.
Here are some of the benefits of petitgrain essential oil:
It may promote feelings of relaxation
Used topically, it may help reduce the appearance of skin imperfections
It may help prevent sepsis due to its antiseptic properties
Its antispasmodic properties may help relieve cough
It may help relieve anxiety, stress, depression, and anger
Its woody fragrance and antibacterial properties offer deodorizing benefits
It may be beneficial as a sedative and treatment for insomnia
In addition to its relaxing benefits, petitgrain essential oil has calming and balancing properties. It promotes feelings of relaxation which can improve sleep, and it can help induce a sense of calm. The antibacterial, antiseptic, and antimicrobial properties of petitgrain may also be beneficial for cleaning applications and to support healthy immune function.
Ways to Enjoy Petitgrain with LAFCO Fragrance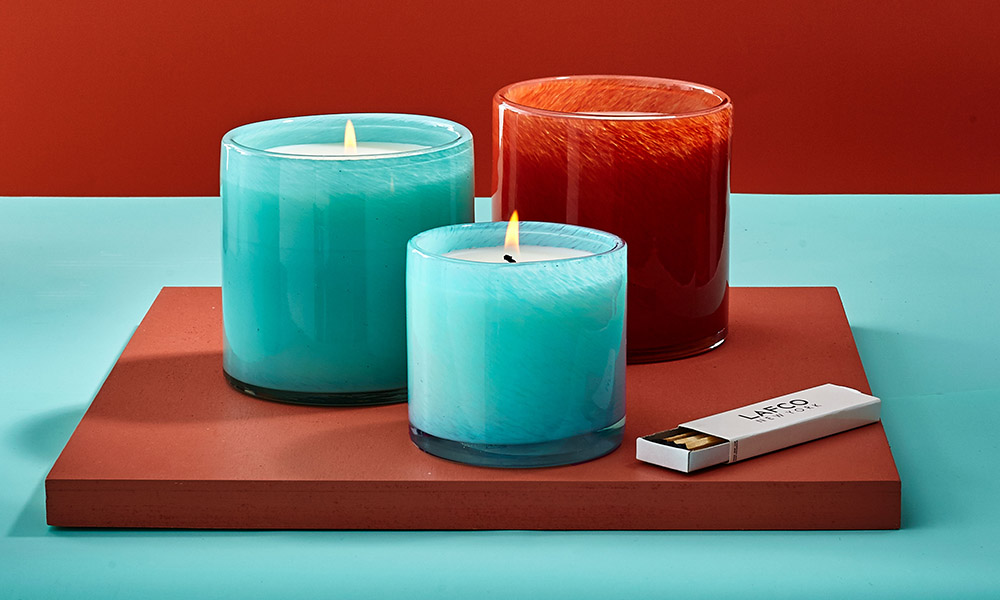 Petigrain has a pleasant woody aroma that blends well with citrus and woody fragrances. This fragrance blends well with bergamot, geranium, lavender, rosewood, and sandalwood. You'll find these fragrances featured in a variety of LAFCO products including candles, reed diffusers, bar soap, and more.
Experience the refreshing fragrance of petitgrain with these LAFCO products:
Watermint Agave Classic Candle – This 6.5-ounce fragranced candle is presented in a bright blue-green art glass vessel to accent your home decor. Notes of blood orange, petitgrain, and mint oil hover over a heart of fig, water lily, and violet before fading to a lasting impression of patchouli, sandalwood, and white musk.
Watermint Agave Signature Candle – This 15.5-ounce fragranced candle is made with solid soy wax and a 100% cotton wick to ensure a clean, non-toxic burn. You'll enjoy up to 90 hours of gentle light and pure, essential-oil based fragrance.
If you're not quite sure which LAFCO fragrance is right for you, you can always sample three of your favorites with the LAFCO Discovery Trio. Enjoy three sample-sized fragranced candles for just $16 and receive a coupon code for $16 off your next full-size purchase.