Oakmoss has an earthy fragrance that conjures imagery of a damp forest floor. Commonly used as a fixative for more volatile essential oils, oakmoss is popular for use in perfumery as well as aromatherapy products like lotions and scented candles. It is valued for its antiseptic, anti-inflammatory, and expectorant qualities.
Here's what you should know about oakmoss and where you can find it in LAFCO products…
What is Oakmoss?
As you might expect from the name, oakmoss is a type of lichen that grows primarily on oak trees. Found predominantly in mountainous forests in temperate regions, oakmoss grows throughout the northern hemisphere. Evernia prunastris is the scientific name and it is a light green to green-black species of fungal lichen that typically grows on the trunk and branches of various deciduous trees and conifers.
Oakmoss is widely cultivated in South-Central Europe and exported to France where it is used for its fragrant components. It has a complex odor that combines elements of woodiness, sharpness, and sweetness. When oakmoss grows on pine trees, however, it takes on a turpentine odor. In most other instances, it has an earthy scent with a leather-like undertone.
As a fixative agent, oakmoss is valued for its ability to anchor volatile notes and it can impart a smoothness and rich undertone in a variety of fragrance types. Though primarily used in perfumery and aromatherapy, oakmoss extract is also used in cleaning solutions, soaps, and hair products.
The Health Benefits of Oakmoss
Oakmoss has an earthy, natural fragrance but the lichen from which it is derived isn't technically a plant. Lichen are organisms that live symbiotically with fungi. Oakmoss fragrance oil is obtained through solvent extraction of the lichen which has been soaked in water. This yields a concrete which has a dark, earthy scent or an absolute which is a dark green liquid with a mossy odor.
Though most commonly used in perfumery, oakmoss has a limited history of medicinal use. Ancient Egyptians once used lichens like oakmoss when embalming the dead and similar lichens are still used today in dyes.
Here are some of the potential benefits of oakmoss:
The antiseptic quality of oakmoss makes it popular for use in soaps.
Oakmoss may help prevent infections in open cuts and wounds.
The anti-inflammatory benefits of oakmoss make it a benefit for skin creams and lotions.
The expectorant qualities of oakmoss may help relieve cough and mucus.
Oakmoss has restorative qualities that may be beneficial for anti-aging.
Oakmoss extract comes with a high risk for sensitization, so it must be thoroughly diluted for topical use.
How to Enjoy Oakmoss Fragrance at Home
Oakmoss is most commonly used in perfumery and aromatherapy for its fixative qualities as a base note. While it may not be the most widely used fragrance, it adds an earthy note that blends well with brighter scents to create a balanced fragrance.
Enjoy these two LAFCO fragrances featuring the fragrance of oakmoss: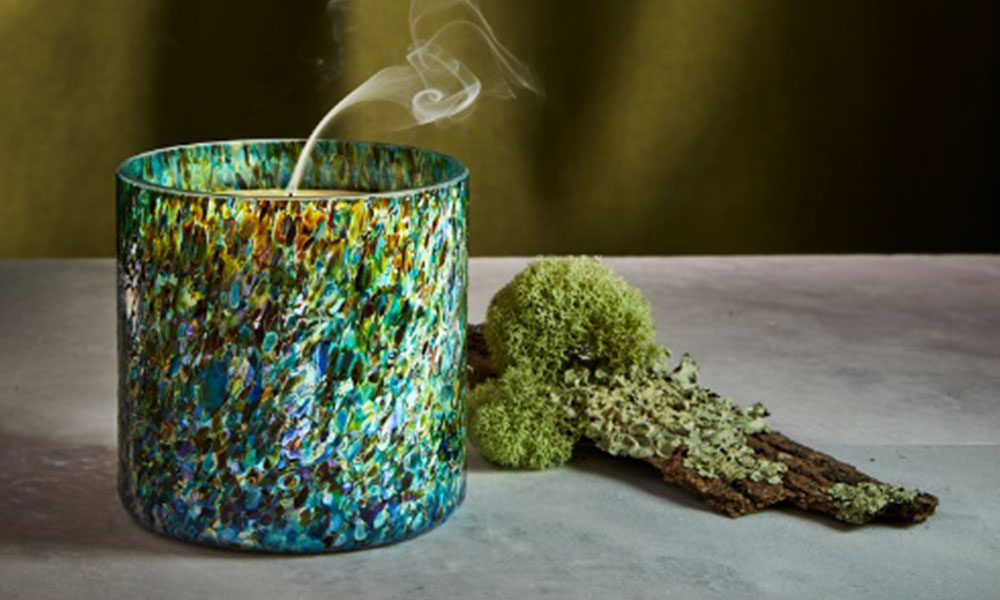 Part of the Absolute Collection, Forest Oakmoss features opoponax, oakmoss absolute, and vetiver. This earthy, woody fragrance delivers a core of mossy intensity sweetened with notes of cognac, violet blossoms, and warm amber.
This 15.5-ounce candle is presented in a decorative handblown glass vessel speckled with earthy shades of green, brown, and blue. A 100% cotton wick delivers a clean burn for up to 90 hours.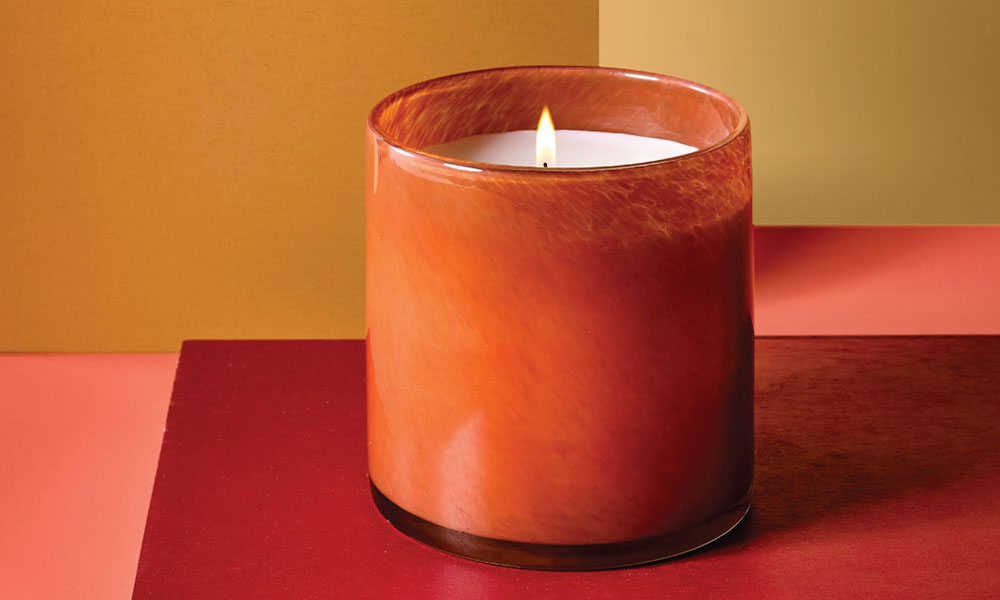 Warm and welcoming, this fragrance combines key notes of bergamot, geranium, and terracotta. Top notes of bright bergamot, grapefruit, and rhubarb settle into a floral heart of jasmine, magnolia, and geranium before giving way to an earthy undertone of cedarwood, oakmoss, and amber.
Available in the Classic 6.5-ounce and Signature 15.5-ounce sizes, this fragranced candle is presented in a warm orange glass vessel. This essential oil-based fragrance delivers a pure fragrance while soy wax and a cotton wick ensure a clean, non-toxic burn.
If you're looking for complementary fragrances to pair with oakmoss, it works well with citrus notes like bergamot, lime, and orange as well as tea tree, vetiver, ginger, and eucalyptus.
The following LAFCO fragrances may pair well with oakmoss:
Vetiver Sage – The welcoming scent of almond blossoms blends seamlessly with aromatic sage and white lavender. Woody undertones of orris and spiced pink pepper deliver warmth with just a hint of sandalwood and amber.
Chamomile Lavender – Fresh and inviting, this fragrance features notes of bergamot and chamomile blended with lavender and eucalyptus. These scents fade to a lasting impression of rosemary, Indonesian patchouli, and honey flower.
Rosemary Eucalyptus – The robust scent of juniper, eucalyptus, and fresh rosemary is revealed after top notes of basil and sage fade away. These fragrances give way to a base of Indonesian patchouli and elemi oil.
Oakmoss is an earthy fragrance that can have a centering affect for the mind and body. Create your own pairing of oakmoss fragrance with complementary scents using the LAFCO Discovery Trio. You'll enjoy three sample-sized candles for just $16 with free shipping. If you find a fragrance you like, you'll receive $16 off your next full-size order.