Citrus essential oils are known for their bright scent and refreshing properties. Neroli is a member of the citrus family, derived from the blossoms of the bitter orange tree. Though the name may suggest otherwise, its fragrance is sweet, and its benefits are myriad. Here's what you need to know about neroli essential oil and where to find it in LAFCO fragranced products.
What is Neroli?
Neroli essential oil is an essential oil extracted from the blossoms of the bitter orange tree (Citrus aurantium amara), also known as the Seville orange or sour orange. The bitter orange tree is common throughout Tunisia, Morocco, and Egypt where the blossoms are harvested, typically by hand, between late April and early May. Neroli essential oil is extracted from the blossoms through steam distillation.
Known for its sweet, honeyed fragrance, neroli is one of the most popular essential oils used in perfumery. Because it has a high concentration of terpenes, this essential oil can cause sensitization, but it is generally safe when properly diluted. Neroli essential oil is commonly blended with other citrus oils and various floral absolutes. It even has limited use as a flavoring agent, most notably used in the secret recipe for Coco-Cola. It is included in the recipe for open source colas as well, though often omitted due to its prohibitive cost.
The Health Benefits of Neroli
The name "neroli" can be traced back to the 17th century. When crusaders first brought the bitter orange to Europe from Asia, they named it after Anna Marie Orsini, the princess of Nerola, Italy who used the oil to scent her gloves and wore it as a perfume. She also popularized the use of neroli in beauty products, though it already had a long history of use in ancient Egyptian and Chinese medicine.
Here are some of the potential health benefits of neroli:
It may help stimulate skin cell regeneration, helping reduce the appearance of scars
It offers natural antiseptic, antibacterial, and anti-inflammatory properties
It has natural analgesic (pain-relieving) properties
It may help reduce oily skin, redness, and breakouts
It contains biologically active components which may reduce seizures
Inhaling neroli oil may help reduce blood pressure
It has been shown to reduce symptoms associated with PMS and menopause
In aromatherapy applications, it may help reduce stress and anxiety
Neroli essential oil is most commonly used in aromatherapy applications, though it can be applied directly to the skin if properly diluted.
How to Enjoy Neroli Fragrance at Home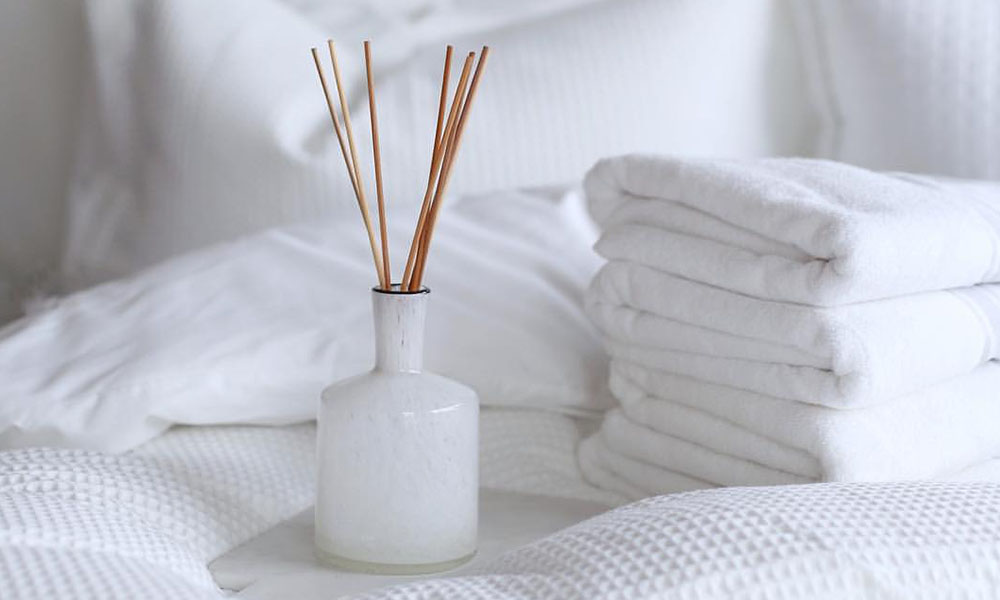 Though it may be extracted from the bitter orange tree, this floral fragrance is supremely sweet. With rich, citrusy overtones, neroli is a fresh fragrance that works well in the kitchen and bathroom, though it may also be beneficial in the bedroom or office for its soothing effects. You'll find neroli featured in a variety of LAFCO products including fragranced candles, reed diffusers, and more.
Here are 3 LAFCO fragrances featuring neroli:
Champagne – Quietly luxurious, this fragrance features sparkling notes of orange and mandarin zest with raspberry and Tuscan lemon. Interwoven notes of rose, neroli, and verbena give this fragrance an effervescence. Enjoy this fragrance in the 4-ounce Travel, 6.5-ounce Classic, 15.5-ounce Signature, or 30-ounce 3-Wick candle as well as reed diffusers, body care, and room mist.
Star Magnolia – This delicate fragrance brings to mind the image of a luxurious bouquet of white blooms. Bright notes of neroli, bergamot, and yuzu are accented by the captivating scent of star magnolia and muget with just a touch of bamboo leaves and sheer amber. Enjoy up to a year of lasting fragrance with this Signature 15-ounce reed diffuser or find this fragrance in the 6.5-ounce Classic or 15.5-ounce Signature fragranced candle.
Watermint Agave – Presented in a bright teal art glass vessel, this vibrant fragrance features sparkling notes of watermint, white jasmine, neroli, and violet. Enriched with top notes of petitgrain and blood orange, this fragrance fades into a lasting impression of patchouli, sandalwood, and white musk. Enjoy this fragrance in 6.5-ounce Classic or 15.5-ounce Signature.
LAFCO fragrances are made with pure, essential-oil based fragrances and presented in artisanally crafted hand blown glass vessels. Use the LAFCO Fragrance Finder to explore new fragrances and try your favorites with the LAFCO Discovery Trio. You'll enjoy three sample-sized candles for just $16 and receive $16 off your next full-size purchase, free shipping included.