Roughly 85 million families in the United States own pets, according to the 2019-20 National Pet Owners Survey – that's about 67% of the American population. Not only do more people own pets than ever, but pet owners increasingly state that they consider their pets more than just companions – they're part of the family. Each year, pet owners spend more to keep their pets well – over $75 billion in 2019.
Being a pet owner is a big responsibility and one that involves more than just putting a roof over your pet's head. On top of providing your pet with a healthy diet, routine veterinary care, and proper exercise, it's your duty to keep your pet safe. Each year over 500,000 pets are affected by housefires which is why the American Kennel Club (AKC) launched National Pet Fire Safety Day.
What is National Pet Fire Safety Day?
National Pet Fire Safety Day falls on July 15th of each year and is co-sponsored by the AKC and ADT Security Services. This national awareness day was instituted by the AKC to educate parents about the potential risks their pets face when left home alone.
AKC spokesperson Lisa Peterson states, "One of the hallmarks of responsible dog ownership is keeping pets safe and planning for unexpected emergencies, including housefires." By taking preventable measures, pet owners can reduce the risk of house fire and keep their pets safe.
Fire Safety Tips for Pets at Home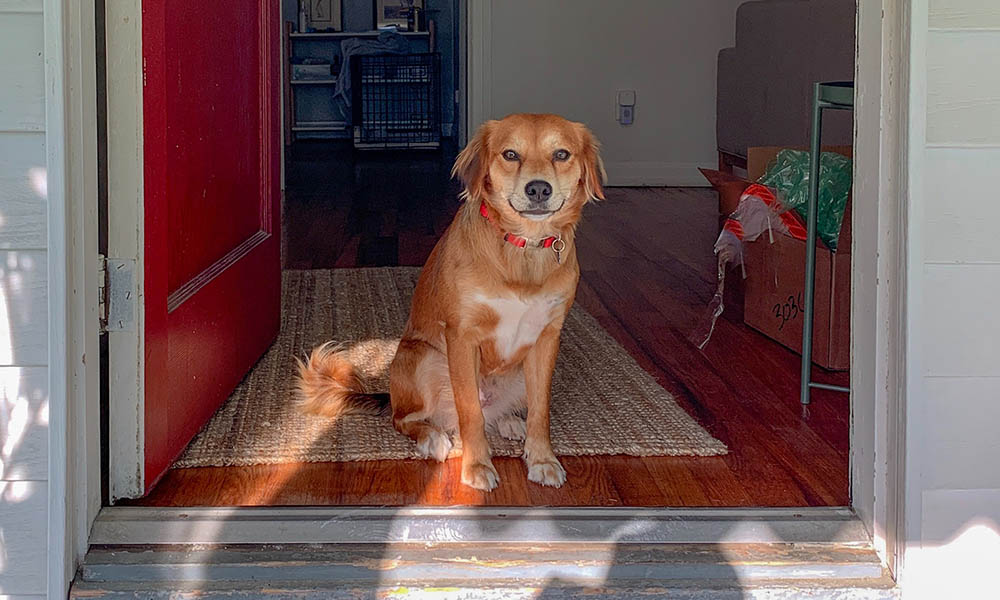 The most common way a pet might accidentally start a fire is through an open flame. Never leave lit candles unsupervised or leave a fire lit in the fireplace if you're not home. If your pet is particularly curious, you may even want to install covers over the knobs on your cooking appliances so your pet can't accidentally bump against them and fill the house with gas.
Here are some additional fire safety tips you can implement at home:
Extinguish open flames. Pets can be curious and will investigate open flames including candles, fireplaces, and even cooking appliances. Make sure your pet is never left unattended around an open flame and extinguish flames before leaving the home.
Pet-proof your home. Before bringing your pet home for the first time, take a walk around and look for potential hazards. In addition to securing appliances, covering outlets, and storing household chemicals, look for things that might accidentally start a fire and take care of them.
Plan an escape route. Know what to do in the event of a house fire, including where you'll exit the house and how you'll take your pets with you. Keep leashes and collars readily accessible near the door so you can evacuate quickly if you need to.
Use smoke detectors. Your pets can't escape the home on their own if you aren't there, so make sure you have smoke detectors installed and connect them to a monitoring center. In the event of a house fire, the monitoring system will alert the authorities automatically.
In addition to employing these simple fire safety tips at home, you should take steps to ensure your pets are rescued if a house fire occurs. When you leave your pets home alone, try to keep them in rooms near the entrance where firefighters can easily find them. You should also affix a pet alert to your front door or window that lists the number of pets and their species – you can get a free window cling by visiting www.adt.com/pets or find more details at www.akc.org.
How LAFCO Keeps Your Pets Safe
Nothing compares to the pure fragrance of a LAFCO scented candle, but pet owners should exercise caution when using candles in pet-friendly homes. All LAFCO candles are presented in art glass vessels which safely contain heat and melted wax, but you should still avoid leaving lit candles unsupervised. To help keep you and your pets safe, LAFCO uses only the highest-quality ingredients including solid soy wax, essential oil-based fragrance, and 100% cotton wicks. If you have pets, you may want to stick to lighter, pet-friendly fragrances to avoid irritating your pet's sensitive nose.
Not only does LAFCO offer a wide range of premium-quality fragrances, but you'll enjoy free shipping on orders over $75 and free gift wrap on all orders. To make the most of your purchase, join LAFCO Rewards and start earning points on every purchase toward future savings.