It's no secret that fresh fruits and vegetables are good for you, but some foods are so healthy they're unofficially dubbed "superfoods" – matcha is one of them. This powdered green tea lies at the heart of traditional Japanese tea ceremonies and has become a popular ingredient in herbal remedies.
Though you may be most familiar with matcha as drinkable in a powdered green tea, the fragrance of matcha is definitely one worth experiencing. LAFCO's new Retreat line of products features the fragrance of matcha along with clary sage and palo santo.
View this post on Instagram
Available in both the Classic and Signature sizes for scented candles and reed diffusers, Retreat encapsulates the essence that is wellness and self care.
"My intention was to create a calming and tranquil retreat-like atmosphere in the home, whether at work or during relaxation." — Jon Bresler Founder
Retreat's use of matcha was used to create a fragrance that allows those who smell it an escape to sanctuary of tranquil ambiance in any space.
Here's what you need to know about matcha and its potential health benefits.
What is Matcha?
Matcha is a type of green tea that comes in several different grades. In contrast to traditional green tea which consists of the dried leaves of the plant, however, matcha is typically powdered. Outside of Japan, matcha is marketed according to the following three grades:
Ceremonial Grade – One of the most expensive grades, ceremonial matcha is ground into powder using granite stone mills and it has an extremely fine texture. It must be of high enough quality to prepare "koicha," the thick tea mixed with a high proportion of tea to water used in traditional tea ceremonies.
Premium Grade – Ground from the young tea leaves from the top of the plant, premium grade matcha has a fresh, subtle flavor that is best for daily consumption.
Culinary Grade – The most economical of the three grades, culinary grade matcha is ideal for culinary purposes such as smoothies and desserts. It may be slightly more bitter than premium grade matcha because it is made from leaves harvested further down on the tea plant.
While green tea is typically steeped in hot water, matcha is whisked into the water to form a frothy beverage. Though its preparation is the backbone of the Japanese tea ceremony, matcha is widely consumed around the world and is a key ingredient in popular beverages like boba tea.
The Health Benefits of Matcha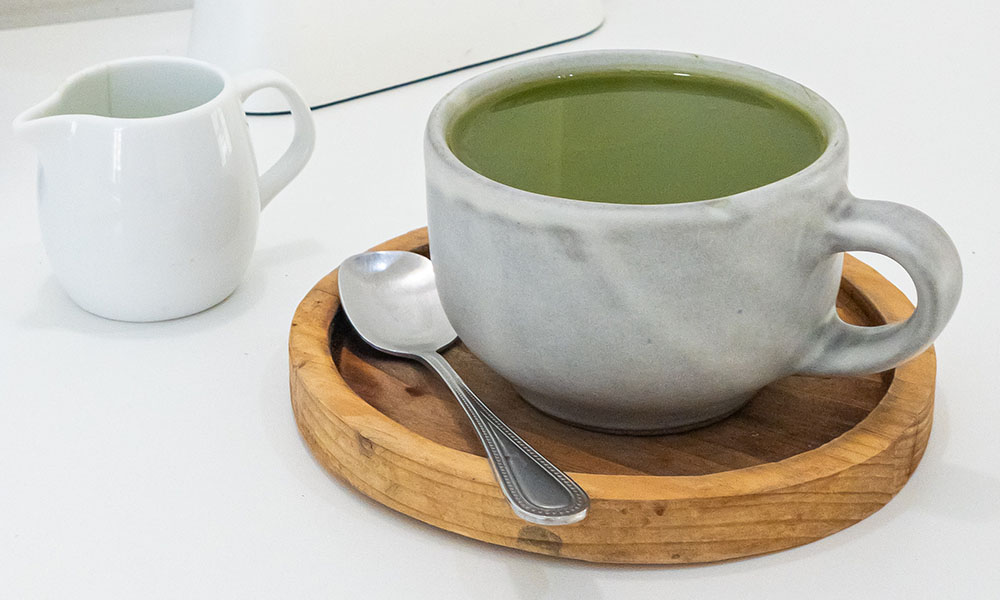 Compared to green tea, matcha has a higher caffeine content because it is typically harvested from shade-grown tea bushes. An 8-ounce cup of green tea contains an average of 24 to 40 mg of caffeine while an equal serving of matcha contains between 25 and 70 mg of caffeine. Matcha is packed with antioxidants and polyphenols in even higher concentrations than green tea because the whole leaf is ingested instead of steeping and discarding the leaves.
Here are some of the health benefits associated with matcha:
The high antioxidant content of matcha may help protect against free radical damage and reduce your risk for various chronic diseases.
Matcha may help protect the liver and boost its function, improving the body's ability to flush out toxins and metabolize nutrients.
Consuming matcha on a regular basis has been associated with improvements in attention span, reaction time, and memory.
Loaded with various health-promoting compounds, matcha may help slow the growth and spread of certain forms of cancer.
The antioxidant content in matcha may help reduce cholesterol and triglyceride levels, helping to promote better heart health.
Green tea like matcha has been associated with increased fat burning and enhanced weight loss.
In addition to being loaded with health benefits, matcha is very easy to prepare. Simply sift 1 to 2 teaspoons of matcha powder into a mug and add 2 ounces of hot water. Matcha is traditionally prepared using a bamboo whisk, but you can use whatever you have handy. You can also adjust the proportion of matcha powder to water according to your preference for taste and consistency.
Ways to Enjoy Matcha Fragrance at Home
Matcha has a fresh, leafy fragrance not unlike that of green tea. This fragrance pairs well with woody and herbal fragrances like those featured in the new Retreat line of fragranced products.
Here are some of the top LAFCO products featuring matcha:
Retreat Classic Candle – Presented in a warm sand-colored art glass vessel, this warm and woody fragrance is perfect for the meditation room or sanctuary. Herbal notes of clary sage blend with palo santo wood under an initial impression of matcha, mint, and ginger.
Retreat Reed Diffuser – The smooth scent of matcha green tea accented with notes of bergamot and ginger hover over a heart of rhubarb, clary sage, and mate leaves before settling into a heart of warm palo santo and guaiac woods with a hint of Timur pepper.
The warm, herbal fragrance of matcha pairs perfectly with mint, ginger, and clary sage to create an uplifting ambience in your home. If you're looking for complementary fragrances to feature in adjacent rooms, there are plenty of options to choose from.
Here are some complementary fragrances to try:
If you can't decide which fragrance to try, pick your top three. The LAFCO Discovery Trio is the ideal opportunity to sample three of your top fragrance choices for just $16, shipping included. Plus, you'll earn a $16 discount on your next full-sized purchase, so there's nothing to lose.