As the warmth of summer gives way to the crispness of fall, you may find yourself craving change in your home. You'll soon be swapping out cool summer linens for cozy blankets and flannel sheets. Your recipes may transition from light entrees to heartier, more filling meals. Even your home fragrance preferences may start to shift with the seasons.
To wave goodbye to summer and usher in fall, LAFCO has partnered with private chef Manny Baiden to create the perfect food and fragrance pairing featuring Paradiso Fig.
About Manny Baiden
Chef Emmanuel Baiden (@mannyeats on Instagram) is a private chef based in Richmond, VA. Having been born and raised in Ghana, Chef Manny combines West African influences with modern techniques to enliven the culinary scene in Richmond. Manny is a graduate of James Madison University's hospitality program and has enjoyed a diverse culinary career throughout Virginia and as far west as Napa Valley in California.
With his experience in both front and back of house roles, Manny grew to understand the operations of hospitality and combined that knowledge with his entrepreneurial spirit to break into the private side of culinary arts. Today, Chef Manny is a sought-after private chef for events and private dining in the Richmond area. He's worked with acclaimed partners like Jim Beam, The Martin Agency, and Allegiant Airlines, and has made several appearances on CBS 6's Virginia This Morning.
LAFCO is among Chef Manny's most recent partnerships. Inspired by the sweet and citrusy notes featured in the Paradiso Fig fragrance, Chef Manny has created a delicious recipe that pays homage to flavors of fall with a nod to summer sweetness.
Sourdough Toast with Bergamot, Peach, and Fig
View this post on Instagram
If you're looking for a recipe to satisfy your hunger without being too filling, Chef Manny's sourdough toast is just what you need. This simple recipe features bright summer flavors like bergamot and peach with savory prosciutto and sweet honey to tie everything together perfectly.
Here are the ingredients:
Sourdough bread
Burrata cheese
Salt and pepper
Peach
Figs
Prosciutto
Wildflower honey
Bergamot olive oil
Basil
Marigold petals
Chef Manny begins by toasting the sourdough with butter in a cast iron skillet before smearing with burrata and topping with sliced peaches. After seasoning with salt and pepper, he tops the toast with prosciutto and quartered figs. The recipe finishes with a drizzle of wildflower honey and bergamot oil, garnished with fresh basil and marigold petals.
Enjoy this sourdough toast as a hearty breakfast, a light lunch, or an appetizer to share. To really bring out the flavors and enhance the dining experience, don't forget to light a Paradiso Fig candle as you dig in.
Pair with Paradiso Fig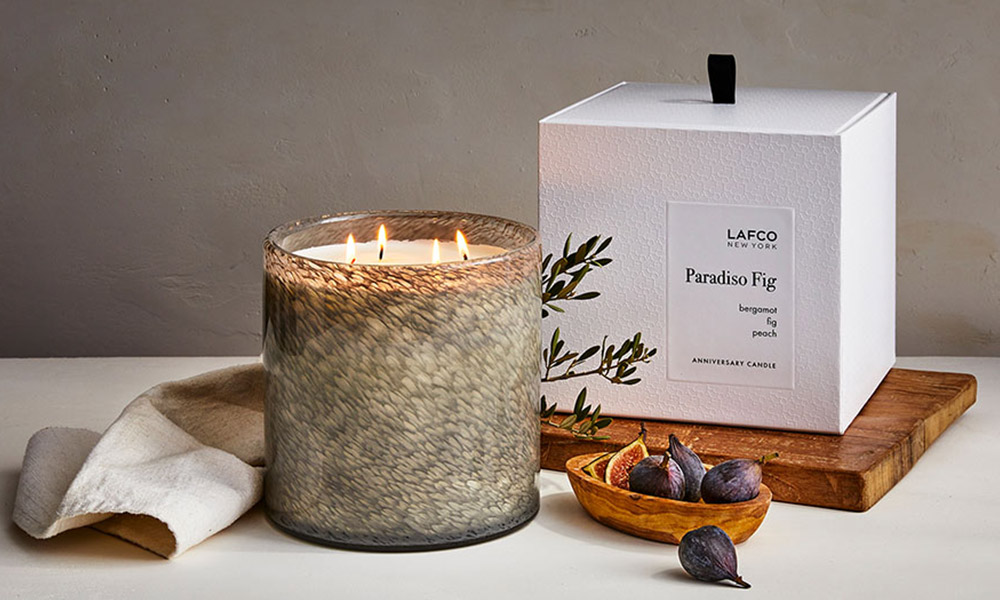 Fall fragrances are warmer than summer scents but still carry the lightness of fruity, citrusy, and herbal notes. Paradiso Fig is the ideal autumn fragrance to help you welcome the coolness of fall while waving farewell to the warmth of summer.
Presented in a marbled gray glass vessel, the Paradiso Fig fragrance is available in a 6.5-ounce Classic, 15.5-ounce Signature, and 86-ounce 3-wick candle. Bright notes of bergamot, blackcurrant, and cardamom welcome you on your first inhale, giving way to a heart of frangipani, apple, and fig. As these notes fade, you're left with a lasting impression of cedar, peach, and accord gourmand.
Looking for more fall fragrances to keep your home warm and cozy this autumn? Explore LAFCOs home fragrance line up to select from scented candles, reed diffusers, and more. Or, build your own Discovery Trio to find the perfect fragrance for your home.