Store Name: Lemon Cabana
Store Address: 319 Laskin Road, Virginia Beach, VA 23451
Instagram Handle: Lemoncabana
Owner: Julie Fancher Deese
Years in Business: 15.5
Tell us about your store. What inspired you to create it?
I decided I wanted to open a store in 1980 when I was 16. 26 years later, I did! I was finally more scared of NOT ever doing it, than doing it! ( I am going to update this and photos as we are doing work on the building, but I wanted to get this in! I will send photos of lucky & store next month!)
Talk to us about your product curation. How do you decide which brands to offer?
I was a flight attendant for 17 years before I opened my store and had lived all over the US. On my layovers, I would wander around small towns and big cities alike checking out all the little shops. Seeing shops in Europe, the Caribbean and the USA has given me insight into what makes my heart skip. I can say with conviction that the small boutiques in the US are definitely my favorite shopping. Products that excite me or make me smile always get my attention. As time goes on and we get to know our customers, I now buy what I think would excite our customers and my co-workers. If we love it, then we can sell it!
What is your favorite or "must-have" LAFCO product and why?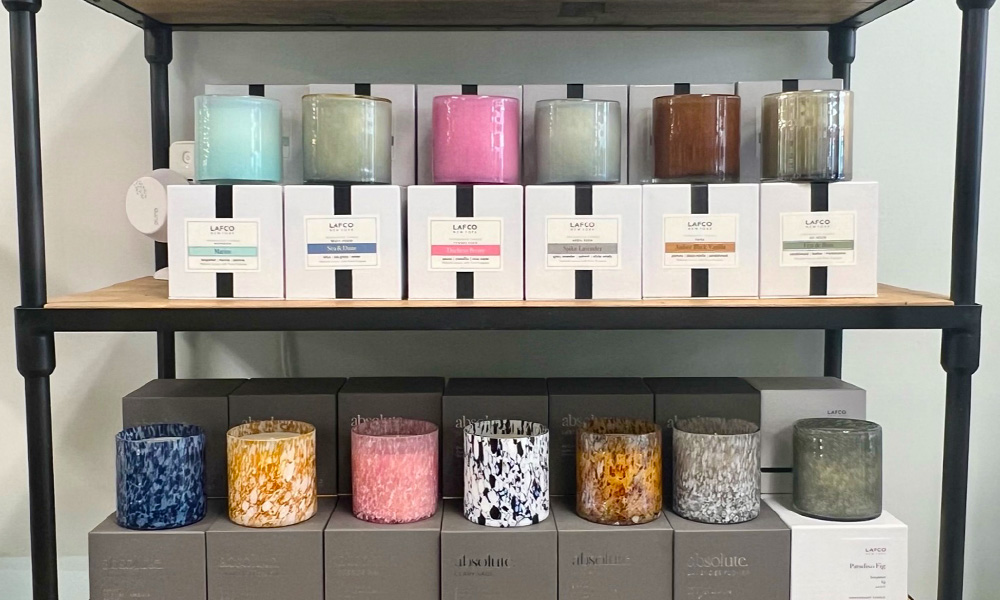 Yikes! Can we only have 1? We have 3 candles that we absolutely love! Marine is our number #1. It's so fresh and clean – I've had it in my home for years and I never tire of it. If you don't know what scent to buy, you can't go wrong with Marine! If you want one for that zen-spa feeling, we recommend Media room. Its lavender and woodsy notes lulls you into relaxation mode! Our seasonal favorite is Ski House. The ladies of Lemon Cabana say it smells like a good-looking man! The mix of leather and sandalwood is dreamy!
Do you have a store pet or furry friend? What's his or her name?
My dog Lucky loves to visit and get attention! All the Lemon gals are dog crazy! We say it's the first question on our job application. Must love dogs!
What advice or ideas would you like to share with other independent businesses?
My first piece of advice is get an accountant before you do anything. Learn the tax rules before you even register your business. If will save you money in the long run.
Two would be to trust your gut about your purchases. When you are getting opinions from sales representatives, co-workers, customers and friends; you need to listen, but ultimately when something is a dud, it's coming out of your wallet. If you don't feel good about it, just say "NO".
Third would be to hire people who put your customers first. I opened Lemon Cabana because I love to find pretty things for my customers, not to shop for myself. The items we buy for ourselves are a bonus, but you need to keep your customers top priority if you want to be profitable.
Last thing! Never use the word "the" in your name! We dropped our "the", but it can make for a disaster when people search for you!