The holiday season is upon us and that can only mean one thing: potlucks, parties, and family gatherings. What better way to reconnect with loved ones than over the rim of a delicious cocktail inspired by the season's most popular fragrances? The LAFCO holiday collection is back and better than ever, bursting with classics like Spiced Pomander and Fireside Oak.
This year LAFCO is taking things up a notch by crafting delicious cocktails inspired by three iconic holiday fragrances. Kick back and relax with a Maple Vanilla Bourbon Old Fashioned or get the party started with a rosemary gimlet. And if you're looking for a little spice in your life, a Spiced Cinnamon White Russian might be just what you need.
Share these delicious cocktails with friends and family this year and turn your home into a holiday haven with fragrances from LAFCO.
Maple Vanilla Bourbon Old Fashioned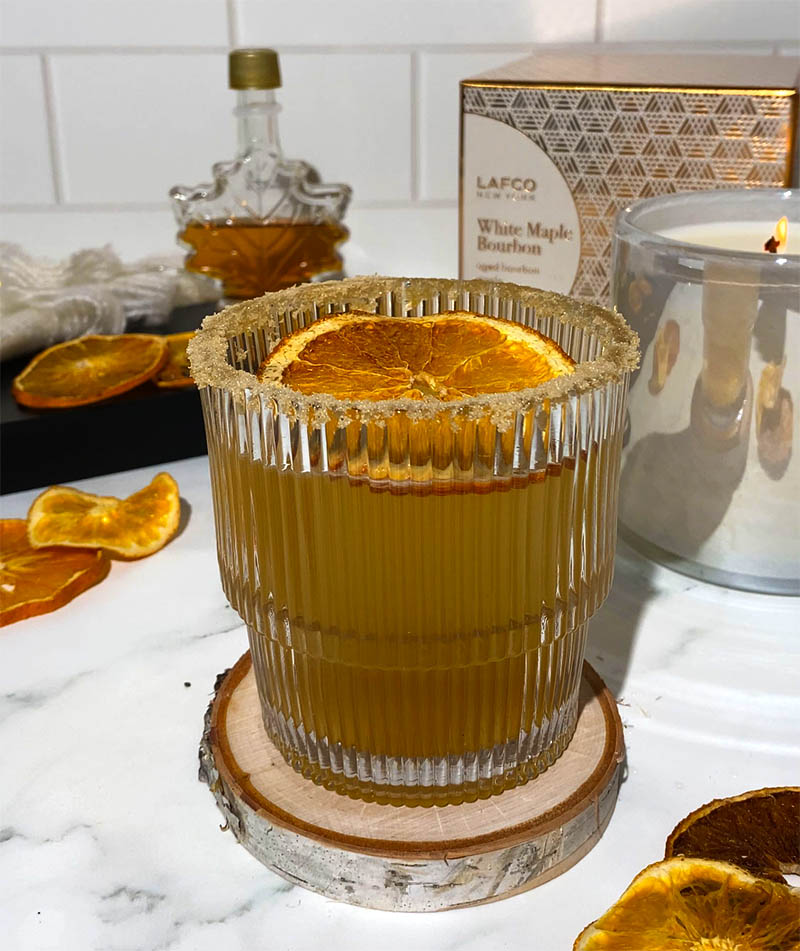 Inspired by the smooth, warming fragrance of White Maple Bourbon, this old fashioned puts a holiday twist on a tried-and-true favorite.
Enjoy this warming cocktail with a White Maple Bourbon candle, available in the Classic 6.5-ounce and Signature 15.5-ounce sizes. From the moment you light this candle, you'll be enveloped by rich notes of aged bourbon and caramel, complemented by notes of artemisia, pistachio, and maple. As the top notes fade away, you'll be left with a complex undertone of gaïacwood, vetiver, and vanilla bean.
Ingredients:
Brown sugar
1 fresh orange slice
1 ¾ ounces vanilla-infused bourbon
1 ounce Cointreau
1 ounce pure maple syrup
½ ounce fresh orange juice
Dried orange slice
Instructions:
Sprinkle the brown sugar on a small plate and wet the rim of a rocks glass with the orange slice.
Press the rim into the brown sugar, gently swirling to coat.
Combine the bourbon, Cointreau, maple syrup, and orange juice in a cocktail shaker.
Add ice and shake well.
Double strain the mixture into the prepared glass with a large ice cube.
Garnish with dried orange slice to serve.
Rosemary Gimlet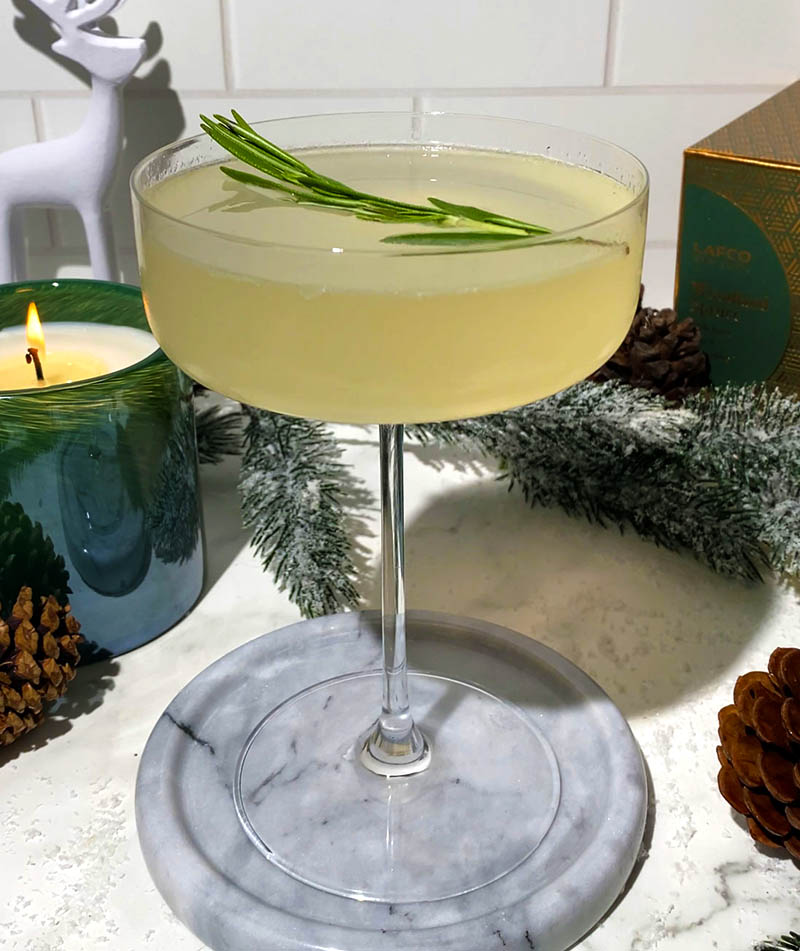 The woody and herbal aroma of rosemary gives this gimlet an unforgettable flavor while calling to mind the fragrance by which it was inspired: Woodland Spruce.
Enjoy this crisp and herby cocktail with a Woodland Spruce candle, presented in a forest green art glass vessel in four sizes up to 30 ounces. The candle presents with an initial impression of eucalyptus, juniper berry, and cinnamon that slowly gives way to a heart of fir balsam, birch leaf, and frosted vanilla. Underneath awaits a base of Palo Santo and cypress.
Ingredients:
¼ cup water
¼ cup sugar
1 to 2 tablespoons fresh rosemary leaves
1 fresh rosemary sprig
2 ounces gin
1 ounce rosemary simple syrup
½ teaspoon honey
½ ounce fresh lime juice
Ginger beer
Instructions:
Combine the water, sugar, and rosemary leaves in a small saucepan.
Bring to a boil then stir until the sugar is dissolved.
Remove from heat and let rest for 20 minutes before discarding the rosemary.
Carefully light the rosemary sprig on fire and place it on a plate.
When it gets smoky, turn a coupe glass over it to contain the smoke.
Combine the gin, honey, and lime juice with 1 ounce rosemary simple syrup in a cocktail shaker.
Add ice and shake well until cold.
Strain the mixture into the smoked glass and top with ginger beer and the fresh rosemary sprig.
Spiced Cinnamon White Russian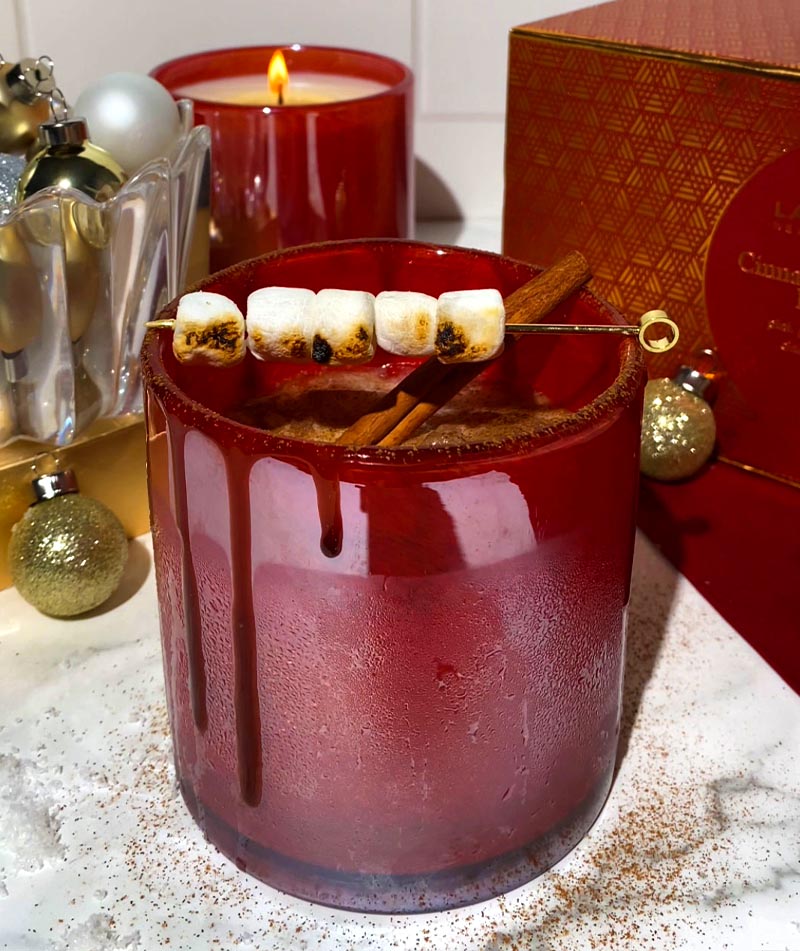 The captivating aroma of cinnamon saturates the holiday season while its spicy flavor puts a jolly twist on classics like the white Russian. This cocktail is spicy and sweet, inspired by the of Cinnamon Bark fragrance.
Enjoy this spiced cocktail with a Cinnamon Bark candle, available in a 1.9-ounce votive as well as the Classic 6.5-ounce and Signature 15.5-ounce sizes. This festive fragrance presents with a blend of lemon, black cinnamon, and pink pepper before melting into a soothing heart of brushed suede, lavish tonka, and crushed clove. A warming foundation of cedar, amber, and musk creates the final impression.
Ingredients:
¼ cup water
¼ cup brown sugar
½ teaspoon ground cinnamon
¼ teaspoon ground allspice
½ teaspoon vanilla extract
Chocolate syrup
2 ounces vodka
2 ounces Kahlua
2 ounces heavy cream
Cinnamon stick
Toasted marshmallow
Instructions:
Combine the water, brown sugar, and cinnamon, allspice, and vanilla in a small saucepan.
Bring to a boil then stir until the sugar is dissolved.
Remove from heat and let rest for 10 minutes – stir immediately before using.
Rim a large glass with chocolate syrup then fill with ice.
Add the vodka, Kahlua, and cream along with 1 ½ ounces of the spiced simple syrup.
Stir until well combined then garnish with a cinnamon stick and toasted marshmallow.
Make this holiday season merry with delicious cocktails and festive fragrance from LAFCO. Don't forget, you can repurpose your LAFCO candle vessel as a cocktail holder (and more).
Looking for a holiday gift? You can't go wrong with the Woodland Spruce & Cinnamon Bark gift set. These two holiday fragrances pair perfectly in beautiful red and green vessels.