How many times a day do you wash your hands or use hand sanitizer? Since the COVID-19 pandemic began, that number has probably risen dramatically, and your skin may be paying the price.
Handwashing is critical to prevent the spread of germs, but the side effects of frequent washing include dry, itchy, flaky skin that can crack and even bleed. Dry skin is uncomfortable but it can also make you more susceptible to germs and bacteria. The solution? Moisturizing immediately after washing your hands to restore and protect the skin's natural moisture barrier.
Lotions and hand creams are a dime a dozen these days, but they aren't all created equal. Discover why LAFCO's luxuriously smooth and hydrating hand cream may be the perfect solution for your dry hands.
What Makes LAFCO Hand Cream Unique?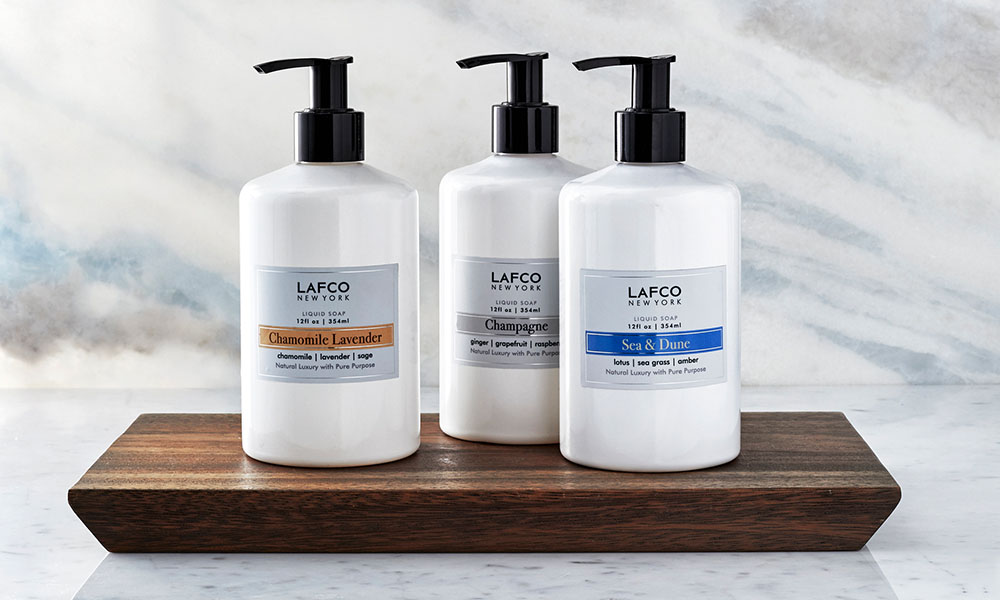 When your skin is feeling dry, it's easy enough to pick up a bottle of lotion at the drugstore. What you may not realize, however, is choosing the wrong lotion might do your skin more harm than good.
Cheap lotions and hand creams often contain a variety of ingredients that can irritate or even damage your skin. Mineral oil, a distilled form of petroleum, is popular for use in inexpensive skincare products because it's cheap and has a long shelf-life. If it isn't purified properly, however, it may contain harmful byproducts. Other potentially dangerous ingredients in cheap skincare products include parabens, polyethylene glycols (PEGs), retinyl palmitate, and artificial fragrance.
Even if that inexpensive drug store lotion doesn't harm your skin, it might not help it either. A high-quality hand cream should contain ingredients that restore the skin's moisture balance and protect it. Emollients, occlusives, and humectants are three types of moisturizers that provide these benefits.
LAFCO hand cream features a hypoallergenic, reparative formula designed to restore and repair dry skin. It contains all-natural moisturizers like shea butter and jojoba oil along with other active ingredients that help hydrate the skin and protect against moisture loss. Like all of LAFCO's products, these hand creams are completely free from artificial fragrance, dyes, parabens, silicones, and other synthetic ingredients.
Analyzing the Active Ingredients
Every bottle of LAFCO hand cream starts with a solid foundation of hydrating ingredients. Pure essential oils provide a luxurious fragrance that doesn't irritate the skin like synthetic fragrance.
Here's a quick overview of some of the active ingredients:
Shea Butter – This ingredient moisturizes the skin but also provides antioxidants which protect the skin against free-radical damage. Shea butter also has anti-inflammatory properties.
Jojoba Oil – Primarily a humectant ingredient, jojoba oil draws water into the top layer of skin to provide immediate hydration. It also has anti-inflammatory properties to help relieve the effects of dryness like chaffing, chapping, and redness.
Rice Protein – This ingredient nourishes and rejuvenates the skin while stimulating collagen production. It also promotes skin cell regeneration and protects against free radicals.
Zinc – Primarily used as an anti-inflammatory ingredient, zinc helps minimize skin irritation and supports wound healing. This ingredient also helps seal in moisture.
Wheat Protein – In addition to helping the skin retain moisture, wheat protein boosts skin firmness and diminishes the visible effects of aging.
Lactic Acid – This ingredient helps shed dead cells from the surface of the skin, improving its ability to absorb and retain moisture. Lactic acid also helps reduce the visible effects of aging like fine lines, wrinkles, and hyperpigmentation.
Sodium PCA – By drawing water into the skin and trapping it, sodium PCA acts as a humectant. This ingredient boosts the skin's protective barrier and works in a similar way to hyaluronic acid.
In addition to these active ingredients, LAFCO hand creams contain a number of other nourishing and hydrating oils like cotton seed oil and extra virgin olive oil. Glycerin and stearic acid soften the skin and supports its protective moisture barrier while panthenol acts as a humectant, drawing moisture into the skin to hydrate it from within. These hand creams also contain pure essential oil-based fragrance.
Discover What Luxuriously Silky Smooth Hands Feel Like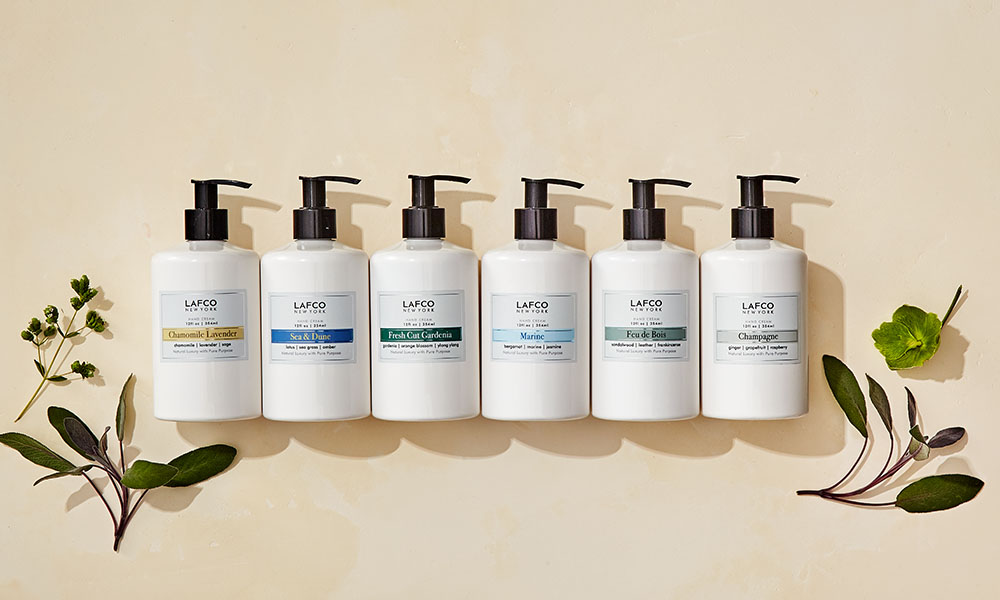 Free from parabens, silicones, and other synthetic ingredients, LAFCO hand creams repair the skin and leave behind a barrier of antioxidant-rich moisture. These plant-based hand creams are luxuriously fragranced with pure essential oils and come in 12-ounce bottles.
Here are 5 luxurious LAFCO hand creams to try yourself:
There's a lot to love about LAFCO's luxurious hand creams, but they aren't the only body care product worth investing in. LAFCO bar soap is made in Europe with an ultra-hydrating formula that cleanses with a rich, creamy lather to leave your skin clean and moisturized. If you prefer the convenience of liquid soap, LAFCO liquid soap regenerates, protects, and moisturizes while gently cleansing the skin.
Discover the entire line of LAFCO body care products. In addition to hand cream, bar soap, and liquid soap, you'll also find an assortment of hand sanitizers.