The holiday season is upon us and it's time to start gift shopping for your loved ones. The best gifts are both thoughtful and practical – they aren't something that will sit forgotten and unused for years to come. Fragranced candles, reed diffusers, and body care products are the kind of things many people don't spend money on for themselves but absolutely love to receive as gifts.
This year, give friends and loved ones the gift of luxurious fragrance with LAFCO. Whether you're shopping for hostess gifts, Christmas or Hanukkah gifts, or simply something to show the people you love how much you care, you can't go wrong with a gift from LAFCO.
We've curated a collection of holiday gift ideas in different categories to help you check everyone off your shopping list with ease.
Founder Picks
When LAFCO founder Jon Bresler first set out on his fragrance journey he was originally drawn to fresh and floral fragrances. As his experience grew, so did his sense for pure fragrance. If you want to give a gift that's truly unique and luxurious, try one of LAFCO's Founder Picks below.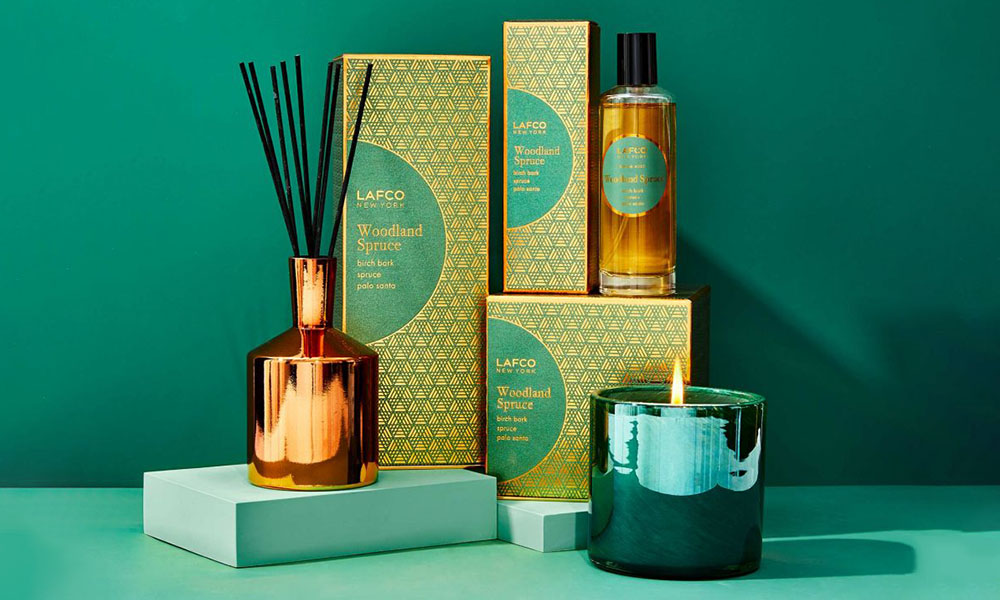 Perfectly paired in this holiday gift set, this candle and reed diffuser duo harness the wintery scent of Woodland Spruce. You'll catch notes of juniper berry, eucalyptus, and cinnamon hovering over a heart of fir balsam, birch leaf, and frosted vanilla. These fragrances eventually give way to an undertone of palo santo and cypress.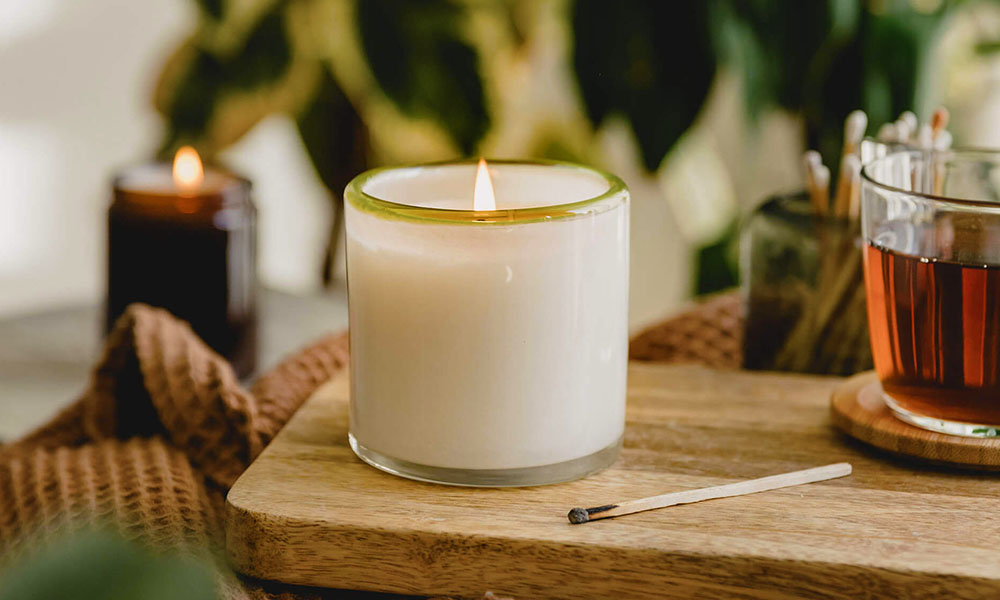 If you're looking for a gift that does double duty as a fragrance and body care product, LAFCO hand cream is just right. Feu de Bois is a warm, woody fragrance accented by smoky leather accord, earthy frankincense, and sweet vanilla.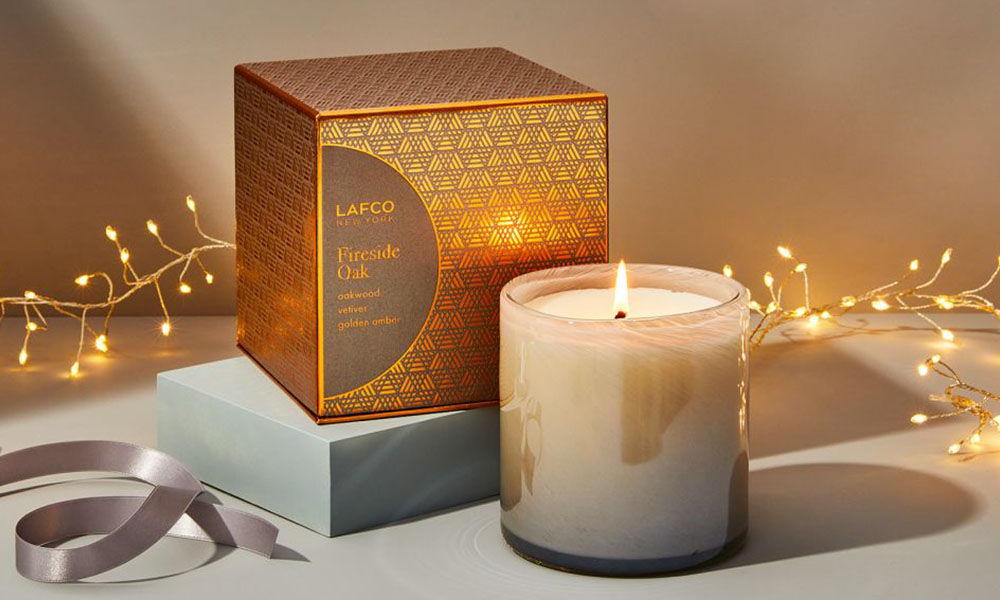 Available in the 6.5-ounce Classic and 15.5-ounce Signature sizes, this holiday fragranced candle is presented in a soft gray artisanal glass vessel. When warmed by a gentle flame, this candle gives off notes of oakwood, vetiver, and golden amber.
Stocking Stuffers
Don't waste your money on cliche stocking stuffers when you can give your loved ones something they'll really love – a fragranced gift from LAFCO. Here are three of our favorites: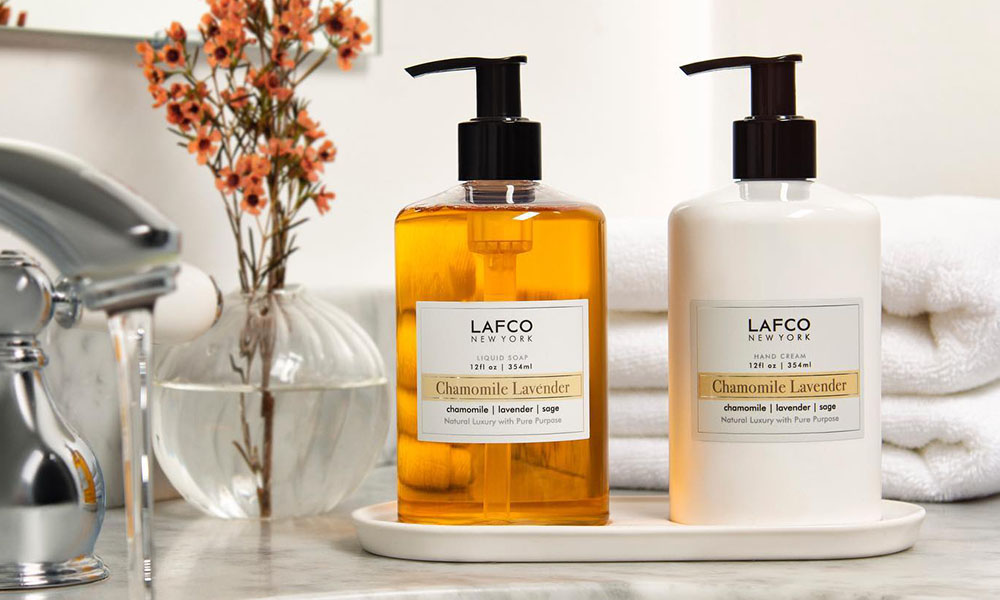 You can't go wrong with a classic LAFCO fragrance like this. Calming notes of chamomile and lavender are perfectly complemented by bergamot, eucalyptus, and herbal rosemary in this liquid soap.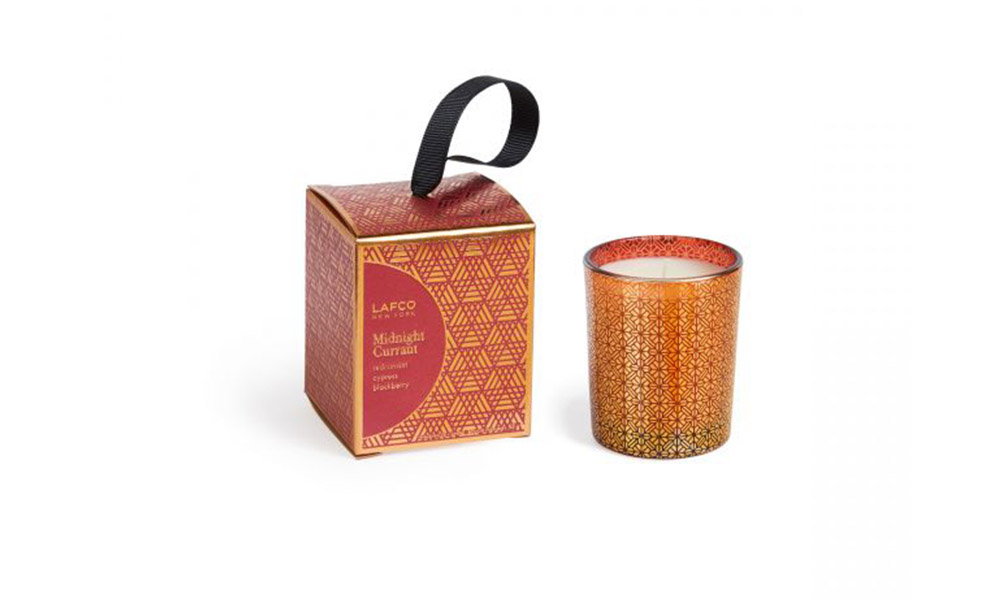 Juicy blackberries, tangy rhubarb and dark red currants bring a fruity seasonal aroma. Hints of aromatic red cedar, green cypress, and the exhilarating freshness of just-cut fir balsam create a bold and vibrant holiday scent.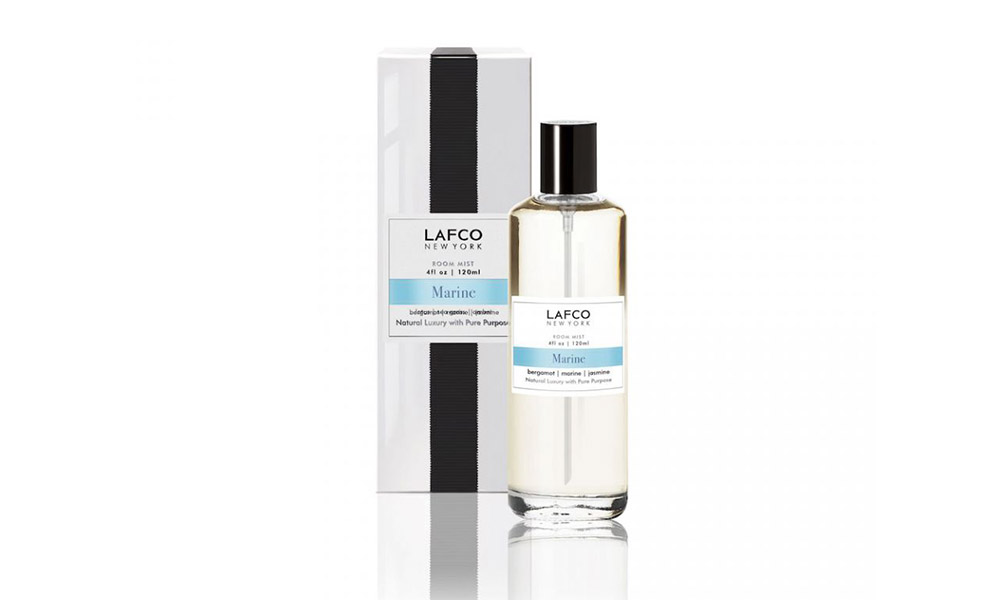 Enjoy a burst of freshness with our fragrance, blending bergamot, marine accord, and jasmine. Our plant-based technology targets and eliminates odors, leaving a long-lasting, pleasant scent. It's a perfect blend of nature's best aromas and innovative odor-neutralizing science.
$50 & Under
You don't have to spend a fortune to show your loved ones you care. If you're working with a limited budget but still want to give a gift that will impress, try one of these three customer favorites.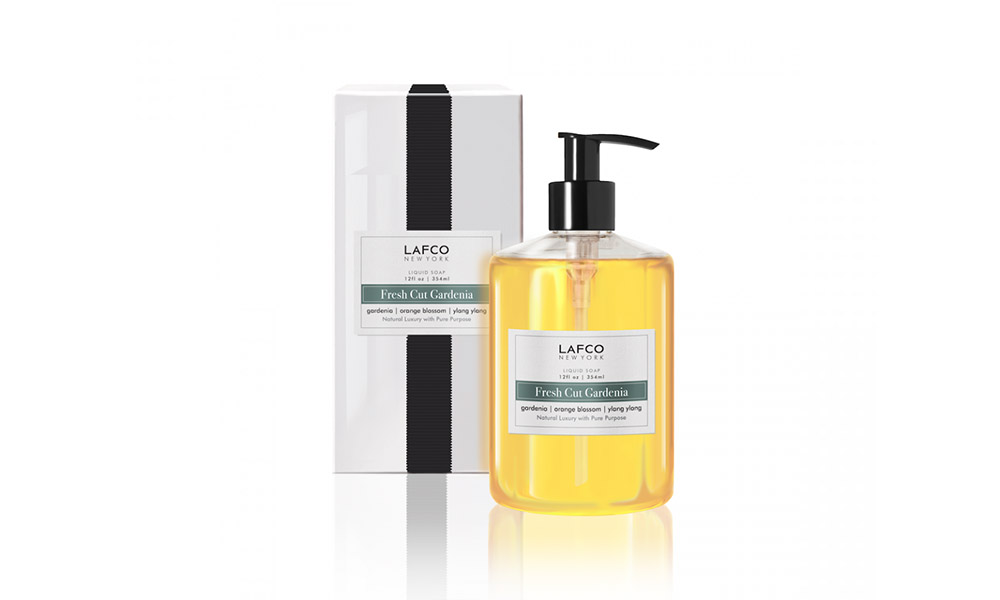 Even in the dead of winter this fresh floral fragrance will have you feeling like it's spring. Made with hypoallergenic ingredients and infused with the scents of gardenia, orange blossom, and ylang ylang, this liquid soap moisturizes as it cleanses as to not dry out your hands.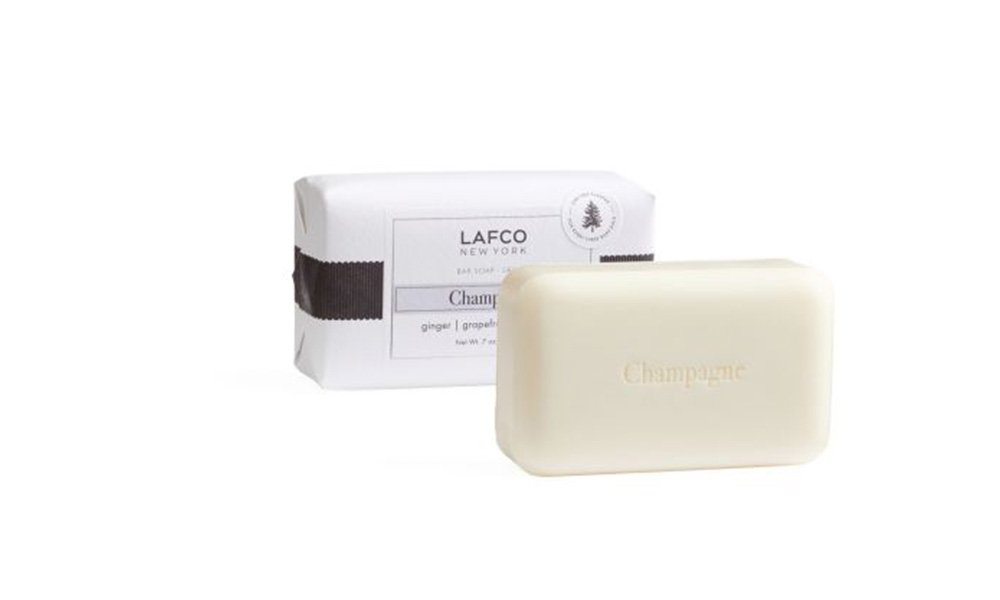 Experience luxury at an unbeatable price with LAFCO bar soap, now available in a convenient 7-ounce size and a variety of exquisite fragrances. Our Champagne scent offers a serene and harmonious experience, blending the lively aromas of grapefruit, neroli, and verbena for a perfectly balanced bouquet. Plus, in our commitment to the environment, we plant a tree for every three bars of soap sold.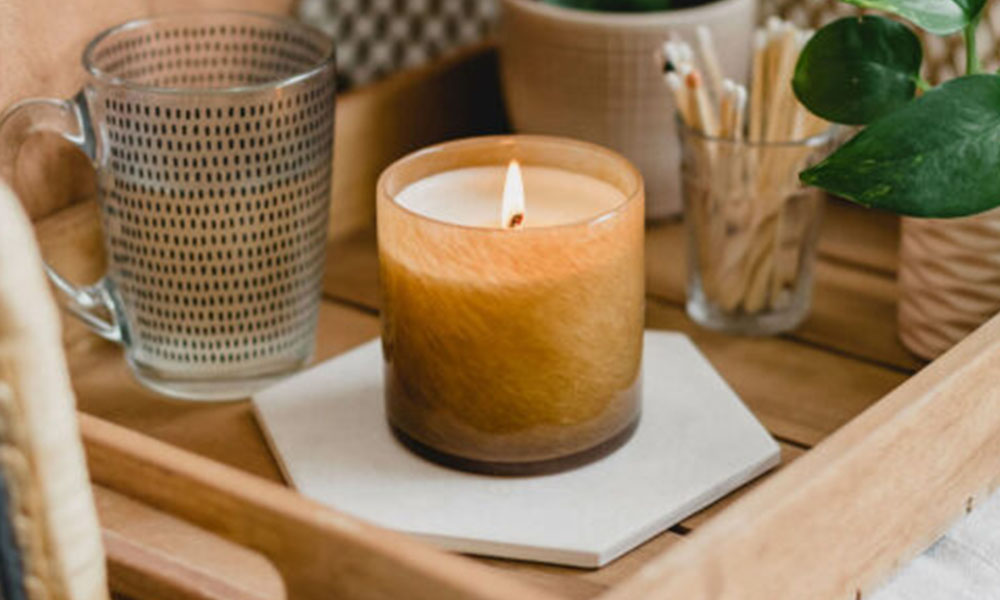 Each time your loved one lights this beautiful candle, they'll think of you. This warm and welcoming fragrance features notes of vanilla, amber, and sandalwood accented with zesty notes of lemon, orange, raspberry, and black currant.
Under $100
Should your budget afford you a little more flexibility, the gifts in this category are sure to be a showstopper. Below are some of our favorites.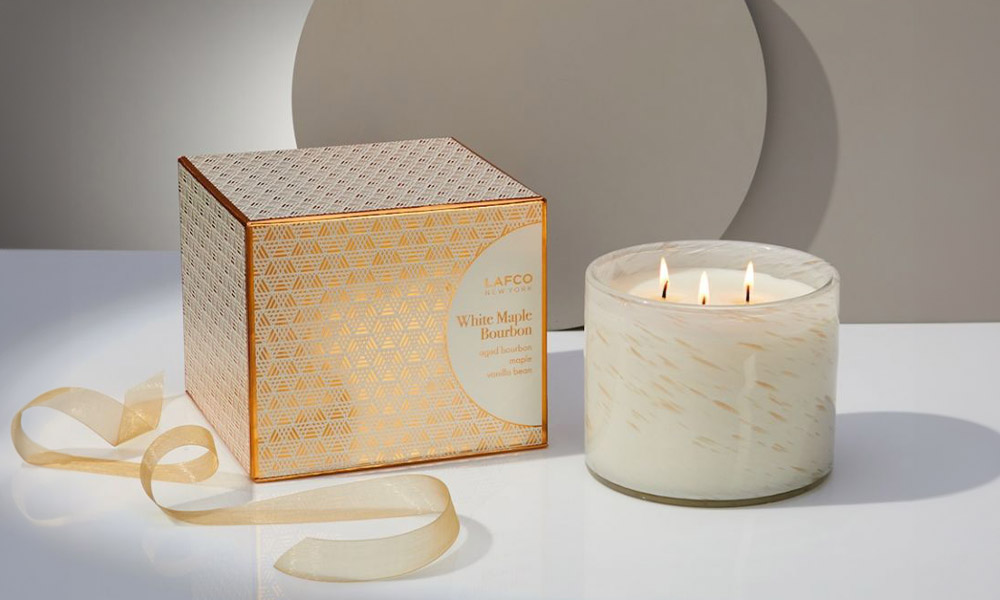 Presented in a sparkling silver glass vessel, this candle is luxuriously crafted from solid soy wax and pure, essential oil-based fragrance. It features top notes of artemisia, pistachio, and maple blended with middle notes of jasmine, aged bourbon, caramel, and rose.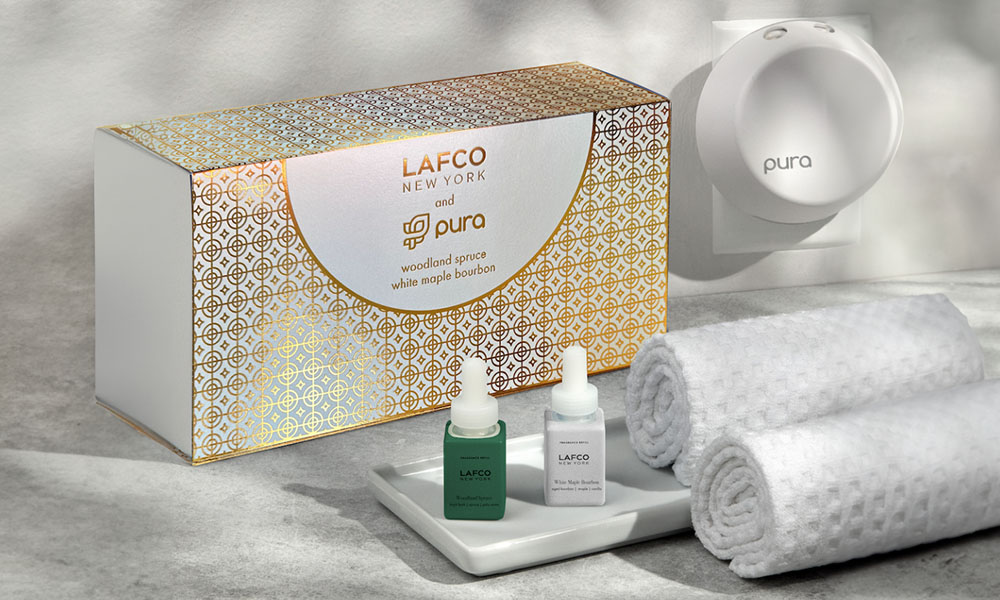 The Pura Smart Device Set offers a revolutionary fragrance experience, perfect for gift-giving. It includes a Smart Diffuser and two holiday-themed fragrances: the forest-inspired Woodland Spruce and the cozy White Maple Bourbon. Key features include control over fragrance intensity and scheduling via the Pura app, the ability to switch between two fragrances within the app, and effective scenting for areas up to 1,000 sq. ft!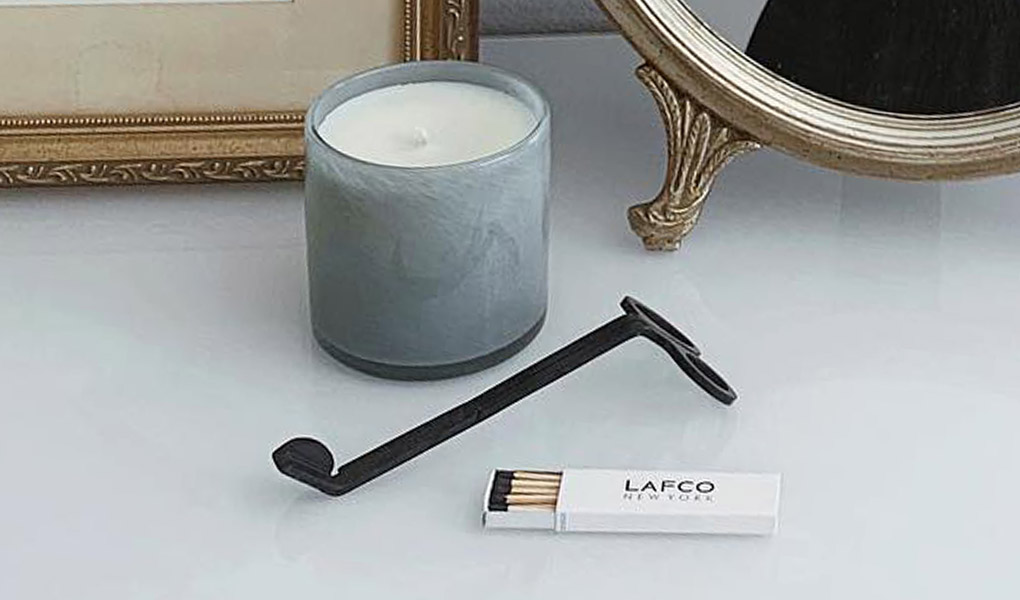 This beautiful Signature 15.5-ounce candle comes in a soft blue-gray vessel. Its fragrance features a bouquet of spike lavender, geranium, and rose balanced with warm and woody notes of vanilla, patchouli, and white woods.
Comfort
When you aren't sure of someone's fragrance preferences, you can always shop by mood instead. On cold winter nights, we could all use the comfort of these LAFCO favorites.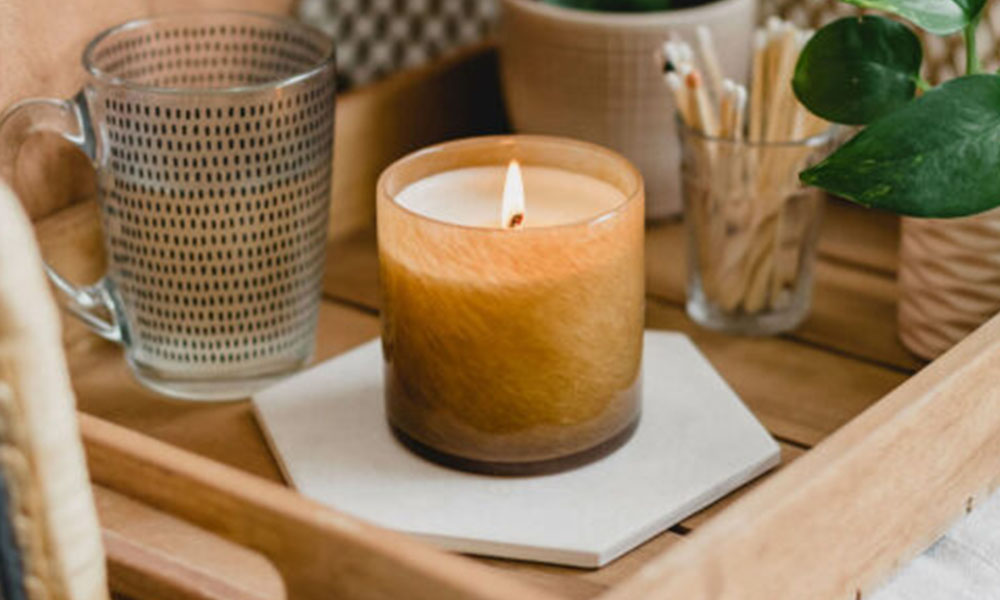 Floral notes of jasmine are richly complemented by sweet black vanilla and woody sandalwood in this warming fragrance. Enjoy this fragrance in a Classic 6.5-ounce or Signature 15.5-ounce candle.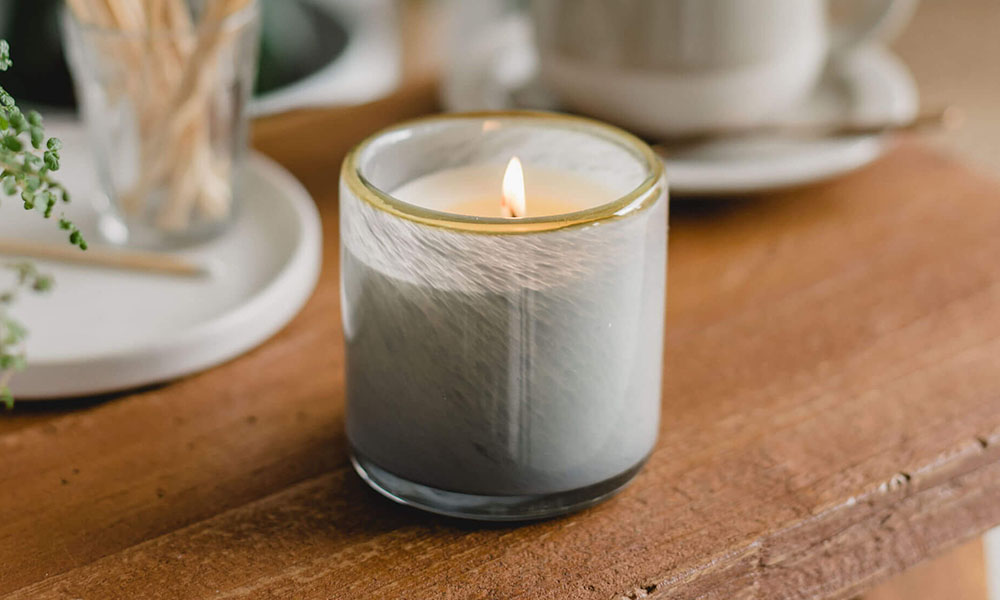 If the beach is your happy place, this light and airy fragrance will be incredibly comforting. Available in five different sizes, this fragranced candle delivers fresh notes of lemon, lotus, and water lily complemented by the warming fragrance of golden amber.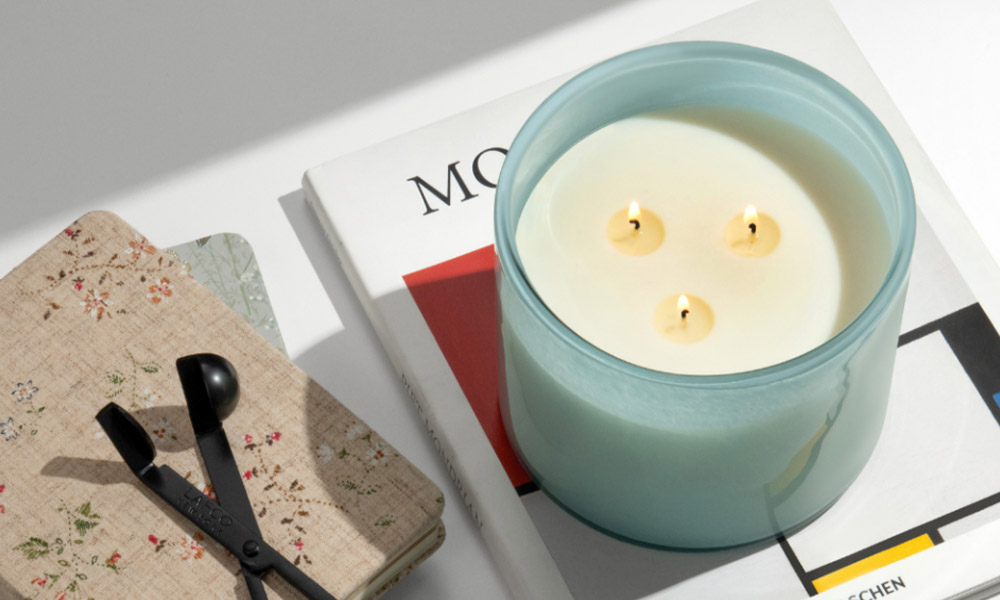 The warmth and gentle glow of a flickering candle is just what you need to warm those chilly winter nights. This 30-ounce 3-wick candle illuminates a sea-green glass vessel and envelops you in the gentle essence of marine water and crisp sea air.
Relaxation
Nothing says relaxation like a spa day at home. These fragranced gifts from LAFCO are the perfect gift to encourage your loved one to enjoy a little self-care.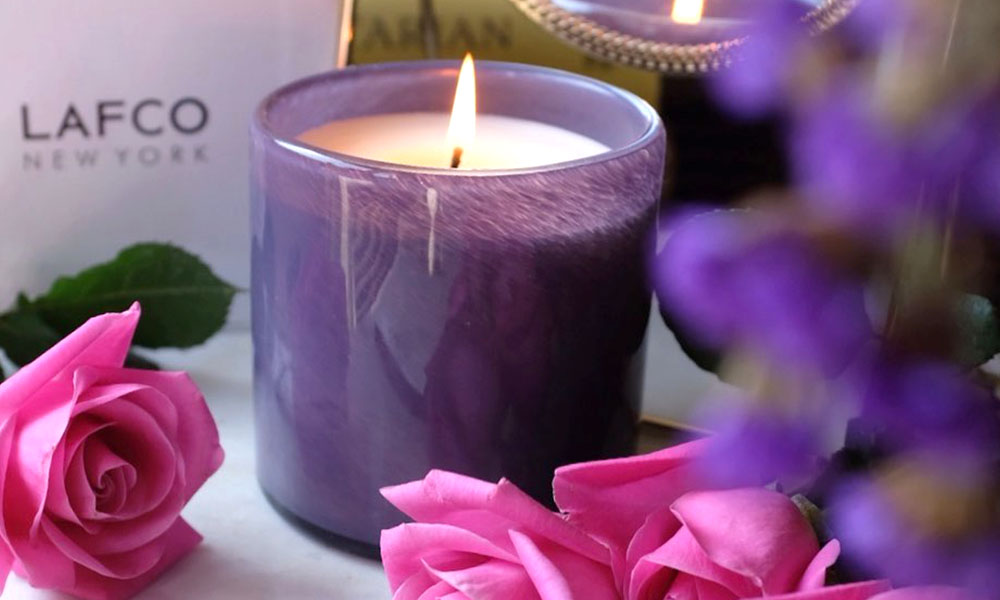 The relaxing aroma of fresh eucalyptus greets a calming heart of French lavender, rosemary, and musk in this soothing fragrance. It's presented in a deep purple glass vessel in two sizes.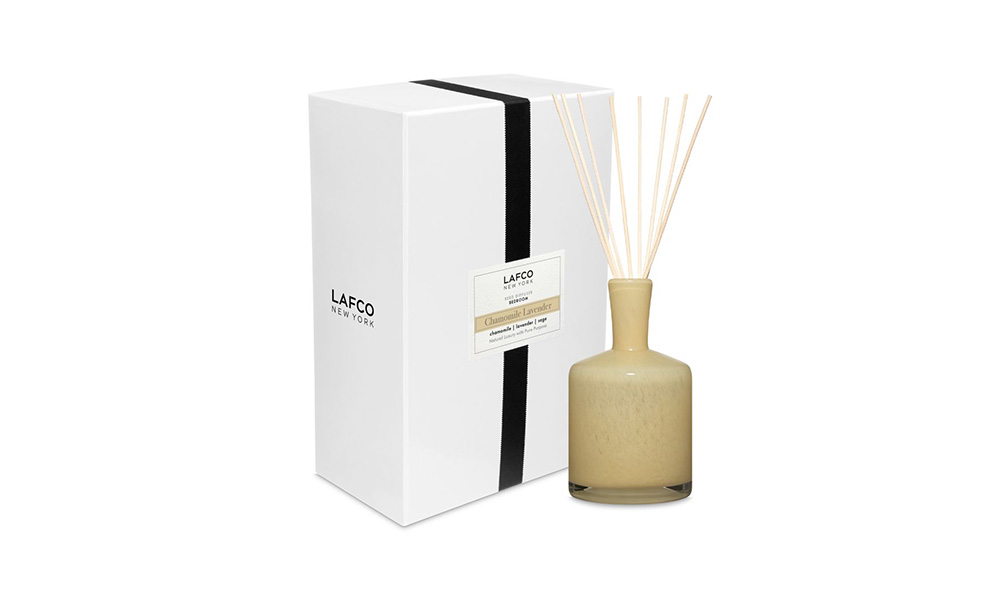 Relax and unwind with the soothing scent of lavender as it melds perfectly with the calming fragrance of chamomile in this reed diffuser. Choose from two sizes – the Classic 6-ounce or Signature 15.5-ounce.
Positivity
We could all use a little encouragement now and then. The fragranced gifts in this category deliver an invigorating boost of energy with mood-balancing benefits.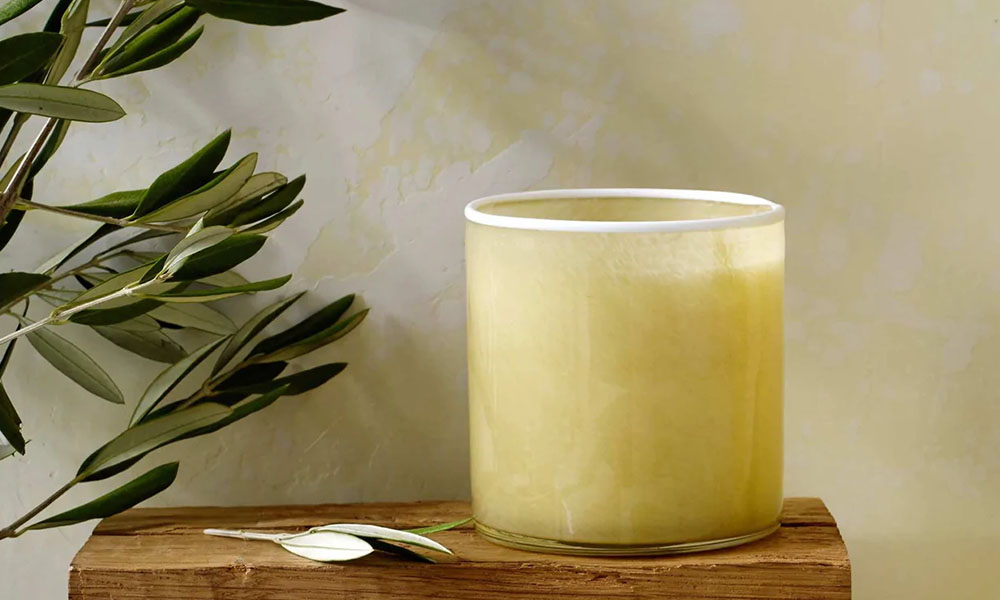 Presented in a bright yellow art glass vessel, this light and effervescent fragrance features notes of grapefruit, fern, and apple wood. Enjoy it in either the Classic 6.5-ounce or Signature 15.5-ounce size.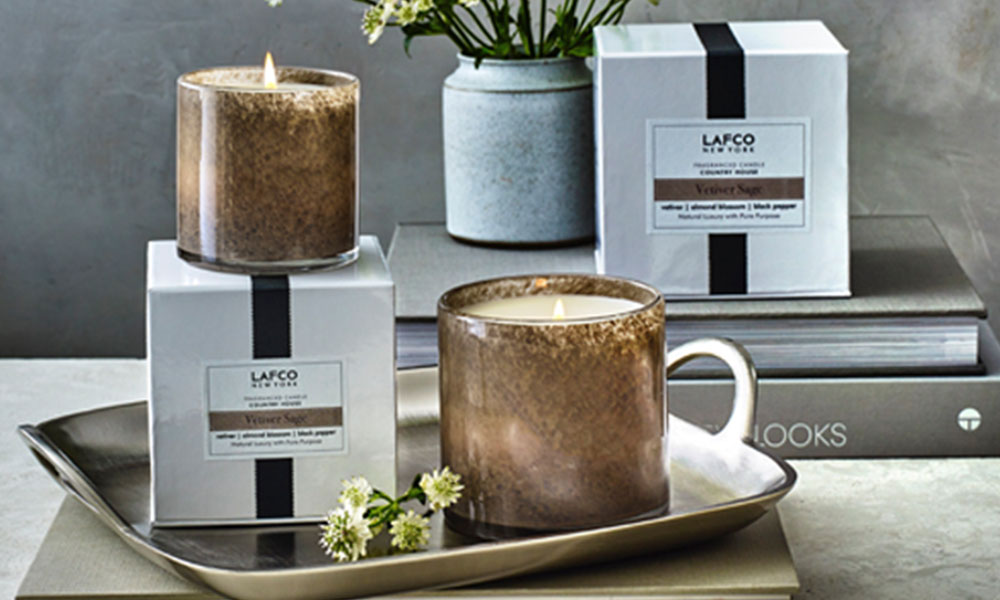 The right fragrance can change your entire outlook, and nothing makes you feel more at home than welcoming fragrances like vetiver, sandalwood, and amber. This scented candle delivers warm and woody notes of orris and pink pepper warmed by patchouli and santal amyris.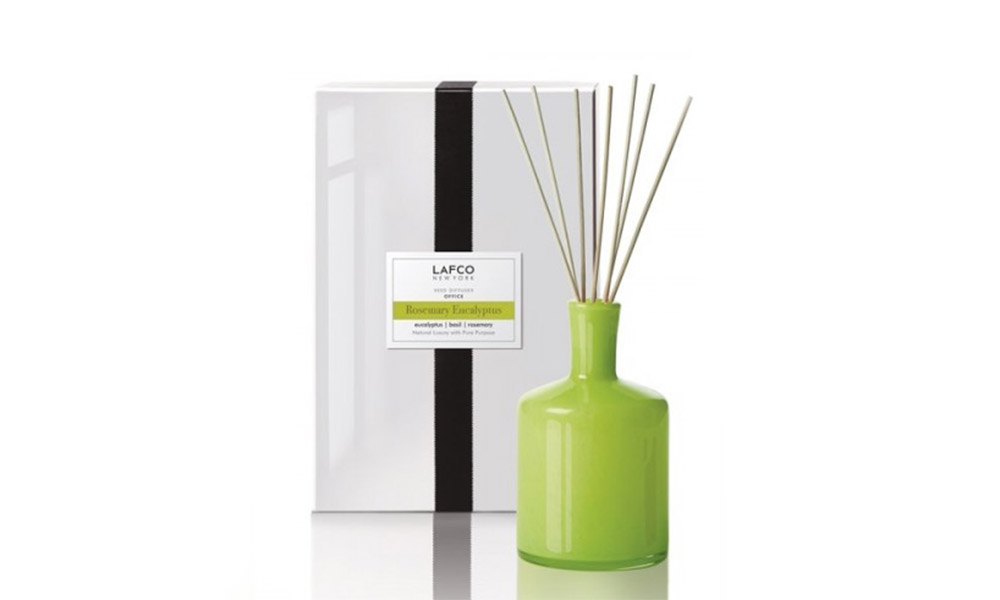 Sure to brighten up any space, this reed diffuser takes the shape of a brilliant green artisanal glass vessel. With the help of natural, hand-cut reeds, the fragrance of eucalyptus, basil, and rosemary will quickly awaken your spirit with a hit of uplifting energy.
As always, if you aren't sure which fragrance or product your friend or loved one might enjoy, you can't go wrong with a LAFCO gift certificate. Available in denominations between $50 and $500, a LAFCO gift certificate enables you to give the gift of fragrance while leaving the choice up to the recipient.