Juniper has a woody, slightly spicy fragrance that varies slightly depending on the type of juniper. It's likely you may already be familiar with this fragrance for its use in gin. Though commonly used to flavor spirits, juniper is also used in perfumery and aromatherapy where it is valued for its uplifting and renewing properties.
Here's what you need to know about juniper and where you can find it in LAFCO products…
What is Juniper?
The name juniper refers to a genus of coniferous trees and shrubs belonging to the genus Juniperus. Junipers belong to the cypress family and they are widely distributed throughout the Northern Hemisphere. Today, there are nearly 60 species of junipers.
Juniper trees range in size and shape from low-spreading shrubs to trees towering up to 130 feet tall. They are evergreen, exhibiting needle- or scale-like leaves, and they produce hard-shelled seeds often referred to as juniper berries. They are typically blue but, in some species, are orange or red-brown. The berries are the most aromatic part of the juniper and can be used as a spice.
The juniper tree has a wide variety of uses ranging from timber to culinary applications. Juniper berries can be found in a variety of culinary dishes but are most well known for their use in flavoring gin. In fact, the name gin is derived from the Dutch word for juniper, jenever. The berries can also be used to produce an essential oil rich in aromatic compounds.
The Health Benefits of Juniper
Juniper oil is produced by steam distillation using juniper berries. This process yields a colorless to yellow or pale green oil that has a woody, pine-like aromatic scent. Because the fragrance is rather strong, it is generally used in small doses and combined with other complementary fragrance oils.
Though most commonly used in culinary applications and perfumery, juniper also has some history of medicinal use. The fragrance oil has renewing and uplifting properties but can also be used to soothe sore, aching muscles. When used medicinally, the strongest active ingredient in juniper is a chemical compound called alpha-pinene.
Here are some of the potential benefits of juniper:
The natural oils in juniper berries offer antioxidant benefits to protect the cells against damage.
Juniper berries are rich in flavonoids that may help reduce inflammation.
Some research suggests juniper berries may help control blood sugar in diabetics.
By improving HDL and reducing triglyceride levels, juniper may promote heart health.
Juniper berries have strong antifungal and antibacterial properties.
Juniper oil can be taken internally as a cleansing and detoxifying agent of applied topically to soothe sore muscles and promote healthy skin. Because the oil is very strong, it is best to dilute it with a carrier oil before application to the skin.
How to Enjoy Juniper Fragrance at Home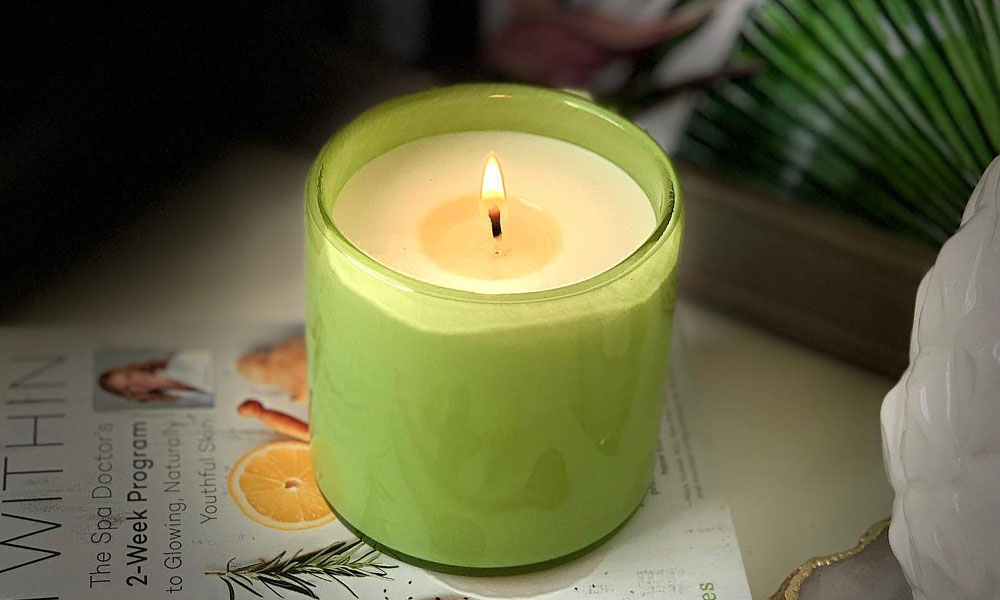 In aromatherapy applications, juniper is valued for its renewing and uplifting properties. This fragrance makes an ideal addition to an at-home spa day or would be perfectly placed in the home office.
Enjoy these 3 LAFCO fragrances featuring the scent of juniper:
Reminiscent of a cozy library filled to the brim with leather-bound books, this rich fragrance features notes of oud, juniper sage, and walnut. Top notes of sweet orange, star anise, peppermint, and elemi hover over a heart of Siberian pine, artemisia, and lavender. These fragrances give way to a deep and lasting impression of sandalwood cedarwood, cade oil, and guaiac wood.
Presented in a mossy green art glass vessel, this fragranced candle is available in the 15.5 oz. Signature size. Made with solid soy wax and a 100% cotton wick, it offers up to a 90-hour burn life.
Fresh and invigorating, this fragrance is perfect for the home office or anywhere you could use a burst of focus and motivation. Tangy notes of juniper and garden sage blend with fresh eucalyptus and rosemary before receding into an earthy, woody base of patchouli and elemi oil.
Presented in a bright green hand blown glass vessel, this fragrance is available in the Signature 15oz. reed diffuser as well as the Classic 6.5oz. and Signature 15.5oz. fragranced candle.
Create a warm ambiance in your home with this rich woody fragrance featuring notes of Virginia cedar, fern and juniper. Top notes of lively juniper and eucalyptus meld with woody California redwood and spiced clove bud before nestling into a background of golden amber and rich Virginia cedar.
Presented in a chocolate brown art glass vessel, this fragrance is available in the Signature 15.5oz. fragranced candle. Enjoy up to 90 hours of luxurious fragrance powered by pure essential oils.
If you're looking for complementary fragrances that pair well with juniper, consider other woody fragrances as well as citrus oils and herbal fragrances. Lemongrass, cypress, tea tree, and vetiver essential oils pair particularly well with juniper.
The following LAFCO fragrances may pair well with juniper:
Lemon Verbena – The fresh scent of silver verbena and lemongrass forms the foundation of this gentle fragrance. Herbal notes of tarragon and clove bud give the fragrance depth while woody and earthy notes of sandalwood and white musk provide a rich finish.
Vetiver Sage – Enjoy up to a full year of lasting fragrance with this Signature reed diffuser. Top notes of white sage, lavender, and pepper hover over an herbal heart of orris, chamomile, iris, and sage clary. Vetiver, patchouli, and amber create a warm and woody final impression.
Black Pomegranate – Sweet notes of black pomegranate and cherry blend with the woody aroma of oak in this luscious fragrance. Fruity top notes mingle with the lush scent of black pomegranate, jasmine, and Bordeaux accord. It all gives way to a lasting impression of patchouli, black cedar, vetiver, and aged oakwood.
Not sure whether the woody, spicy fragrance of juniper is right for your home? Use the LAFCO Fragrance Finder to pick the perfect fragrance.
Once you've narrowed down the options to a few of your favorites, sample the top three with the LAFCO Discovery Trio. You'll enjoy three sample-sized candles for just $16 with free shipping. As a bonus, you'll receive a promo code for $16 off your next full-size purchase.