Widely used in aromatherapy, jasmine is a sweet-smelling floral fragrance that offers a number of health benefits. Authentic jasmine fragrance is hard to come by not only because the rich floral scent is difficult to capture in a perfume, but also because it one of the most expensive fragrances in perfumery – it takes over 7 million jasmine flowers to produce a kilogram of essential oil.
On its own, jasmine has a sweet and floral fragrance that combines well with other floral scents but also works with herbal and even woody fragrances. Read on to learn everything you've ever wanted to know about jasmine and to explore the LAFCO fragrances that feature this sweet scent.
What is Jasmine?
The name jasmine applies to a number of shrubs and vines belonging to the olive family Oleaceae. This genus contains about 200 different species, all native to warm temperate and tropical regions of the world. Widely cultivated for their characteristic fragrance, jasmine flowers are small (around 1 inch in diameter) and typically white or yellow in color.
Jasmine flowers are cultivated for a number of purposes but one of their most popular uses is in jasmine tea. Traditionally consumed in China, this tea is made with a green or white tea base and the flowers are steeped in it for several hours so the tea can absorb the fragrance and flavor of the blossoms. In China, this tea is known as jasmine-flower tea and, in Japan, it is called sanpin cha.
In addition to being used for tea, jasmine is cultivated commercially for a number of industrial and domestic uses. It is particularly popular in the perfume industry. Jasmine is also considered a national symbol in several countries. In Syria, the city of Damascus is known as the City of Jasmine and, in Indonesia, jasmine is the national flower. In Thailand, jasmine flowers are a symbol of motherhood and, in Hawaii, they are used in leis.
The Health Benefits of Jasmine
The word jasmine comes from the Arabic word "Yasmin" which means fragrant flower. These white, star-shaped flowers have a long history of use in alternative and traditional medicine. Their uses vary depending on the varietal. Jasminum officinale (common jasmine) and Jasminum grandiflorum (Spanish jasmine) are most commonly used in fragrance while Jasminum sambac (Arabian jasmine) is used in tea.
In aromatherapy, jasmine oil influences the nervous system and may play a role in balancing the emotions. Some research suggests jasmine oil may impact certain biological factors as well including stress levels, heart rate, blood pressure, respiration, and immunity.
Here are some of the conditions for which jasmine is used as a natural remedy:
Anxiety
Depression
Fatigue
Menstrual cramps
Menopause symptoms
Stress
Jasmine has been used to promote relaxation, though there is some research suggesting it may improve mental alertness. When inhaled in larger amounts, however, jasmine seems to have a sedative effect. It has also been used as an aphrodisiac to heighten sexual desire and as a remedy for abdominal pain.
Jasmine tea has its own unique array of health benefits, some of which can largely be attributed to the green or white tea used as a base.
Here are some of the benefits of jasmine tea:
It is loaded with polyphenols, plant-based compounds that act as antioxidants
It may speed up the metabolism which could help with weight loss
Its polyphenol content may help protect against heart disease
It contains high levels of catechins which may help protect your oral health
Its caffeine and L-theanine content may combine to boost brain function
Its high antioxidant content could help protect against cancer
Its polyphenol content may help reduce your risk of Alzheimer's disease
It could help lower your risk of type 2 diabetes by improving insulin sensitivity
There are a number of ways to enjoy jasmine but if you want to take advantage of its relaxing benefits, aromatherapy is the way to go. Read on to learn how to enjoy this floral fragrance at home.
Ways to Enjoy Jasmine at Home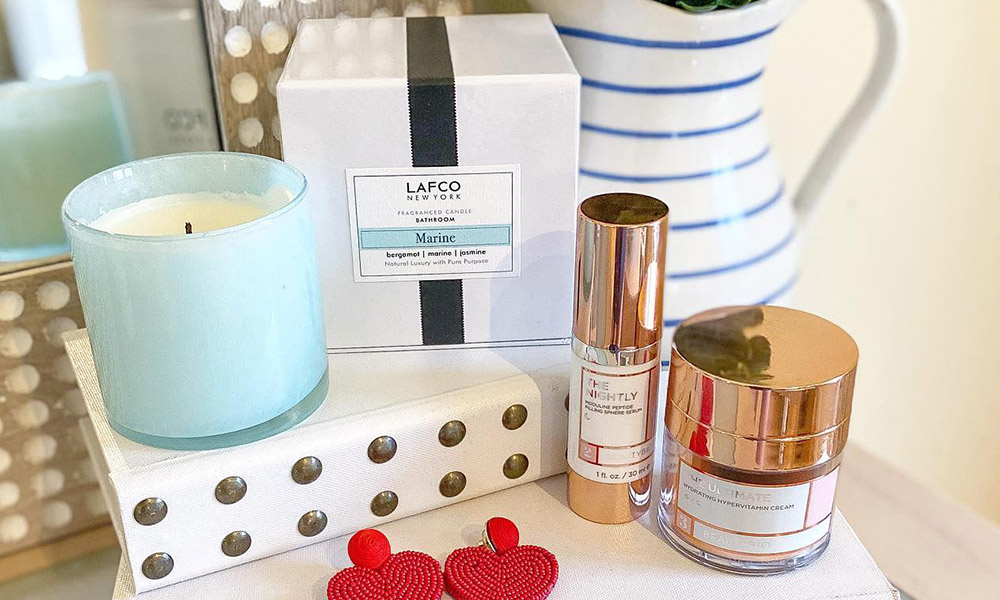 A sweet and floral fragrance, jasmine helps relieve stress and induces relaxation. It pairs perfectly with other floral fragrances like lilac and geranium as well as sweet and fruity fragrances like bergamot.
Here are the top LAFCO products featuring jasmine:
Can't decide which of these fragrances to try for yourself? Sample three LAFCO fragrances with a custom Discovery Trio. Enjoy three sample-sized fragrances for just $16 (free shipping included) and receive $16 off your next full-sized purchase.