New to the lineup of LAFCO Fragrances, Retreat is a soothing scent perfect for creating an atmosphere of peace and calm in your home. Featuring notes of matcha, clary sage, and palo santo, this fragrance is available in two sizes of LAFCO fragranced candles.
Read on to learn more about this exclusive new fragrance and how to enjoy it in your home and in combination with other LAFCO products.
An In-Depth Look at Retreat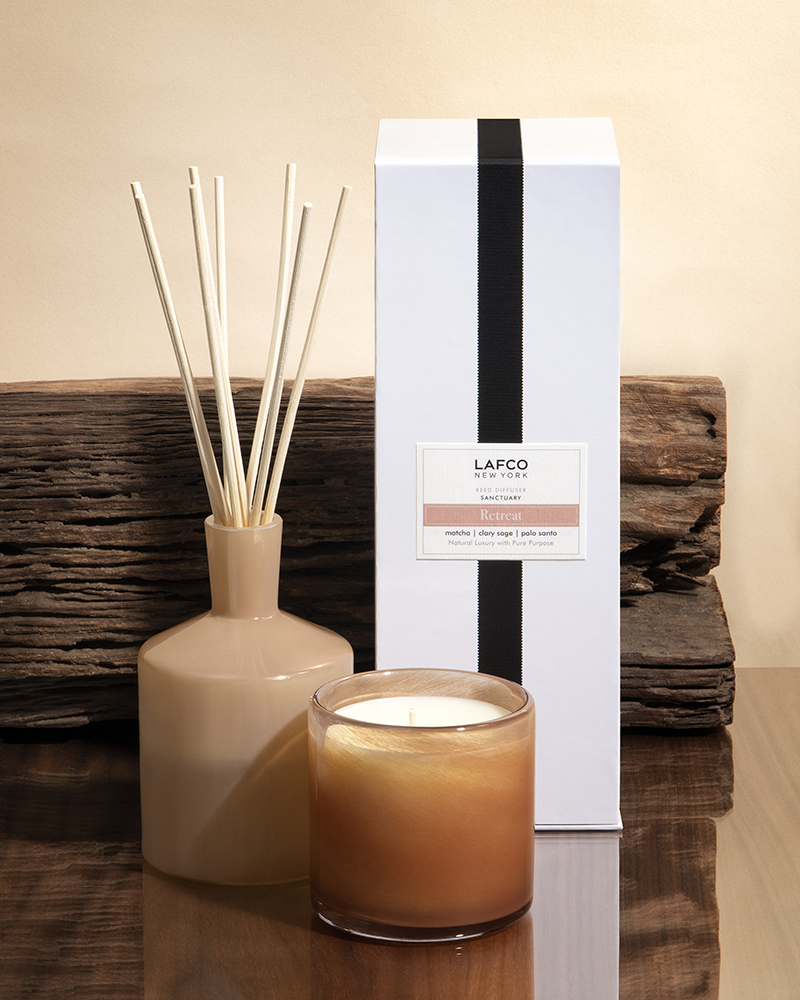 The newest fragrance from LAFCO, Retreat features the smooth scent of matcha green tea paired with earthy mate' leaves. These earthy fragrances meld perfectly with notes of crushed mint and ginger, uplifted by herbal notes of clary sage and palo santo.
Here are some of the fragrances featured in Retreat:
Matcha – Rich in antioxidants, matcha essential oil offers regenerative benefits for the mind and body. This essential oil offers calming and soothing benefits as well.
Ginger – With a long history of use in traditional medicine, ginger essential oil offer anti-inflammatory, antiemetic, and soothing properties.
Bergamot – This bright citrus scent is both uplifting and calming, helping relieve anxiety while purifying the skin and soothing the mind.
Clary Sage – An herbaceous aroma, this essential oil creates a calming and relaxing environment that helps soothe the mind, soul, and body.
Palo Santo – With its earthy and woody aroma, palo santo essential oil is often used to create a cleansing or refreshing atmosphere.
Like all LAFCO products, the Retreat fragranced candle delivers natural luxury with pure purpose. The LAFCO Pure Promise ensures the use of biodegradable and sustainable ingredients including highly concentrated essential oil-based fragrances. All LAFCO products are free from toxic chemicals.
How to Enjoy this LAFCO Fragrance
Retreat is available in the 6.5-ounce Classic and 15.5-ounce Signature fragranced candle from LAFCO. All LAFCO candles are artisanally crafted from solid soy wax with a touch of paraffin to enhance fragrance delivery. These candles feature essential oil-based fragrances and a 100% cotton wick to ensure a clean, bright, and non-toxic burn. All LAFCO candles are also presented in a hand blown art glass vessel.
With its neutral-colored vessel and subtle fragrance, Retreat works well in many areas of the home. The beautiful vessel works seamlessly with many décor schemes and the fragrance is uplifting and purifying without being overly stimulating. Enjoy Retreat in the den, library, or home office to instantly transform your surroundings into a peaceful sanctuary for calm reflection.
Pair Retreat with Other LAFCO Fragrances
Retreat is a purifying and relaxing fragrance that features notes of matcha, ginger, palo santo, and clary sage. It pairs well with other herbal and citrus fragrances including cypress, geranium, orange, sandalwood, lime, and frankincense.
Here are some of the other LAFCO fragrances that may pair well:
Enjoy Retreat in the Classic 6.5-ounce or Signature 15.5-ounce fragranced candle, both made with solid soy wax, essential oil-based fragrance, and a 100% cotton wick. Pair Retreat with your other favorite LAFCO fragrances or try sample sizes of three new fragrances with the LAFCO Discovery Trio. Enjoy three sample-sized candles for just $16 (shipping included) and receive a coupon for $16 off your next full-sized purchase.