Freshen up your space, layer fragrance to create a customized scent, or remove problem odors with LAFCO's newly reformulated room mists. Featuring AI-generated technology, LAFCO's new room mists do more than just cover up unwanted odor. They utilize odor-eliminating technology to target the five primary categories of malodor and leave your space smelling fresh.
These newly reformulated room mists combine luxurious LAFCO fragrance with innovative patented technology. Read on to learn more about the new formulation and to preview the collection.
The Power of Odor-Removing Technology
Every LAFCO fragrance is inspired by nature, designed to elevate everyday moments into unforgettable sensory experiences. Newly reformulated using patented two-part technology with AI assistance, LAFCO room mists eliminate unwanted odor on a molecular level so you can fully enjoy your preferred fragrance.
It all starts with an odorless solution developed to target and neutralize the unique molecular structures of the five main categories of malodor: ammonia (breakdown of waste), dimethyl trisulfide (rotting vegetable matter), skatole (feces), thiageraniol (sulfur), and isovaleric acid (feet). This solution automatically encapsulates malodorous molecules and dissolves them to eliminate the odor.
The second component is where artificial intelligence comes in. Each of LAFCO's six new room mist formulas was optimized using an AI algorithm developed by Cosmo International Fragrances. This AI algorithm identifies ingredients that may increase the perception of malodor and recommends substitute ingredients.
For example, the algorithm might notice that a specific compound in the Fresh Cut Gardenia formula increases the perception of ammonia malodor. The algorithm would then recommend a replacement for that compound. By utilizing this AI component, the new room mist formulations deliver superior efficacy without compromising the unique olfactive character of the fragrance blend.
Luxurious Fragrance Powered by AI Technology
Rather than covering undesirable odor, LAFCO's newly reformulated room mist neutralizes it for a truly refreshing fragrance experience. The applications of AI technology extend beyond these odor-eliminating benefits, however. LAFCO founder, Jon Bresler, suggests that AI technology will have a profound effect on the fragrance industry. Most notably within the field of functional fragrance.
In a recent interview with High Snobiety, Bresler explains that an AI program can accomplish the task of analyzing fragrance compounds – many of which contain dozens, if not hundreds of ingredients – in a matter of seconds. AI technology makes it possible to construct fragrance compounds that not only present with a certain smell, but that also promote a certain feeling. For example, a floral blend that smells like roses and promotes a sense of calmness and relaxation.
While such AI technology represents limitless potential for transformation within the fragrance industry, Bresler believes that a human element will always be required. A fragrance blend must ultimately be pleasing to the human nose. Rather than formulating a compound that smells like roses, Bresler suggests that AI technology might best be used to analyze and optimize human-developed fragrances.
Sample It Yourself With 3 Popular Fragrances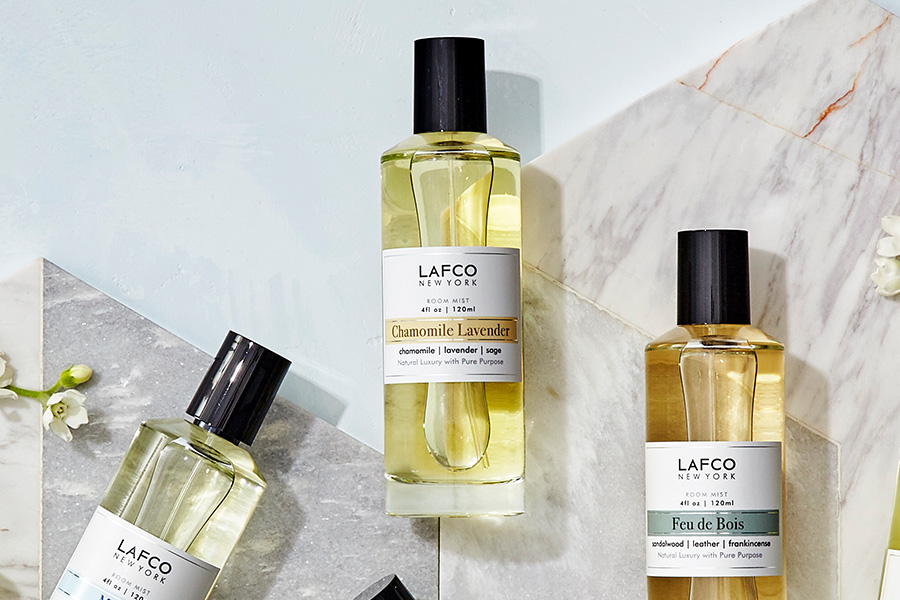 The room mist collection includes six of LAFCO's most popular formulations. From fresh fragrances inspired by crisp sea breezes to floral fragrances perfect for summer, you're sure to find the perfect pick.
Each of LAFCO's newly reformulated room mists are available in 4-ounce glass mist vessels which last for up to 750 sprays. These vessels are uniquely designed to create an ultra-fine spray optimal for fragrance delivery – just hold the bottle aloft and apply even pressure to disperse the product. To maximize fragrance life, try spritzing it on soft furnishings.
Try LAFCO room mist for yourself with one of these newly reformulated fragrances:
To create a truly unique aromatic experience, try your hand at fragrance layering by pairing LAFCO room mist with a complementary scented candle or reed diffuser.
A single spray provides up to 2 hours of lasting fragrance, filling your space with pure essential oil-based fragrance, free from dyes, propellants, and other synthetic ingredients. Like all LAFCO products, room mists are vegan, cruelty-free, and free from phthalates and parabens.