What is the most often used room in your house? In terms of the time you spend there, probably the kitchen or the living room. If you think about individual trips, however, you'll realize that the bathroom is actually one of the busiest rooms in the house – especially if you have children or like to entertain.
Keeping the bathroom clean is a necessary evil, but even if you do your best, it doesn't always feel clean. Remedy this issue with a burst of fresh fragrance.
A clean scent goes hand-in-hand with a clean bathroom. You want your guests to feel immediately at ease when they step through the door. No one wants to feel like they're walking into a public restroom in someone's home or, worse, be greeted with the overpowering smell of cleaning agents.
With the right LAFCO scents, you can turn your home bathroom into a bright and welcoming space full of luxuriously fresh fragrance.
Incorporate These Fresh LAFCO Fragrances Into Your Bathroom
A little fragrance goes a long way, especially if you're trying to create a specific ambiance in your home. The bathroom is the place you want to smell clean, but not in an overpowering or "fake" way. Consider decorating with scented candles, reed diffusers, and body care products like hand cream, liquid soap, and bar soap.
Try the following 5 LAFCO fragrances to freshen up your bathroom…
View this post on Instagram
The fragrance of freshly picked fruit is the ideal way to brighten up your bathroom. Sparkling notes of grapefruit, orange, pineapple, and cassis hover over a heart of orange blossom, mandarin, white gardenia, and rhubarb. These scents fade into a lasting impression of warm applewood, vetiver, and musk.
Enjoy this fragrance in a Signature 15-ounce reed diffuser presented in a bright yellow art glass vessel. It comes with pure, essential-oil based fragrance oil and a set of hand-cut reeds.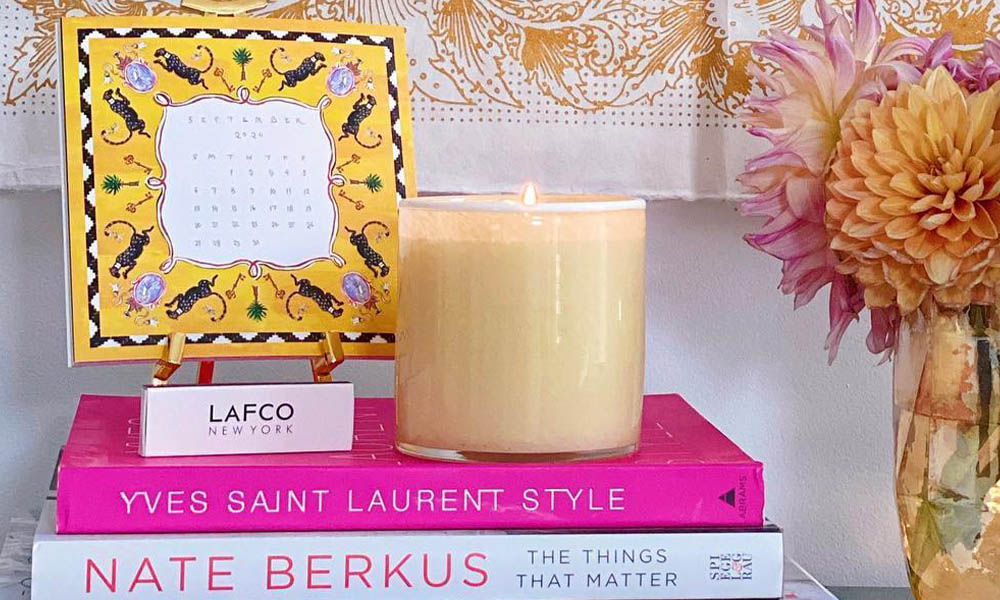 Sweet and citrusy, this fragrance features the scents of verbena, lemongrass, and musk. It delivers an initial impression of verbena, lemongrass, neroli pear, and salt flower before giving way to a heart of jasmine, white gardenia, tarragon, and clove. After these fade, you're left with undertones of Hawaiian sandalwood and white musk.
Enjoy this fragrance in a Signature 15.5-ounce scented candle presented in a cream-colored glass vessel. You'll enjoy a clean burn for up to 90 hours.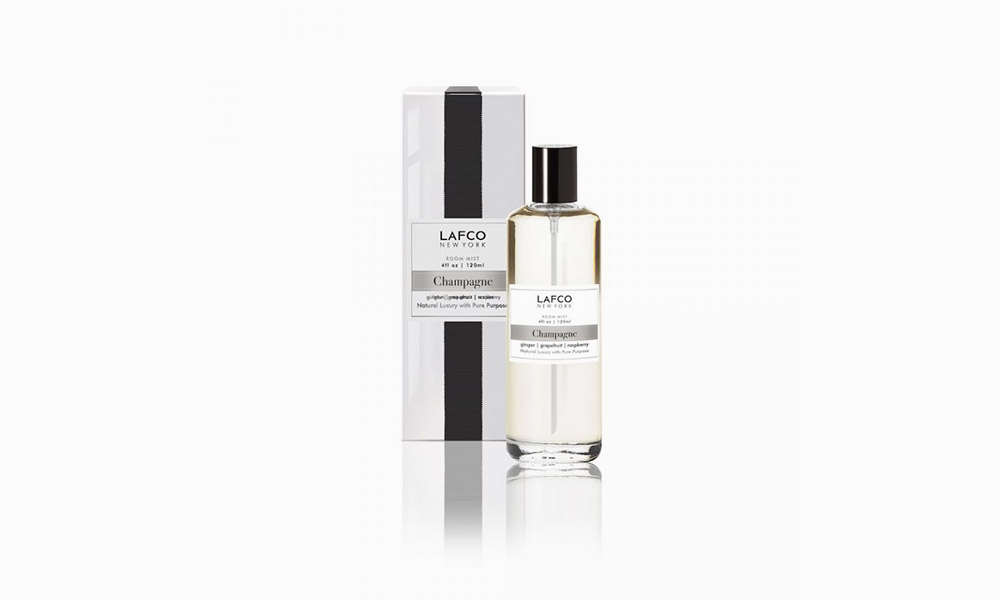 Give your bathroom a quick burst of fragrance with this citrus-scented room mist. Bright notes of raspberry, orange, and raspberry will freshen things up immediately. Middle notes of grapefruit, neroli, and ginger give the fragrance depth before settling into a base of verbena, rose, and vetiver.
Enjoy this room mist in a 4-ounce glass mist vessel. It lasts for up to 750 sprays, each spray providing 1 to 2 hours of fragrance — perfect for freshening up the bathroom before guests come over.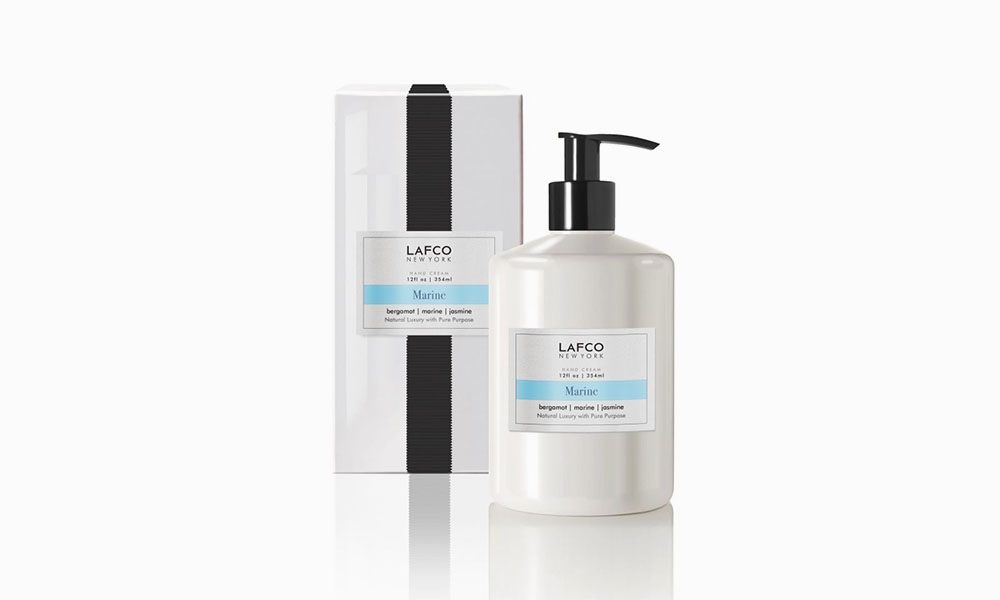 After washing up, your guests will appreciate moisturizing with this luxuriously smooth hand cream. Fresh notes of bergamot, rhubarb, and clove pair perfectly with a heart of jasmine water lily and marine accord. After these fragrances fade, you'll enjoy the lasting fragrance of vetiver, cedar, and musk.
Enjoy this fragrance in a 12-ounce bottle of luxurious hand cream. This formula is hypoallergenic and made with hydrating and reparative ingredients like shea butter and jojoba oil.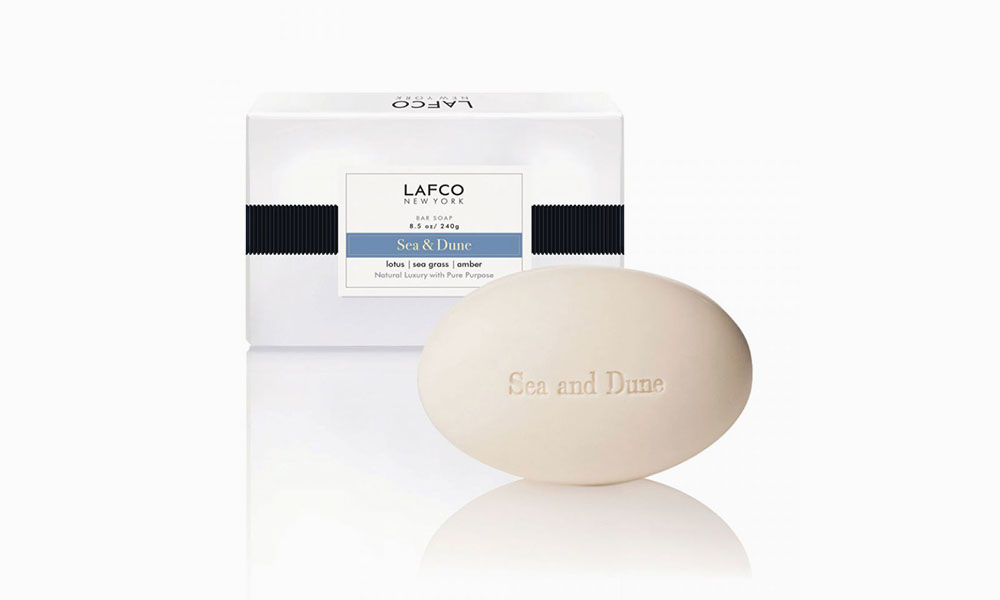 Bring the freshness of a spring day at the beach into your bathroom. This fragrance features top notes of lemon oil and coastal lily which fade into a heart of blue lotus and beach grass. As these scents fade, a base of ginger, amber, vetiver, and warm sand peeks through.
Enjoy this fragrance in a 4.5-ounce or 8.5-ounce bar soap. Each bar is formulated with hydrating natural ingredients to deliver a creamy, rich lather than cleanses and moisturizes.
Long-Term Bathroom Fragrance Solutions
Looking for a solution that lasts longer than candles and room mist? Consider a reed diffuser or PURA Smart Diffuser.
LAFCO reed diffusers are available in the Classic 6-ounce and Signature 15.5-ounce size. A Classic Champagne reed diffuser is the perfect pick for a guest bath, designed to deliver up to 4 months of lasting fragrance. If you're looking for something that will also bring a pop of color to the room, try a Signature Marine reed diffuser, presented in a frosted teal art glass vessel.
The LAFCO Smart Diffuser is another great option due to the fact that you can pair two of your favorite fragrances and automate their dispersal through your smartphone. Create custom schedules and swap scents as often as you like with convenient fragrance refills.
Try These Quick Tips to Brighten Up Your Bathroom
While you're freshening up your bathroom with fragrance, why not give the room a mini update? With a few simple swaps you can brighten up your bathroom and give it a modern feel.
Here are some simple bathroom decorating tips to try:
Swap outdated hardware for modern fixtures. Gold drawer pulls and faucets will give your bathroom a pop of color while chrome creates a clean and classic look.
Replace old and mismatched towels with white. Bright white linens can quickly freshen up a room. If you're worried about keeping them clean, a hot wash cycle with bleach will do the trick.
Bring a touch of softness with new window treatments. Have a bath in front of the window? Frame it with full-length drapes. This can also make the room feel bigger.
Replace or reframe your bathroom mirror. Big, heavy mirrors are a hallmark of the past – why not update with a sleek, narrow-framed mirror in a modern tone like gold or black?
Update your lighting with unique sconces and a beautiful overhead light. Dim lighting makes the bathroom feel old while bright white lighting creates a fresh and clean look.
A clean and tidy bathroom is a must – especially for the guest bath. Fragranced candles, room mist, or a PURA Smart Diffuser can help you create a fresh feel with minimal effort. Not sure which fragrance to try? Build a Discovery Trio from some of LAFCO's fresh fragrances like Champagne, Lemon Verbena, or Watermint Agave.
With the LAFCO Discovery Trio, you'll receive three sample-sized candles for just $16 along with a promo code for $16 off your next full-size purchase.