Reed diffusers consist of a vessel, reeds, and fragrance oil. When placed in the vessel full of oil, the reeds soak up the fragrance and disperse it throughout the air. The result is more even, longer-lasting fragrance than what room mists or scented candles can provide. Reed diffusers are a great option in large, open spaces and in areas where you want to create a specific ambience.
You can find a reed diffuser in just about any shape or color – variety is certainly not a problem. When it comes to quality, however, you'll find some stark differences between products. If you want to avoid wasting your money and potentially filling your home with an unpleasant or overpowering scent, take the time to shop carefully.
Here's what you need to know to find the best reed diffuser for your home…
Tips for Choosing a Reed Diffuser
The first thing to consider when shopping for a reed diffuser is the size. You can always customize the intensity of the fragrance by altering the number of reeds, but smaller diffusers usually work best for small spaces and larger diffusers for larger spaces. The larger the vessel, the more it can hold.
Next, think about where you want to place the reed diffuser to determine the ideal shape and color. Reed diffusers are typically round or rectangular, but they come in various heights and widths. Choose a color that suits your existing décor or use the vessel as a color accent.
In addition to considering the size, shape, and color of your reed diffuser think about the reeds themselves. The most common types of diffuser reeds are rattan, bamboo, and synthetic. Rattan reeds deliver evenly distributed fragrance while bamboo may be less efficient. Synthetic fiber reeds are designed to distribute fragrance evenly and come in many different colors, but they may soak up the oil faster than natural rattan so the scent could become overwhelming with heavier fragrances.
Try One of these Popular LAFCO Reed Diffusers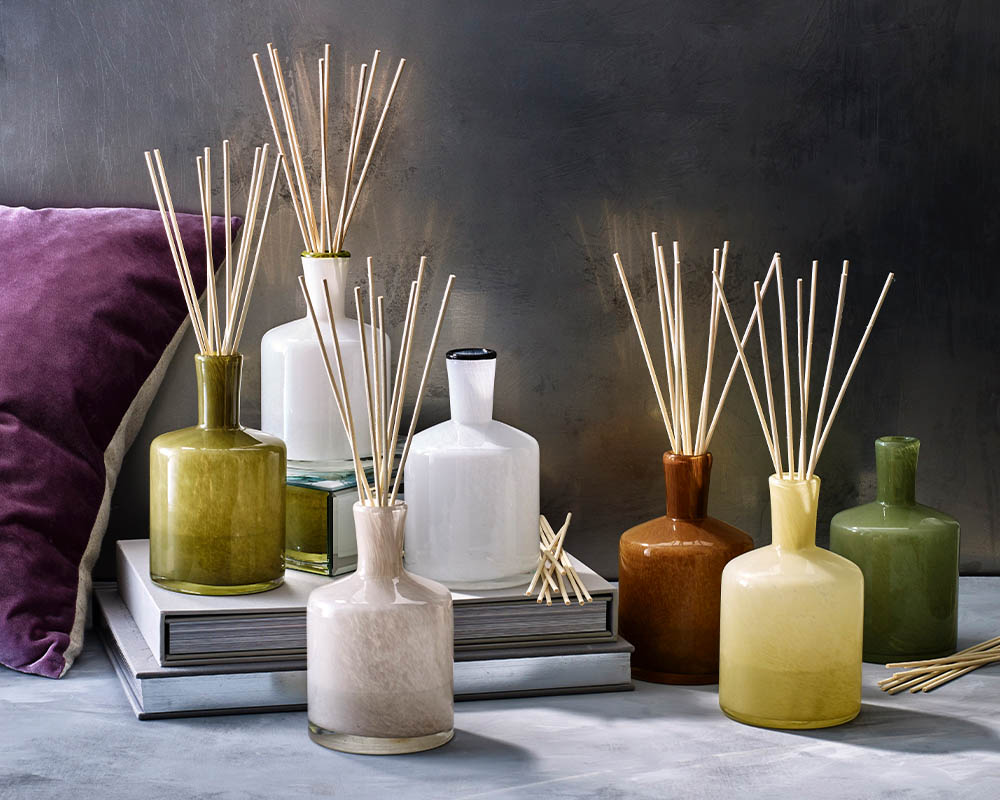 Reed diffusers are a dime a dozen, but they aren't all created equal. A good reed diffuser is presented in a beautiful vessel that doubles as home décor with high-quality, natural reeds. Most importantly, it must be filled with premium fragrance oil. LAFCO reed diffusers are the epitome of luxury, and they come in a wide variety of different fragrances.
Check out some of the most popular LAFCO fragrances below…
Whether you're looking for a long-lasting fragrance solution or a flameless alternative to scented candles, reed diffusers are a great option. Use the LAFCO Fragrance Finder to choose a fragrance right for your space. Choose from 6-ounce Classic reed diffusers to deliver up to 4 months of lasting fragrance or the larger 15.5-ounce Signature to enjoy up to a year of fragrance.