As the founder of LAFCO, I am passionate about the purity and quality of every single one of our products so that our customers feel good how each works and the care with which is made.
Customers who use our bar soap keep coming back for more, telling us that it has a creamy, silky feel and that they notice how it heals and hydrates their skin. We've even heard from dermatologists, who sing its praises. Most wonder how LAFCO's bar soap has so many features that other similar-looking products lack.
This bar doesn't work its magic by accident. I was inspired to spend several years developing the perfect formula and collaborating with a skilled manufacturer.
I became convinced that I had to develop a bar soap to give LAFCO customers a high-quality, healthy cleanser as an alternative to inferior and practically toxic bar soap that I witnessed infiltrating the market.
Let me explain.
As everyone knows, the cosmetics and self-care industries moved away from using animal-based products in favor of more organic and plant-based substitutes. In most cases, this was a good, positive change bit dramatically affected soap making for the worse.
Since Cleopatra's time, soaps were creamy and hydrating because the key ingredient was animal fat, or tallow. For most of human history, animal fat was simply part of the food chain. When consumer interest in cruelty-free products grew, soap makers began developing new soap recipes and substituting vegetable oil – coconut and palm oils.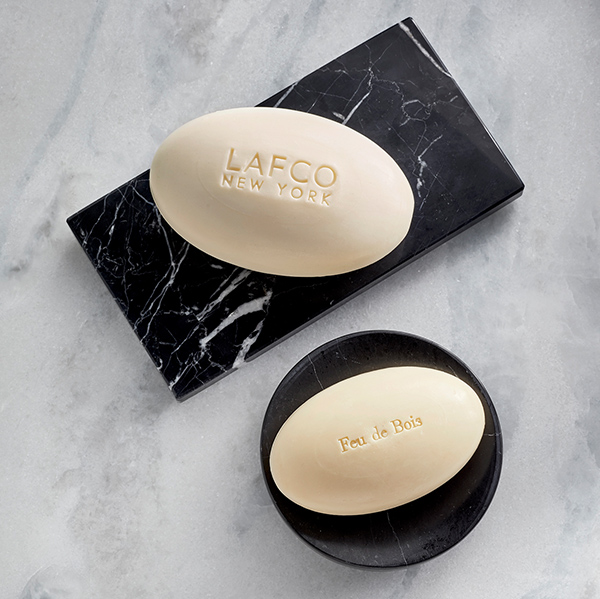 The reality is that using coconut oil in soap making is terrible, and using palm oil is only slightly better, because neither contains enough monounsaturated fatty acid to allow any soap maker to create a healthy, moisturizing bar. Historically, coconut oil has been the preferred ingredient in laundry soap specifically because its harsh, highly degreasing quality makes it ideal for the challenges of doing laundry.But it's entirely too tough to use on people's skin.
In fact, if someone uses a soap that results in a"squeaky clean" feeling, it usually indicates skin has been stripped of its protective barrier and is too dry.
By 2010, the coconut-oil mega-producers had effectively nudged artisan soap makers everywhere out of business.  Today, nearly every bar of soap And worse, every bar is loaded with preservatives.
Could this be why the United States National Library of Medicine and the National Institutes of Health found that 44 percent of Americans say they have either sensitive or dry skin and why 17 percent say they have either eczema or dermatitis?
Seeing this happen fired my passion to find a better way, revitalize the artisanal approach, and create a superior product that adhered to LAFCO's high standards.
First, I found an artisanal soap maker in Europe who shared my passion and helped me craft a superior soap base recipe made. We experimented to get our oil combinations just right.  Our bar is made with 15 percent olive oil and very little coconut oil. Today, I am working on an 80 percent olive oil soap base. Loaded with Omega 3 and 6 monounsaturated fatty acids,  olive oil is a wonderful way to rejuvenate skin.
In the soap milling process, I decided to infuse our soaps with almond oil, an omega-rich "super food" emollient that's added drop by drop so that the finished soap is laced with oil. Even after rinsing, this hydrating and replenishing oil remains on your skin in a way that is healthier and rather unique compared to other soap bars or liquid soaps.
Our soap is rich enough for shaving and gentle enough to wash your face. In fact, it's hypoallergenic.
Because we age our bar soaps for about one month before packaging, there are other advantages too. reduces water content, which means lasts longer and dries faster than other soaps and totally eliminates need to add preservatives.
So, every time you pick up this thoughtfully made, lightly fragranced, quick-to-lather bar of LAFCO soap, you'll know that you're keeping an artisanal tradition alive, using one of the most natural and pure products on the market, and using a simple cleanser that is genuinely good for your skin.
If you haven't tried our bar soap yet, you can experience perfection here.