The season of giving is nearly upon us, and you may find yourself wondering how you can possibly pick out a personalized gift for everyone on your list.
With luxurious fragrance solutions from LAFCO, you can get all your shopping done at once while making sure each individual on your list receives a thoughtful gift tailored to their personality and preferences.
6 Tips for Gifting Fragrances
There's a deep connection between scent and memory—this is what makes fragrance preferences so unique to the individual. Scented candles, reed diffusers, and scented body care products make wonderful gifts, but it can be tricky to find the right fragrance if you don't already know the giftee's favorite scent.
Here are some simple tips for choosing the right fragrance for someone else:
Pay attention to the fragrance they wear. You can come right out and ask the giftee what scent they're wearing or take note of olfactive families (floral or fresh, for example) they seem to favor. If you have a sense of what type of fragrances they like, you can shop within that fragrance family.
Think about their personality. Someone with a bright and bubbly personality may enjoy a fresh and uplifting fragrance like Sea & Dune while someone quiet and thoughtful may prefer a subtler, more classic fragrance blend like Feu de Bois.
Consider their favorite color. If you're not sure what fragrances the giftee prefers, you might know their favorite color. LAFCO candles and reed diffusers are presented in handblown glass vessels colored to suit the scent and the ambiance it creates.
Draw inspiration from their personal style. Draw on elements of the giftee's personal style and fashion choices to inform your decision. Is their style provocative or more modest and reserved? Someone with an attention-grabbing style may appreciate a bright, fruity fragrance like White Grapefruit while someone whose style preferences trend toward modesty may like a warm, soothing scent like Amber.
Think about their personal values. What does the giftee value most? If they're the kind of person who loves to be surrounded by loved ones, an energetic fragrance like Champagne could be a good fit. Homebodies who value their alone time might find a rich fragrance like Retreat
Consider their favorite flavors. There's nothing better than a candle that smells like your favorite food. If the giftee loves sweet citrus flavors, try something like Cilantro Orange. For those who appreciate the freshness of homegrown herbs, try Celery Thyme or Mint Tisane.
Even with careful thought, you may not land on a single fragrance that seems like the perfect fit for your giftee. The good news is that with dozens of luxurious LAFCO fragrances to choose from, you don't have to choose just one. Build a custom gift box, drawing from the entire collection of LAFCO products and receive free gift wrapping when you add two or more products to your cart.
You Can't Go Wrong with the LAFCO Holiday Collection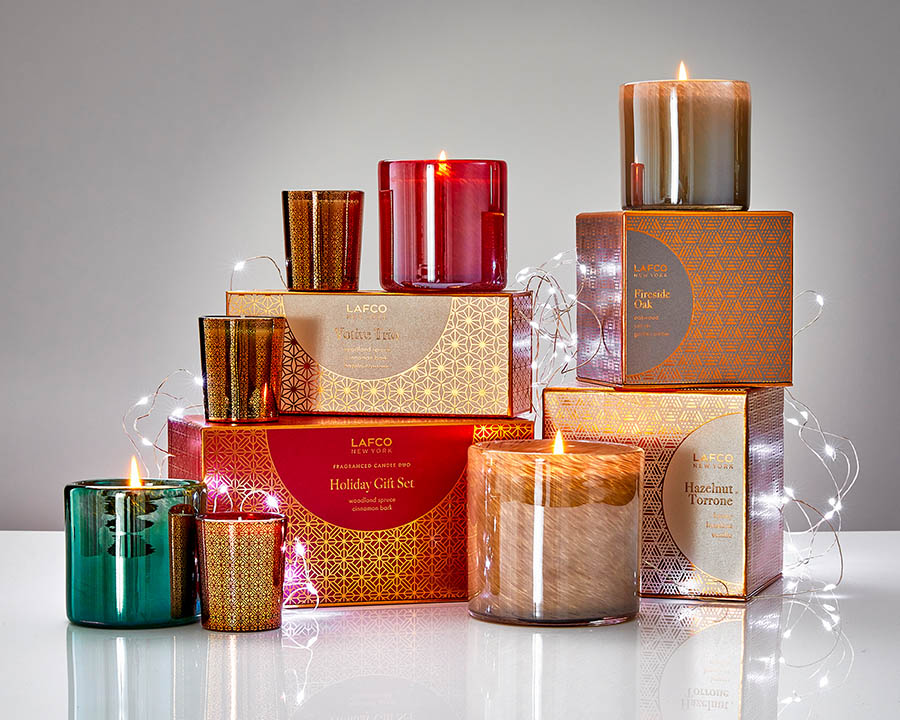 Whether you're getting a head start on your holiday shopping list or planning for an end-of-year birthday or anniversary, LAFCO's seasonal scents are a sure bet. The 2023 Holiday Collection includes a variety of fragranced gifts from scented candles and reed diffusers to room spray, body care products, and Pura Smart Device refills.
These LAFCO holiday fragrances make for the perfect gift:
If you can't decide what fragrance the giftee might like best, why choose just one? Holiday gift sets offer versatility and they're packaged in decorative boxes, ready to wrap (or not).
The White Maple Bourbon & Woodland Spruce candle duo is ideal for those who love to fill their homes with seasonal fragrance. If the giftee already has a Pura Smart Device, the same scent pairing is available as a fragrance refill gift set. For those who prefer personal fragrance, the Champagne Holiday Hand Care Duo could be a great fit.
When in doubt, you can always leave the decision up to the giftee. LAFCO gift certificates are available in denominations from $50 to $500 and are delivered instantly to the giftee's inbox.