One of the most notable holiday stories you're probably familiar with is the story of the three wise men. According to the Biblical tale, three Magi traveled great lengths to visit the baby Jesus after his birth. These men came bearing gifts of gold, frankincense, and myrrh.
Though this story takes place in a time two thousand years past, we still understand the value of these gifts – at least the gold. But what exactly are frankincense and myrrh? Turns out they're quite similar. Both are types of resin, a natural gum extracted from certain species of tree. Often used in incense, frankincense and myrrh had great trade value at the time. Today, frankincense is still widely used in the fragrance industry and it remains a staple in holiday scents.
Read on to learn everything you've ever wondered about this woody, spicy scent.
What is Frankincense?
Also known as olibanum, frankincense is an aromatic resin gathered from trees in the Boswellia genus. There are five primary species that produce true frankincense, all of which are available in various grades. The name frankincense comes from the Old French expression franc encens which translates to "high-quality incense." Some historians theorize that the name became popularized when Frankish Crusaders reintroduced the spice to Western Europe during the Middle Ages.
The trees from which frankincense is gathered begin producing resin between 8 and 10 years of age. Once they start producing resin, the trees can be taped two or three times a year – each tap results in a different grade of frankincense depending on the content of various aromatics. The more opaque the resin, the higher the quality. Some of the finest frankincense resin is harvested in Somaliland – this is where the Roman Catholic Church purchases its own stock.
The history of frankincense goes back thousands of years, long before the time of the Bible. This aromatic resin has been traded on the Arabian Peninsula for over 6,000 years. Commonly used in religious ceremonies, frankincense is also used medicinally and in perfumery and aromatherapy.
The Health Benefits of Frankincense
Frankincense has a long history of medicinal use, particularly in combination with myrrh. In traditional Chinese medicine, these two aromatic resins were valued for their antibacterial and circulatory benefits. The ancient Egyptians used frankincense and natron to cleanse the body prior to mummification and, in Persian medicine, frankincense was used to treat gastritis, diabetes, and stomach ulcers.
Here are some of the other health benefits of frankincense:
It offers anti-inflammatory benefits which may help reduce joint pain and inflammation caused by rheumatoid arthritis and osteoarthritis.
The anti-inflammatory properties of frankincense may help reduce digestive symptoms for sufferers of Crohn's disease and ulcerative colitis.
It has been traditionally used as a treatment for bronchitis and asthma – researchers attribute these benefits to compounds that prevent leukotriene production.
The antibacterial properties of frankincense may boost oral health – it could resolve bad breath, relieve toothaches, prevent cavities, and resolve mouth sores.
Limited studies suggest that boswellic acid (a component of frankincense) may fight certain types of cancer cells.
Though scientific research supports the antibacterial and anti-inflammatory benefits of frankincense, there are a number of other health claims which require more evidence. Here are some of the claims which may not be supported by scientific data:
It helps lower blood sugar in people with diabetes
It helps reduce stress, anxiety, and depression
It may help prevent heart disease
It reduces symptoms of pre-menstrual syndrome (PMS)
It balances hormones and enhances fertility
It may help boost memory and improve cognition
The best way to enjoy the health benefits of frankincense is through the use of its essential oil. Frankincense essential oil is produced through steam distillation using the resin.
4 LAFCO Fragrances Featuring Frankincense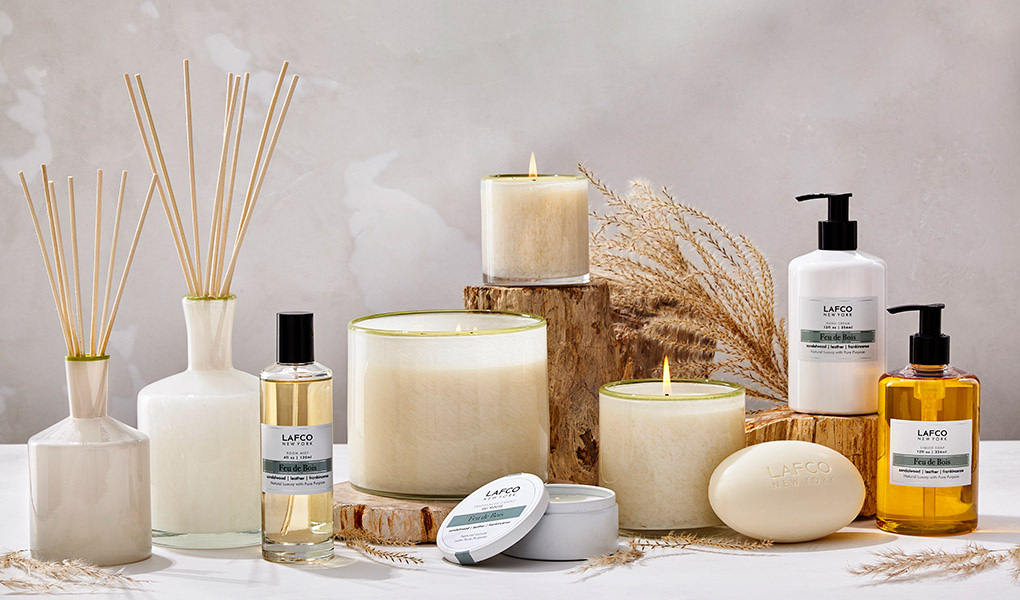 A sweet, woody scent, frankincense brings warmth to the home. It pairs perfectly with other LAFCO holiday fragrances or it can stand completely on its own. Our LAFCO fragranced products use only the finest essential oil-based fragrance to create a truly luxurious experience.
Here are the top four LAFCO fragrances that feature frankincense:
Feu De Bois Reed Diffuser – Bring warmth to any room in the house with a Classic 6.5oz. or Signature 15.5oz. candle. This smoky fragrance features warm notes of sandalwood, leather, and frankincense with a hint of fresh pine and sweet vanilla.
Spiced Pomander Votive Candle – Harken forth holiday cheer with this classic Christmas scent featuring bright bitter orange, warm clove, and fresh cinnamon with notes of frankincense and brandied ginger.
Fresh Cut Gardenia Room Mist – Breathe a breath of fresh fragrance into any room with this luxurious room mist. The floral fragrance of fresh gardenia and orange blossom settles into a bed of cedar and musk to make a lasting impression of delicate sweetness.
John Derian Signature Candle – A unique fragrance inspired by the work of John Derian, this floral incense features a blend of natural wildflowers set over a classic resin base of laburnum, sandalwood, patchouli, and frankincense. Enjoy this fragrance in the Signature 15.5oz. size.
If you're looking for the perfect holiday gift, consider a trio of festive votives including LAFCO holiday fragrances like Spiced Pomander, Winter Currant, and Frosted Pine. In the spring and summer, a Fresh Cut Gardenia reed diffuser or John Derian Signature Candle might be more appropriate.