Spring is a season of growth and renewal. It's when the temperatures start to rise, buds start to form on the trees, and flowers start to blossom. Before long, the world is filled with wonderful floral fragrance.
Frangipani is one of the lesser known floral fragrances but one with a history in perfumery dating back to the 16th century. It has a sophisticated, rich scent similar to the scent of other floral favorites like rose and gardenia. Depending on the variety, these flowers can even have a citrus, coconut, or ginger scent.
Here's what you need to know about frangipani scent and where you can find it in LAFCO products.
What is Frangipani?
Also known as plumeria, frangipani is a genus of flowering plants belonging to the dogbane family, Rauvolfioideae. Most plumeria are deciduous shrubs or small trees, largely found in tropical areas like Mexico, Central America, and the Caribbean. They're also grown as ornamentals in warm areas like Florida in the United States.
The flowers of the plumeria shrub do not yield any nectar but they produce a strong fragrance at night to attract their primary pollinators, the sphinx moth. Plumeria can easily be cross-pollinated as pollinators search for nectar and there are a wide variety of hybrid species.
The genus plumeria was named in honor of Charles Plumier, a Catholic monk and French botanist in the 17th century. Plumier spent many years traveling to the New World to document new plant and animal species. The common name for plumeria, frangipani, was coined by a 16th century marquis in the Frangipani family. He claimed to have invented a perfume scented with plumeria, but it was, in fact, a synthetic perfume that only resembled the scent of the fragrant flower.
The plumeria tree is considered sacred in Southeast Asia and it is featured in many ancient reliefs. One can be found in a Penataran temple in East Java and another in Borobudur. In Bangladesh and eastern India, plumeria is typically considered a variety of champak flower. It is considered holy and said to reside in the heavenly home of Sree Krishna.
The Health Benefits of Frangipani
Plumeria has great symbolic significance in many cultures, but frangipani is most widely used in perfumery. The scent is typically used as a top note, particularly in floral fragrances for soaps, candles, massage oils, and even potpourris.
Frangipani has a rich, floral fragrance that creates a lush and sophisticated ambiance. Because frangipani has been widely hybridized, the scent can vary according to the variety. Some frangipani flowers smell like other flowers such as gardenia or roses while others smell like grapes, ripe banana, pineapple, coconut, ginger, or other spices.
Frangipani essential oil is not only used in aromatherapy, but it has a history of use in traditional medicine, valued for its healing powers.
Here are some of the potential benefits of frangipani:
It acts as a natural astringent, helping to moisturize dry skin and restore softness.
It's deep cleansing properties help unclog pores, remove impurities, and cleanse the skin.
It offers strong anti-inflammatory and purifying properties.
It has a naturally sedative effect which can help relieve stress and improve sleep.
It is rich in antioxidants which help protect against free radical damage.
In perfumery, frangipani adds a sensual and exotic element. It is a fragrance frequently associated with romance. In addition to anti-inflammatory and antioxidant benefits, it may act as an aphrodisiac.
How to Enjoy Frangipani Fragrance at Home
The scent of frangipani is featured in the new Jungle Bloom line. This lush and exotic fragrance will take you on an amazing sensory journey through the tropical wilderness where lush palms provide a protective canopy dappled with drops of fresh coconut water.
Enjoy Jungle Bloom fragrance in the following LAFCO products: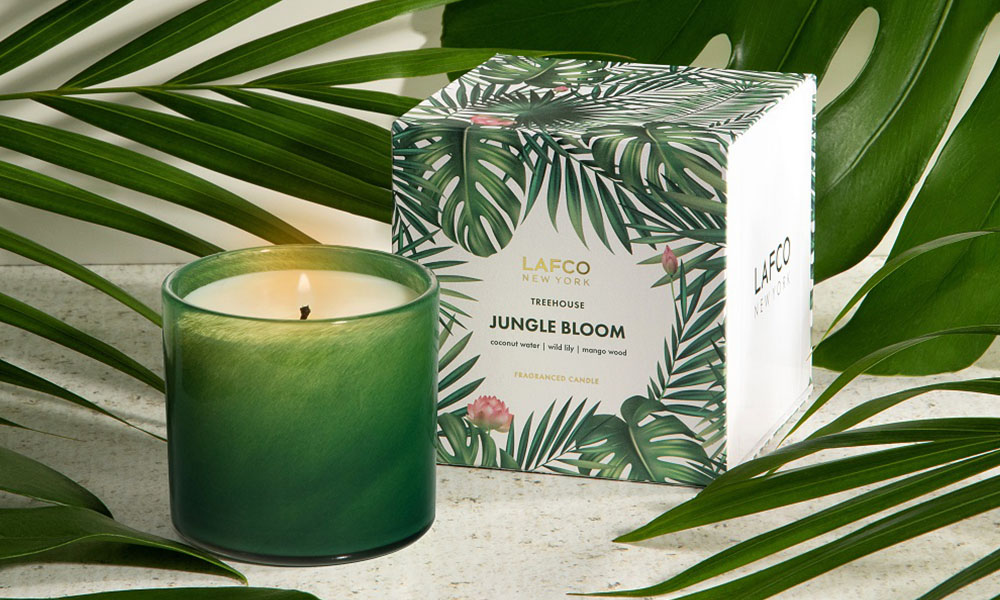 Formulated on a foundation of Jungle Air Accord, the Jungle Bloom fragrance creates a first impression of bergamot, cucumber, palm, and Anjou pair. Exotic and floral fragrances like water lily, frangipani, and bird of paradise form the heart of the fragrance, eventually giving way to a lasting undertone of coconut water, lichen, sandalwood, vetiver, and vanilla.
This 6.5 ounce Classic candle is presented in a jungle green art glass vessel. Made with soy wax and a 100% cotton wick, this candle delivers a burn time up to 50 hours.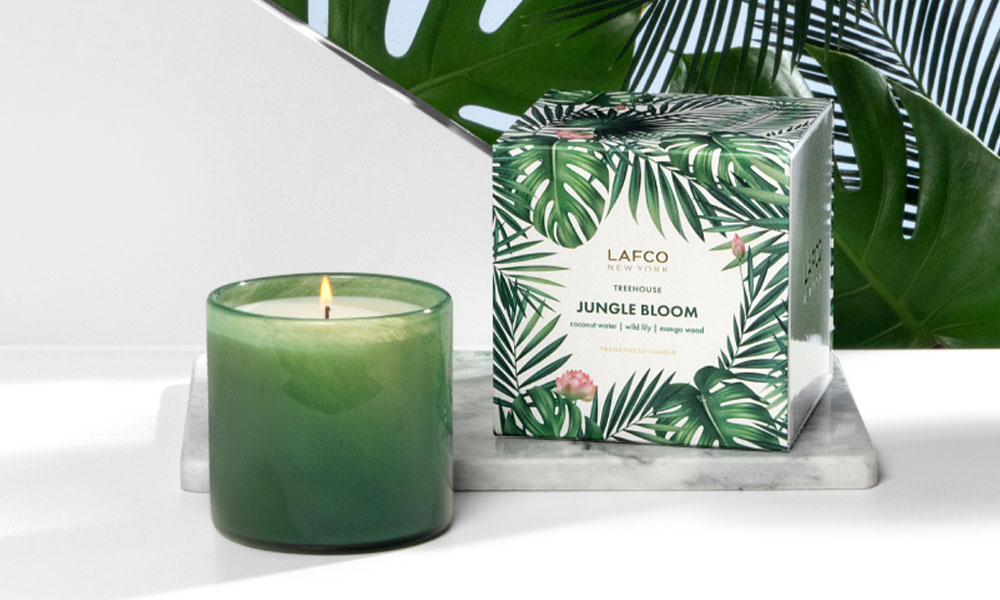 This 15.5 ounce Signature candle is presented in the same jungle green art glass vessel. You'll enjoy a clean burn from the 100% cotton wick with up to 90 hours of pure, essential oil-based fragrance.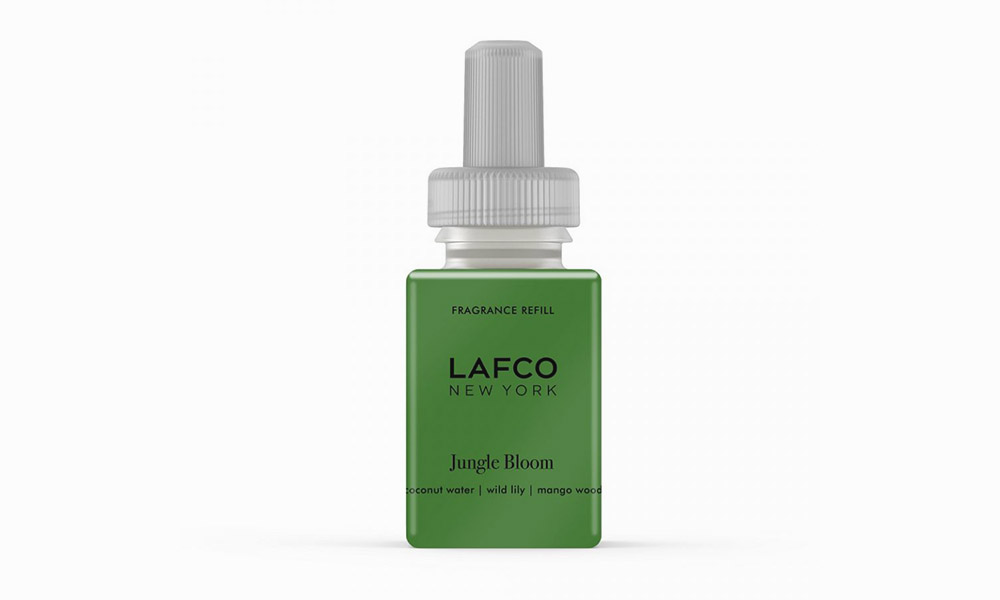 Designed to work with the Pura Smart Diffuser, this refill provides up to 2 weeks of lasting fragrance. Simply remove the empty vial and replace it with Jungle Bloom to bring an exotic blend of tropical and floral fragrances into your home.
Given its exotic impression, frangipani fragrances pair well with notes of tropical fruit and coconut. It may also complement citrus and spice fragrances as well as other florals. To create an ever more luscious fragrance, try pairing your LAFCO Jungle Bloom candle with a reed diffuser in White Grapefruit or Retreat.