We all have days when our mind just seems to wander and it becomes difficult to focus. Rather than loading yourself up with energy drinks that spike your energy and frazzle your nerves, consider a more natural alternative: fragrance. The right fragrance can transport your mind to an exotic location with a single whiff, but it can also boost your energy, improve your focus, and increase productivity.
Certain fragrances have natural energy-boosting qualities and many have been proven to increase focus and productivity. Whether you're looking for a scented candle to keep in your home office or a reed diffuser to fill your whole home with fragrance, LAFCO has plenty of options to offer.
The Top 9 Fragrances for Focus and Energy
When you're feeling sluggish and having trouble focusing, it can be tempting to jolt your system with another cup of coffee. Caffeine may do the trick temporarily, but is it worth the crash that's sure to follow? The right fragrance can provide the same benefits without the downsides. All you have to do is light a candle, use a spritz of room mist, or slather on a layer of scented lotion to get a similar boost.
The following 9 fragrances are best for increasing focus and productivity:
Lemon – This clean, citrus scent has calming and clarifying properties, but it can also promote concentration and boost productivity.
Rosemary – With its stimulating properties, this fragrance can relieve fatigue, improve memory retention, and increase focus.
Lavender – Though typically used to calm the nerves, lavender can also soothe tension and ease stress, enabling you to focus better on the task at hand.
Jasmine – Like lavender, this floral fragrance has calming effects but also has uplifting qualities that can boost confidence and renew energy.
Peppermint – This stimulating scent is a sure-fire energy booster – it promotes concentration, stimulates clear thinking, and invigorates the mind and body.
Vetiver – This woody fragrance helps improve brain function and boosts concentration – it has even been shown to reduce ADHD symptoms.
Cinnamon – If your attention span is waning, cinnamon essential oil can improve focus and boost performance on tasks that require attention.
Lemongrass – Though primarily known for its anti-anxiety benefits, lemongrass is a tension-relieving fragrance that can help renew your energy levels.
Ginger – This spicy fragrance has warming qualities but it can also ease pain and help you fight fatigue so you can power through the workday.
The right fragrance can help renew your energy and mental focus. If one of the fragrances above can do that, imagine what a combination of those fragrances can do. LAFCO uses pure, essential-oil based fragrance in balanced blends to deliver powerful benefits for your mind and energy.
Try These 7 LAFCO Products to Help Improve Your Focus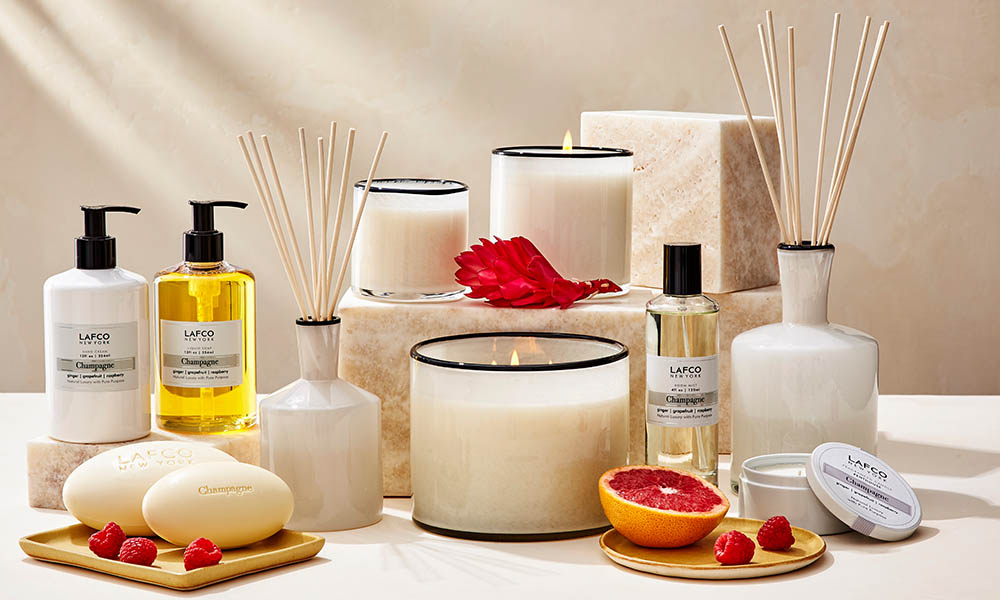 All of LAFCO's products come with the Pure Promise which guarantees artfully crafted products made with the highest quality ingredients Mother Nature has to offer. Fragranced candles and reed diffusers are presented in art glass vessels created by expert glass-blowing artists uniquely designed to hold LAFCO's thoughtfully formulated fragrance blends. You can also enjoy LAFCO fragrance in hand cream, bar soap, room mist, and more.
Here are 7 LAFCO fragranced products to help boost focus and energy:
Spike Lavender Fragranced Candle – This 15.5-ounce Signature candle is presented in a subtle gray art glass vessel perfect for the home office. Bright notes of bergamot, eucalyptus, and clove bud hover over a heart of geranium, Tuscan lavender, and rose before giving way to a lasting impression of patchouli, vanilla, and white woods.
Lemon Verbena Fragranced Candle – Presented in a delicate cream-colored art glass vessel with a white rim, this 15.5-ounce Signature candle features the fragrance of silver verbena, lemongrass, and musk. It offers up to a 90-hour burn time and a clean, non-toxic burn.
Marine Reed Diffuser – For long-lasting fragrance, try this Signature 15-ounce reed diffuser. It is presented in a seafoam art glass vessel with hand-cut reeds and made with pure, essential oil-based fragrance. Bright notes of bergamot, rhubarb, and clove sparkle over a heart of marine accord and jasmine water lily.
Rosemary Eucalyptus Fragranced Candle – Available in the Classic 6.5-ounce and Signature 15.5-ounce sizes, this fragranced candle comes in a bright green art glass vessel. Breathe deep the scent of juniper berry and garden sage before it fades into a lasting impression of rosemary and eucalyptus.
Sea and Dune Bar Soap – Refresh your mind and renew your energy stores each time you wash your hands with this luxurious bar soap. The fresh scent of lemon blends with watery notes of coastal lily, blue lotus, and beach grass before settling into a lasting impression of ginger, amber, vetiver, and warm sand.
Champagne Fragranced Candle – Ginger is the star of this uplifting, energy-boosting fragrance. Available in four sizes, the 4-ounce Travel candle through the 30-ounce 3-wick candle, you'll enjoy the bright scent of ginger, grapefruit, and raspberry that fade to undertones of rose, verbena, and vetiver.
Vetiver Sage Fragranced Candle – Available in the 6.5-ounce Classic and 15.5-ounce Signature sizes, this fragranced candle comes in a sand-colored art glass vessel. Top notes of white sage, lavender, and pepper hover over a heart of chamomile, iris, and sage clary before fading into a lasting undertone of vetiver, patchouli, and amber.
Why keep the joy of LAFCO fragrance to yourself? Give your loved ones a boost of focus and productivity by gifting one or more of the products reviewed above. Use LAFCO's Gift Builder to create a custom gift basket or you can give the gift of a LAFCO gift certificate.