The leaves have taken on their autumn color and started to fall. Daytime temperatures remain pleasant, but the evening chill sets in after dark. As you cuddle up with a fuzzy blanket and a mug of tea, the flickering light of a fall fragranced candle is all you need to complete the picture.
To help keep you cozy as Fall temperatures continue to drop, LAFCO has partnered with private chef Manny Baiden to curate the perfect soup and scent pairing featuring the warm and nutty fragrance of Hazelnut Torrone.
Introduction to Chef Manny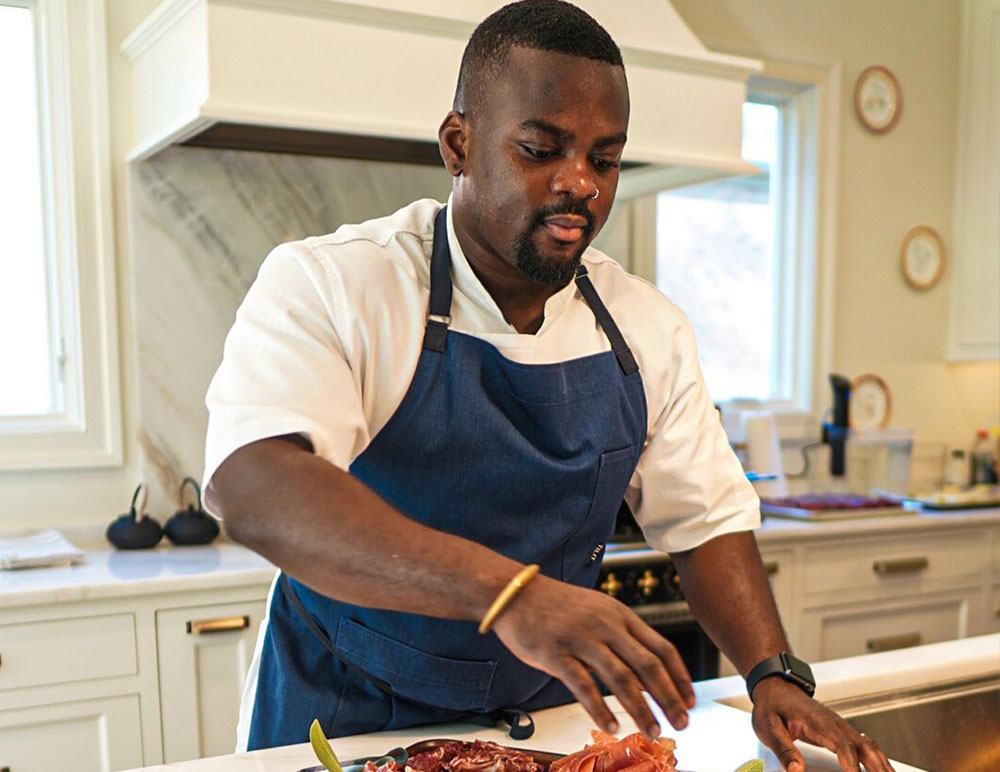 Private Chef Emmanuel Baiden (@mannyeats on Instagram) is back with another delicious recipe inspired by one of LAFCO's fall fragrances, Hazelnut Torrone. Currently based in Richmond, Virginia, Chef Manny honors his West African roots by bringing the flavors of Ghana to life in modern cuisine.
With a degree in hospitality from James Madison University, Chef Manny has spent years developing his culinary career. After working in restaurants in both front and back of house roles, Chef Manny has broken out on his own to become a private chef. He's been featured on CBS 6's Virginia this Morning and has worked with renowned clients including Cangshan Cutlery, Escuminac, and The Martin Agency.
Chef Manny recently partnered with LAFCO to craft delicious recipes inspired by our luxurious fragrances. Last month Chef Manny created a tasty sourdough toast featuring bergamot, peach, and fig to complement the sweet and citrusy fragrance of Paradiso Fig. This month, Chef Manny is back with a scrumptious squash soup recipe inspired by LAFCO's Hazelnut Torrone fragrance.
Squash Soup with Hazelnuts and Crème Fraiche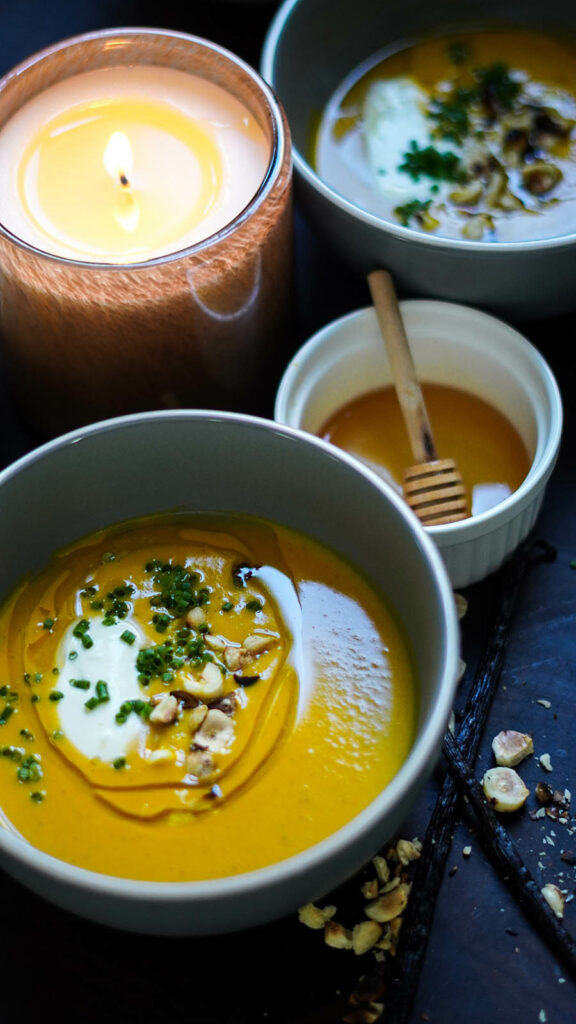 Nothing warms you up faster than a hearty soup full of fall flavors. Chef Manny's Squash Soup with Hazelnuts, Vanilla, Brown Butter, and Crème Fraiche is just what the doctor ordered. This tasty recipe features butternut and honey nut squash complemented by sweet honey, warm vanilla, and roasted hazelnuts.
Here are the ingredients:
Butternut squash
Honey nut squash
Canola oil
Salt and pepper
Sage, thyme, and rosemary
Leeks
Carrots
Shallots
Onions
Garlic
Vanilla bean
Honey
Vegetable stock
Butter
Crème fraiche
Hazelnuts
Chives
Brown butter
Chef Manny begins by roasting cubed squash with canola oil, salt, pepper, and sage. After softening a combination of leeks, carrots, shallots, and onion, he adds the cooked squash and flavors the mixture with garlic, salt, and pepper. A hint of honey and fresh vanilla bean gives the soup a unique complexity while herbs like rosemary and thyme keep it down to earth. After blending the soup until smooth, Chef Manny serves it up with crème fraiche, crushed hazelnuts, minced chives, and a drizzle of brown butter. The full, in-depth recipe can be found below.
You can enjoy this creamy soup as a filling lunch or a light dinner. Chef Manny's recipe serves six, but it can easily be doubled to feed a crowd or if you want to freeze portions of it to enjoy later.
To get the full fall experience, don't forget to light a Hazelnut Torrone candle as you cook…
Pair with Hazelnut Torrone
As fall moves toward winter, keep your home cozy with warming fragrances like honey and vanilla. Hazelnut Torrone is the perfect fall fragrance to create a welcoming ambiance that makes your house truly feel like home.
Presented in a frosted brown art glass vessel, the Hazelnut Torrone fragrance is available in a 1.9-ounce votive as well as the larger 6.5-ounce Classic and 15.5-ounce Signature sizes. A nutty heart of roasted hazelnut forms the foundation of this fragrance, lifted by the rich sweetness of honey and mellowed by the smooth, creamy scent of vanilla.
Looking for more fall fragrances to keep your home warm and cozy this autumn? Explore LAFCOs home fragrance line up to select from scented candles, reed diffusers, and more.
---
Squash Soup With Hazelnuts, Vanilla, Brown Butter, And Crème Fraîche
Recipe by: Emmanuel Baiden
Prep Time: 25 minutes  Cook Time: 1 hour Servings: 6
Ingredients
1 1 ½ pound butternut squash
1 1 ½ pound honey nut squash
4 tablespoons canola oil
Kosher salt and pepper to taste
1 sprig sage
1 cup thinly sliced leeks, white parts only
1 cup thinly sliced carrots
1 cup thinly sliced shallots
½ cup thinly sliced onions
4 garlic cloves, peeled and smashed
1 vanilla bean
2 tablespoons honey
8 cups vegetable stock
4 sprigs thyme, 4 sprigs rosemary wrapped with a butchers twine
4 tablespoons unsalted butter
¼ cup crème fraîche
¼ cup of roasted hazelnuts
1 tablespoon minced chives
Brown butter to garnish
Directions
Soup: Preheat your oven to 350° F. Line a small sheet pan with parchment or aluminum.
Cut the butternut and honey nut squash in half at the neck. Cut the bulb in half and scoop out the seeds. Using a peeler, carefully peel the neck of the squash. Cut into equal size pieces. Place the squash on the sheet pan, drizzle with two tablespoons of canola oil, and season with salt and pepper. Place the sage leaves over a few pieces of squash and its cavity. Roast for about 30 minutes, or until tender.
Remove the squash from the oven, let it cool, and then scoop out the flesh. Put the remaining canola oil in a stockpot over medium-high heat, add the leeks, carrots, shallots, and onions, and cook, often stirring, for about 8 minutes. Add the roasted squash, garlic, flesh of the cavity, 1 ½ teaspoons salt, ½ teaspoon pepper, and cook for 3 minutes. Stir in the honey and vanilla bean (scrape with the back of a paring knife) and cook for 2 to 3 minutes. Add the vegetable stock, thyme, and rosemary. Bring it to a slow simmer and cook for 15 minutes or until completely tender. Remove from the heat and discard the rosemary and thyme.
Transfer the soup to a blender, in batches, and blend until smooth. Strain the soup through a fine mesh strainer into a bowl. Taste and adjust for seasoning.
Brown Butter: Heat a medium skillet over high heat. When it is hot, add the butter and rotate the skillet over the heat as necessary to brown the butter evenly. As soon as the foaming has stopped and the butter is browned, set aside and allow to cool slightly.
To serve: transfer the soup to a bowl and top with crème fraîche, crushed hazelnuts, minced chives and a drizzle of brown butter.