While you're checking things off your holiday shopping list, don't forget to throw in a few things for yourself. Scented candles, reed diffusers, and other LAFCO fragrance products are the perfect way to get yourself into the Christmas spirit. Fill your home with warm fragrance to make this holiday season merry and bright.
Presented in hand-blown glass vessels, LAFCO products are artisanally crafted to bring warmth, light, and soothing ambience into your home. The Christmas fragrances below are perfect for the season and will have you feeling cozy all winter long.
Enjoy these 6 Christmas fragrances to get yourself in the holiday spirit: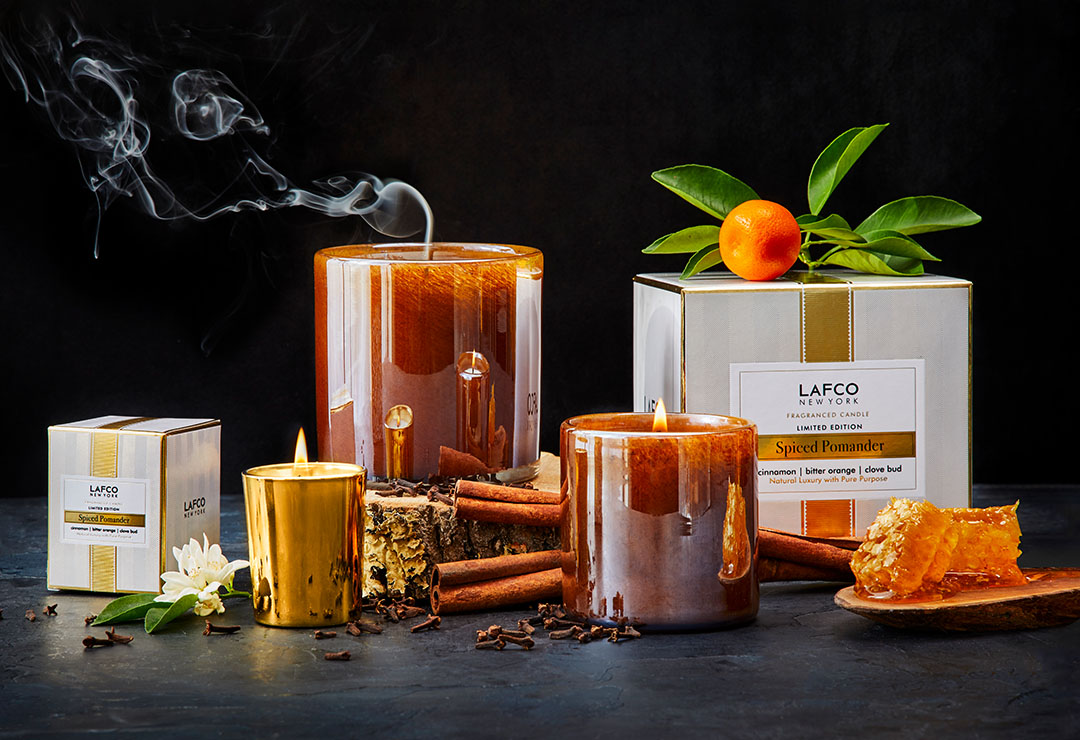 Reminiscent of a long-standing Christmas tradition, this fragrance brings to mind plump oranges studded with fresh clove. This inviting fragrance presents an initial impression of bitter orange, clove buds, and brandied ginger before settling into a heart of frankincense, grapefruit, and cinnamon bark. When these fade, you'll enjoy a lasting impression of vanilla, honey, and musk.
This Christmas-inspired fragrance is also available in the Signature 15.5oz. and 1.9oz. votive sizes. It is presented in an amber-colored glass vessel that perfectly complements your holiday decorations.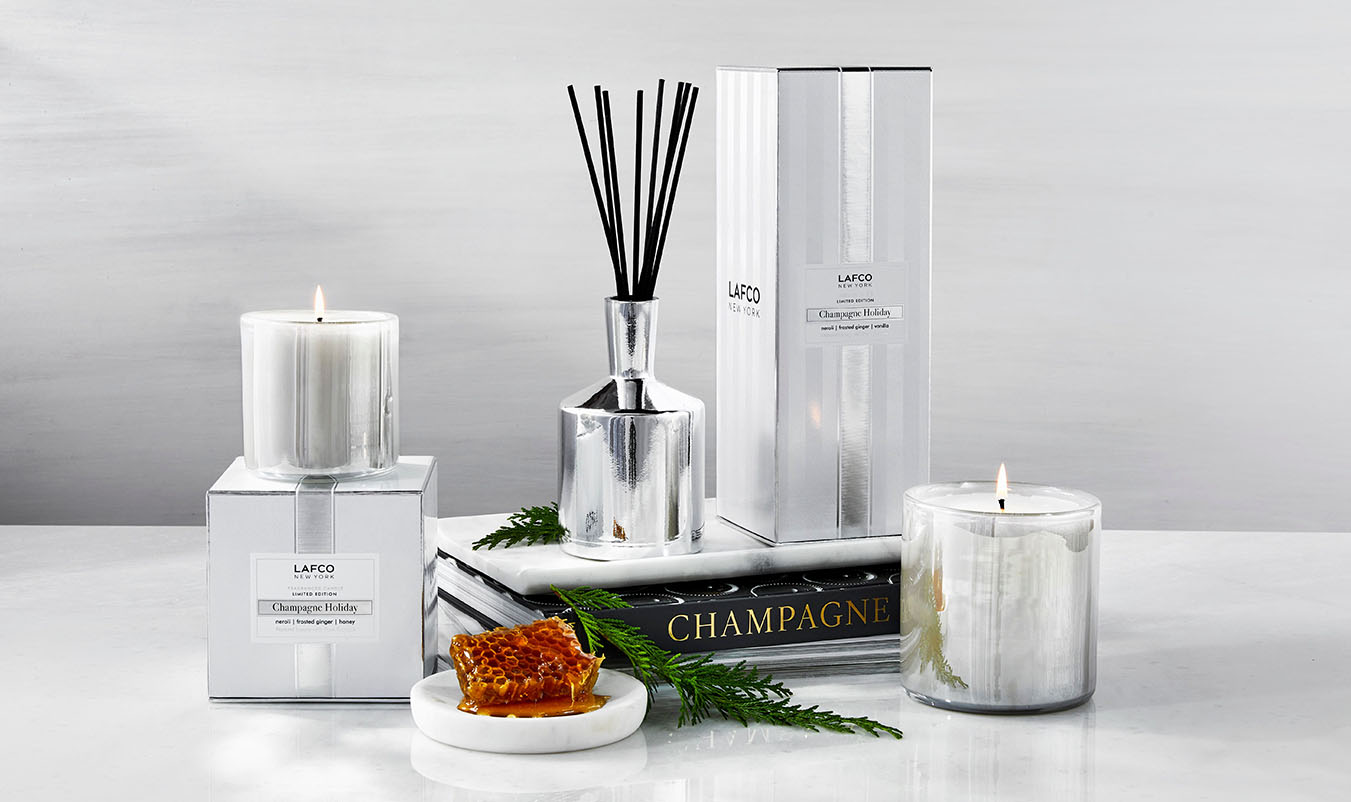 Make the season merry with this bright silver candle featuring a classic LAFCO fragrance given a holiday twist. Sparkling as a champagne toast, this fragrance features notes of fresh mandarin zest and neroli with a hint of golden honey, accented with the sweet scent of vanilla and spicy frosted ginger.
This fragrance is available in Classic 6.5oz and Signature 15.5oz. candles as well as the Classic 6oz. reed diffuser. All three are presented in a bright silver art glass vessel.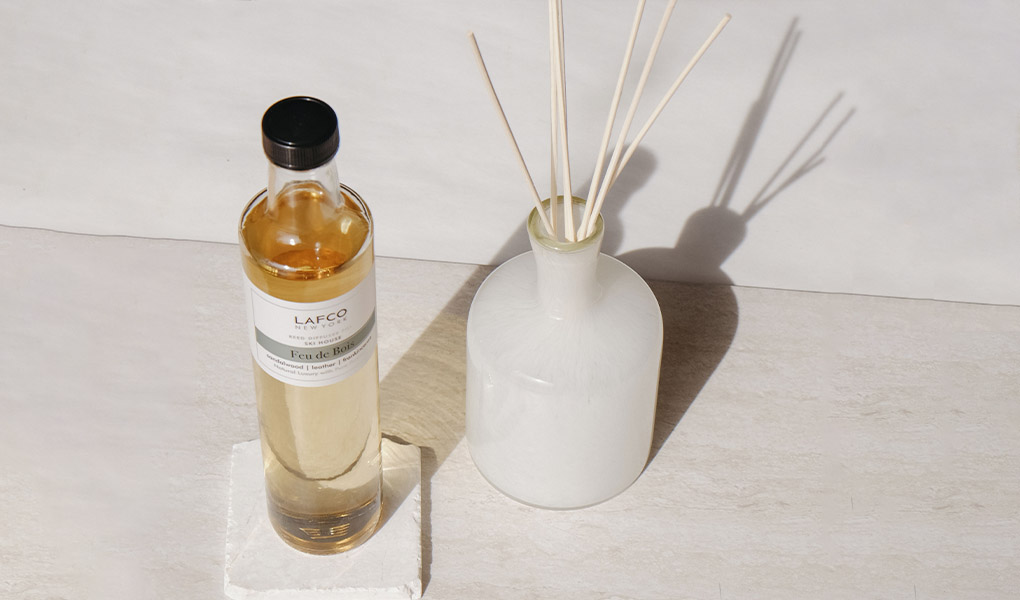 The warm and soothing scent of sandalwood, leather accord, and frankincense is just right for winter. This comforting fragrance is presented in a 15oz. reed diffuser that delivers up to a full year of long-lasting fragrance. Woody notes of cedar, mountain spruce, and pine hover over a heart of patchouli, sandalwood and cedar. These give way to a lasting undertone of frankincense and amber myrrh.
Available in the Classic 6oz. and Signature 15oz. sizes, this reed diffuser is presented in a neutral art glass vessel. Add or remove reeds to customize the fragrance intensity according to your preferences.
Nothing puts you in the Christmas spirit like the scent of freshly fallen pine needles and juicy redcurrant. This holiday duo includes a Classic 6.5oz. candle in Frosted Pine and Winter Currant, presented in forest green and bright red art glass vessels. Enjoy these fragrances separately or combine the two to fill your home with warm holiday-inspired fragrance.
You can also purchase these fragrances separately in various sizes. Frosted Pine comes in the Classic 6.5oz., Signature 15.5oz., and 30oz. 3-wick sizes while Winter Currant is available in the classic and signature sizes. Enjoy both along with Spiced Pomander in the holiday votive set.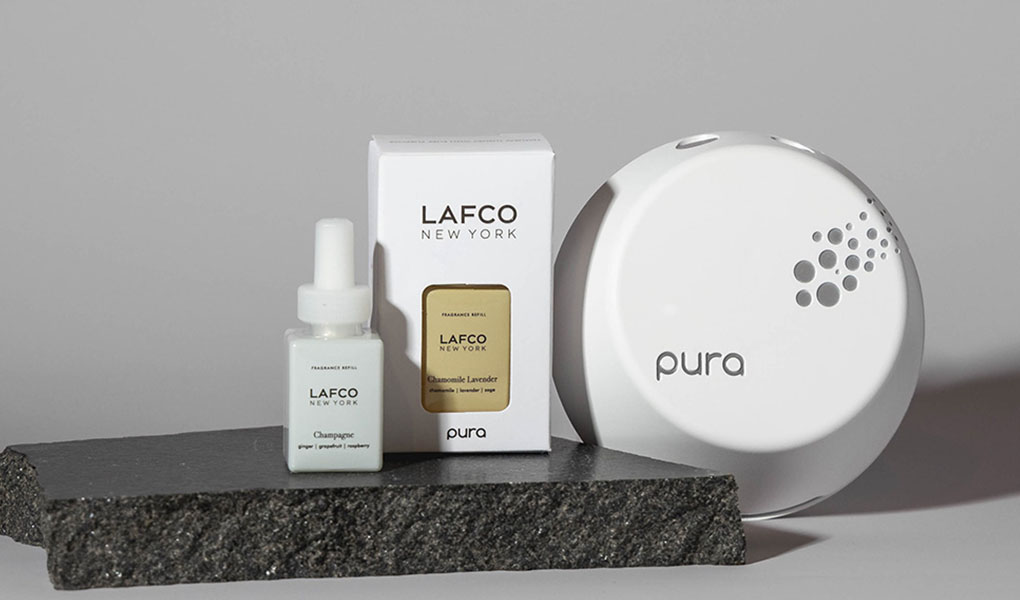 No matter what time of year, a smart diffuser like Pura is the key to filling your home with lasting fragrance. Choose your favorite fragrances or combine two to create a custom fragrance experience controlled at the touch of a button or through the Pura app. The Pura Smart Diffuser set comes with two refills, Chamomile Lavender and Champagne.
Customize your fragrance experience by purchasing additional Pura Smart Diffuser refills. Fill your home with holiday fragrance with the Frosted Pine refill or stick to your favorites.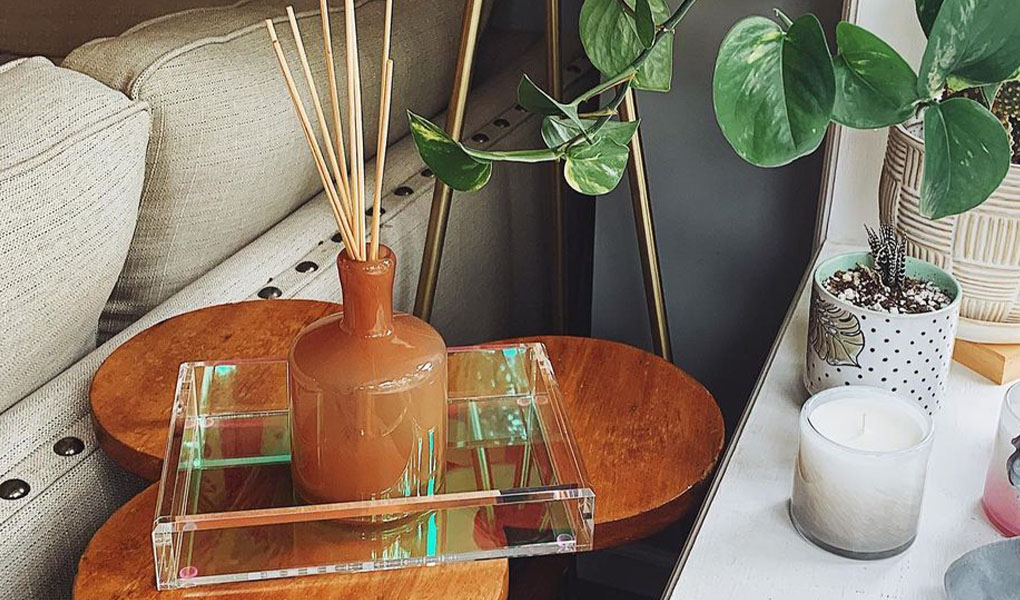 Create a warm and welcoming ambience in your home this Christmas with the soothing scent of amber and black vanilla. Top notes of black currant, lemon, orange, and raspberry settle into a heart of gardenia and jasmine. This fragrance has long-lasting undertones of amber, patchouli, vanilla, and musk which can pervade your home for up to a full year.
This popular LAFCO fragrance is also available in the Classic 6.5oz. and Signature 15.5oz. candle sizes. You can also enjoy is as part of the Chamomile Lavender and Amber Black Vanilla candle duo.
Can't decide which fragrance is right for you and your home? Try one of LAFCO's holiday gift sets to sample several fragrances at once. The Frosted Pine, Winter Currant, and Spiced Pomander gift set includes three limited-edition votives in festive glass vessels. You can also create a sample set of your own using the LAFCO Discovery Trio to get three sample-sized fragrances for just $16 with free shipping.