With only a few windows left to open on the advent calendar, Christmas is quickly approaching. If you're looking for ways to put a little more "merry" in your Christmas, we've got some simple tips. Put your creativity to use with natural holiday decorations or fill your home with holiday fragrance by lighting a scented candle. This Christmas may be different than years past, but it should be no less cheerful!
How to Make Your Home Smell Like the Holidays
View this post on Instagram
This year has been anything but ordinary. A global pandemic has a way of turning the world on its head and after all the challenges we've been through, it's hard to imagine enjoying the holidays when they're bound to look drastically different than last year. Though you may not be spending the holidays around the table with friends and family from afar, there's plenty to be thankful for this year and the holidays are still the perfect time to celebrate – even if you have to do it virtually.
Nothing gets you in the holiday mood like classic Christmas fragrances. Cinnamon, pine, and peppermint are just a few that bring to mind images of holiday merriment. If you're looking for a way to bring some Christmas cheer into your home, we have a few tips that might help.
Here are some tips for making your home smell like Christmas:
Decorate your home with fresh-cut pine. Use it to line your mantle, wrap it around your bannisters, or use it to create homemade wreaths and arrangements.
Get the kids involved and make pomanders – clove-studded oranges. Hang them on the Christmas tree or place them in a decorative holiday bowl to put them on display.
Gather up a basket full of pinecones then wash them and let dry. Mix up some of your favorite holiday-scented essential oils with a little water and spritz them on the pinecones before sealing them in a bag for 24 hours. Afterward, let them dry and place them in a bowl.
Start a pot of water simmering on the stove then add aromatics like orange peel, cloves, cranberries, and cinnamon sticks to fill the house with warm holiday fragrance.
Make a batch of mulled wine in the slow cooker to infuse the home with a subtle fragrance and to fill your body with warmth and holiday cheer.
It's been a long year, so if you're not feeling festive, we don't blame you! The good news is it's not necessary to expend a lot of effort if you want your home to smell like the holidays. With LAFCO holiday fragrances, it's as simple as lighting a scented candle.
The Top 5 Holiday Fragrances from LAFCO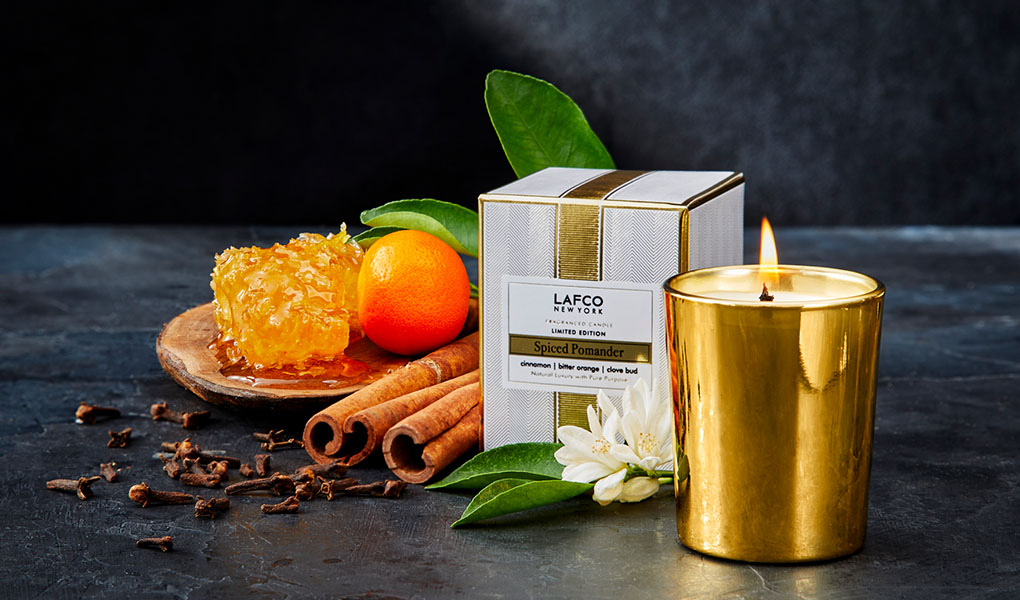 Our LAFCO holiday fragrances put the merry in "merry Christmas." Every candle is made with unique solid soy wax, essential oil-based fragrance, and a 100% cotton wick. LAFCO fragranced candles are presented in handblown glass vessels to enhance the experience and come in sizes ranging from the 1.9-ounce votive to the 30-ounce 3-wick candle.
Here are the best holiday fragrances from LAFCO this year:
A holiday candle from LAFCO does more than just fill your home with fragrance – it brightens up the room with a gentle glow that speaks to the season.
Holiday Decorating Tips Featuring LAFCO Candles
Nothing brings holiday cheer like festive decorations. Whether your style is classic, modern, or whimsical, LAFCO scented candles add color, light, and fragrance to create the perfect Christmas ambiance. Feature them as statement pieces or work them into your existing décor.
Here are some cheerful ways to incorporate LAFCO candles into your holiday décor:
Use votives in your favorite LAFCO holiday fragrances as place settings for your Christmas table.
Create a centerpiece for your holiday table using a flat mirror and your favorite LAFCO holiday candles – add red and gold beads or garland for added decoration.
Tie a ribbon around your LAFCO fragranced candles and feature them in prominent places around your home as decorative holiday gifts.
Top your mantle with garland or fresh pine boughs and nestle LAFCO holiday candles in among sprigs of holly or pinecones to bring the decoration together.
Whether you're searching for the perfect gift or shopping for yourself this season, LAFCO makes it easy to enjoy the best holiday fragrances. Sample three luxurious holiday scents with the Discovery trio or grab the Frosted Pine + Winter Currant + Spiced Pomander Gift Set. If you're not quite sure which fragrance is the right fit, you can't go wrong with a LAFCO gift card available in values from $50 to $500.