At the end of a long workday, all you want is to step into your home and leave your worries at the door. Unfortunately, many of us have a habit of taking our work home with us or, at the very least, letting our stress and struggles accompany us.
Though it's difficult to escape completely from the worries of the world even when you're in your own home, there's a simple solution. The right fragrance can create a calming ambiance, turning your home into a place where you can rest and relax. One of the best fragrances to help create this atmosphere is the ever popular lavender.
Let's explore the benefits of lavender as well as the best lavender scented candles to give your home a peaceful and relaxing ambiance.
The Calming Benefits of Lavender
Lavender is one of the most popular floral fragrances, derived from flowering plants belonging to the genus Lavandula. Known for their beautiful purple flowers and sweet-smelling fragrance, lavender plants are widely cultivated for use in perfumery, skincare, and topical aromatherapy.
The essential oil distilled from lavender flowers offers a multitude of benefits, such as having anti-inflammatory, antidepressant, antibacterial, sedative, and antiseptic properties. Because of this, lavender is frequently used in aromatherapy for its calming benefits.
Lavender has been shown to have an anxiety reducing effect and some studies suggest it may also be useful for easing insomnia. Generally speaking, it is commonly used in aromatherapy blends for relaxation and stress relief.
Try These 4 Lavender-Inspired LAFCO Scents
Lavender is a lovely floral fragrance that is often used as a top note in perfumery and aromatherapy. Valued for its stress- and anxiety-relieving properties, this scent is often used in blends for relaxation and improved sleep.
Discover these LAFCO fragrances that feature lavender…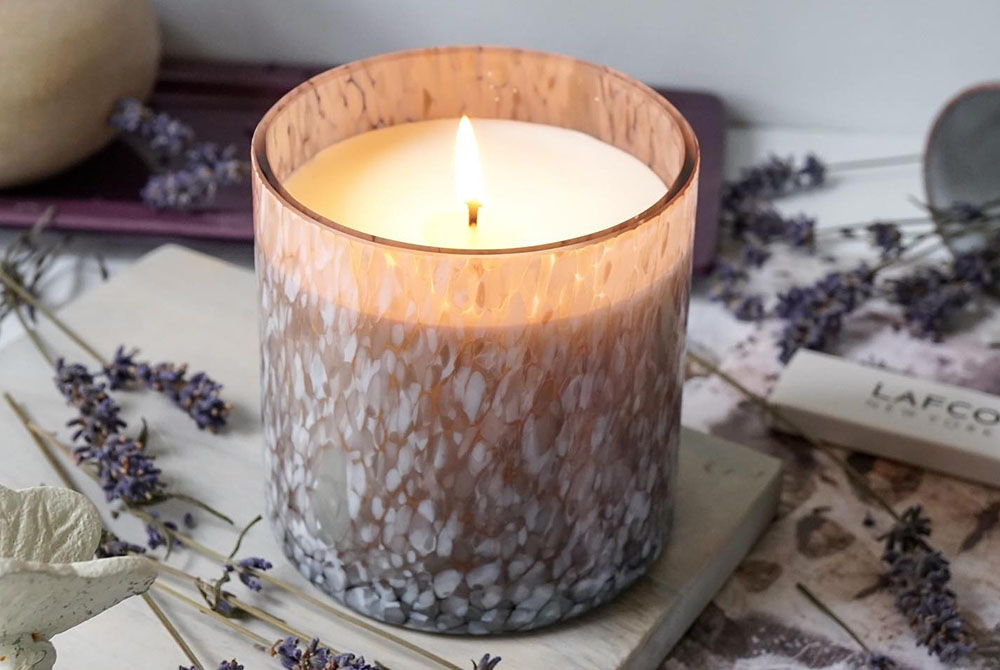 Built on a foundation of lavender absolute, this gentle fragrance is accented by the freshness of mint and citrus. The heart of this fragrance is formed by an infusion of aromatic rosemary and violet petals with just a hint of sweet vanilla. You'll also pick up notes of petitgrain and amber.
This fragrance is part of the absolute collection. Pair it with other pure fragrances from this collection like Orange Blossom, Rose de Mai, and Forest Oakmoss.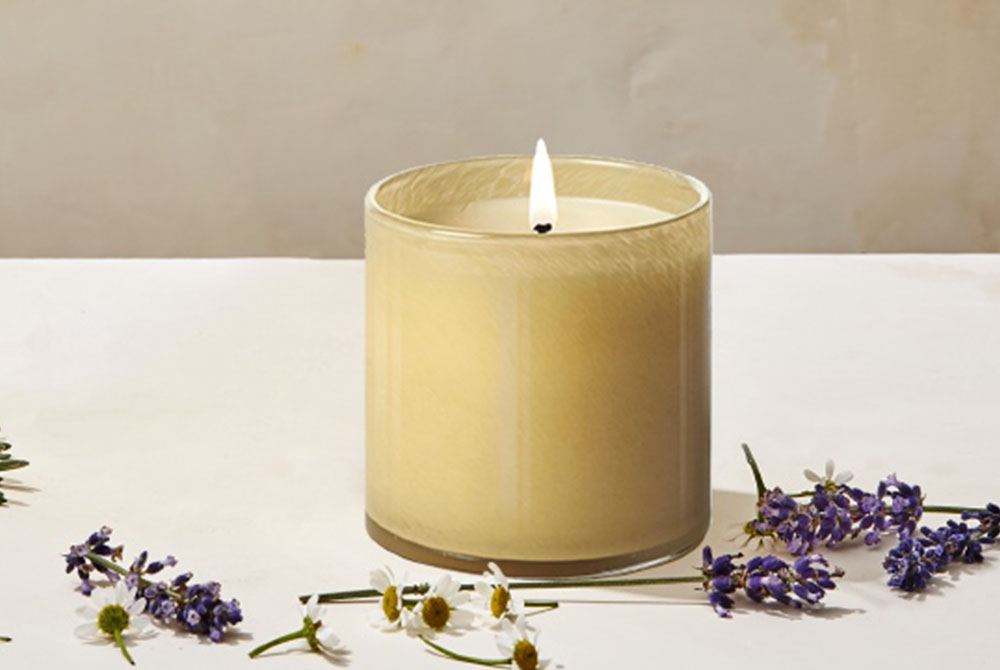 One of LAFCO's classic fragrances, this scent brings together herbal tones of chamomile, lavender, and sage. At first, you'll be welcomed by the calming scent of chamomile accented with bright bergamot. These scents fade into a heart of lavender and eucalyptus before setting into an undertone of rosemary, honey flower, and Indonesian patchouli.
This candle is available in the Classic 6.5-ounce and Signature 15.5-ounce sizes, presented in a deep purple art glass vessel. You can also enjoy Chamomile Lavender in both Classic and Signature reed diffusers as well as room mist, hand cream, bar soap, and liquid soap.
View this post on Instagram
Settle into serenity with this smooth and calming fragrance. Herbal top notes of spike lavender make way for a warming heart of rosemary and musk before fading to a lasting impression of amber and vanilla. This fragrance is perfect for the den or studio to help you create an atmosphere in which you can relax and focus on what's important.
This fragrance is available in both the Classic 6.5-ounce and Signature 15.5-ounce sizes.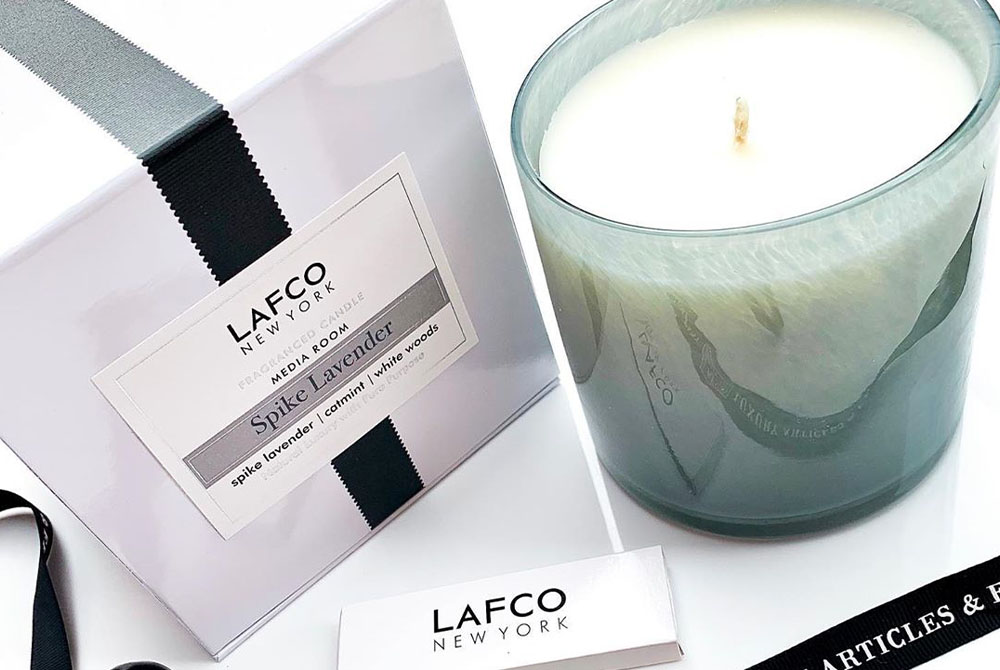 Geranium, rose, and spike lavender create a delicate bouquet of floral fragrances, accented with herbal notes of catmint and a hint of warm vanilla. Clove bud, bergamot, and eucalyptus create a fresh first impression before settling into a floral heart and fading to undertones of white woods, patchouli, and vanilla.
This fragrance is available in the Signature 15.5-ounce scented candle, presented in a soft gray art glass vessel with a 100% cotton wick. You'll enjoy a clean burn for up to 90 hours with this candle.
As a floral scent, lavender pairs well with citrus scents like lemon and bergamot as well as other lighter floral fragrances like rose and geranium. Herbal scents like basil and peppermint provide a nice contrast as well. Try pairing your lavender LAFCO candle with complementary fragrances like Cilantro Orange or Mint Tisane.
If you're unable to choose which lavender candle you think would work best for you, take advantage of LAFCO's Discovery Trio to try your top three options. You'll enjoy sample-sized candles from three fragrances, all for $16 with free shipping included.