Even with the world opening up again, you may not be quite ready to travel. And if you are, you may be limited by funds or lack of vacation time. Not to worry! You don't have to necessarily leave home to get away from it all – all you need is the right LAFCO fragrance.
The right fragrance can transport your mind and spirit anywhere you can imagine. Breathe deeply and picture yourself dipping your toes in a tropical pool or lounging under the sunset on a pristine white beach with a drink in your hand. Here are the top 4 beach-inspired fragrances from LAFCO to help you feel like you're on a tropical getaway.
1. Sea & Dune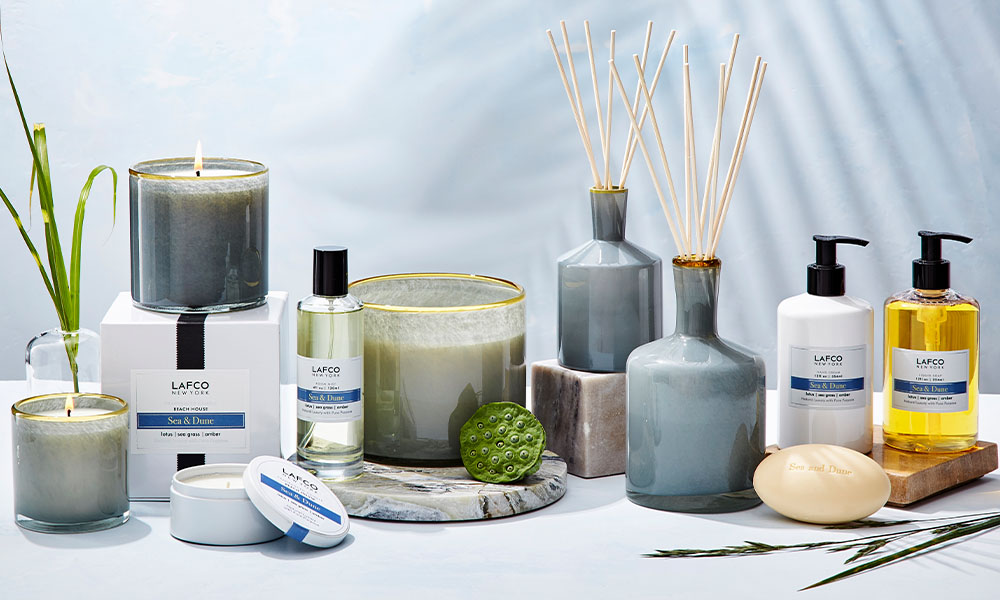 The ultimate beach-inspired fragrance, Sea and Dune will transport your mind to a windswept coast where you'll breathe in the fresh scent of lemon and spicy coastal lily while watching sunlight scatter across the waves. This fragrance brings together top notes of lemon oil and coastal lily that fade into a heart of blue lotus and beach grass. Take one final breath, languishing in a lasting impression of warm sand, ginger, amber, and vetiver.
A Signature 15.5-ounce candle is the perfect way to enjoy this beachy fragrance. Take in the warm glow emanating from a blue-gray art glass vessel rimmed in gold. Solid soy wax and a 100% cotton wick ensures a clean, non-toxic burn while pure, essential oil-based fragrance fills your home. This fragrance is also available in the 4-ounce Travel, 6.5-ounce Classic, and 30-ounce 3-wick candle sizes. For a quick spritz of fragrance, try Sea & Dune room mist.
2. Marine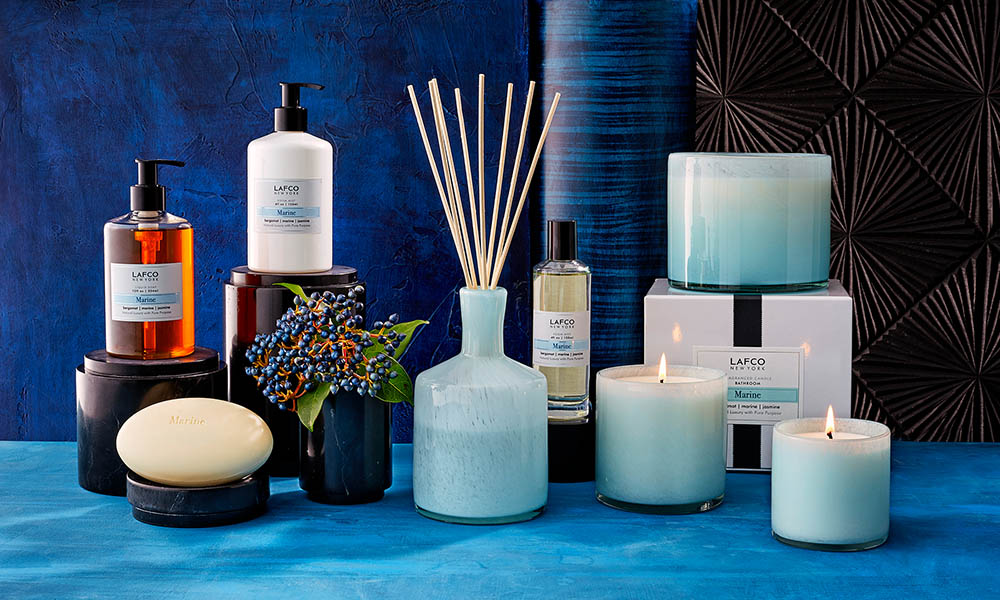 This crisp and refreshing fragrance will have you feeling the cool beach air on your skin in no time. Breathe in the salty breeze and catch a hint of sea jasmine, rose, and cyclamen accented with bright notes of bergamot and fresh rhubarb. This gentle fragrance brings to mind the image of a sandy shoreline dotted with bright white shells glinting in the fading summer sun.
A Signature 15.5-ounce reed diffuser is the perfect way to enjoy this summer fragrance. Presented in a bright teal art glass vessel with hand-cut reeds, this reed diffuser offers up to a year of long-lasting fragrance. For a smaller room or more subtle fragrance, try the 6-ounce Classic reed diffuser. This fragrance is also available in all four candle sizes as well as bar soap, liquid soap, and room mist.
3. Fog & Mist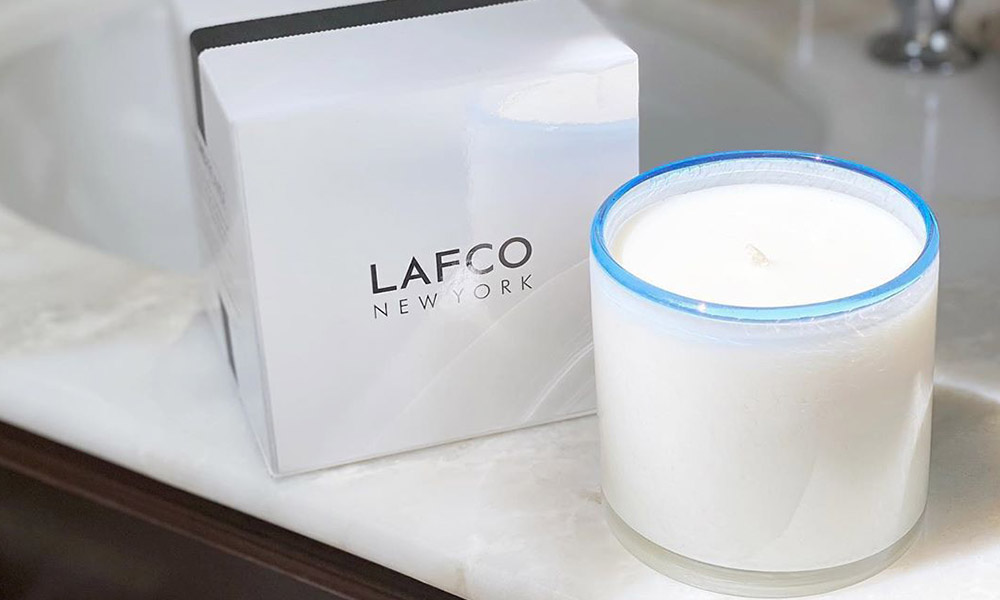 Marine notes of seaweed and sea foam hover over a soft floral heart in this beach-inspired fragrance. Breathe deeply the bright notes of green apple, cucumber, melon, and marine accord before they settle into a heart of damascena rose, lily of the valley, and mate absolute. With bottom notes of blonde woods and musk, this fragrance will warm your heart and lift your spirits.
A Signature 15.5-ounce candle is the ideal way to enjoy this summer fragrance. Presented in a white art glass vessel with a hint of blue around the rim, this candle offers a 90-hour burn time. It pairs perfectly with other fresh summer fragrances from LAFCO like Spike Lavender and White Grapefruit.
4. Lemon Verbena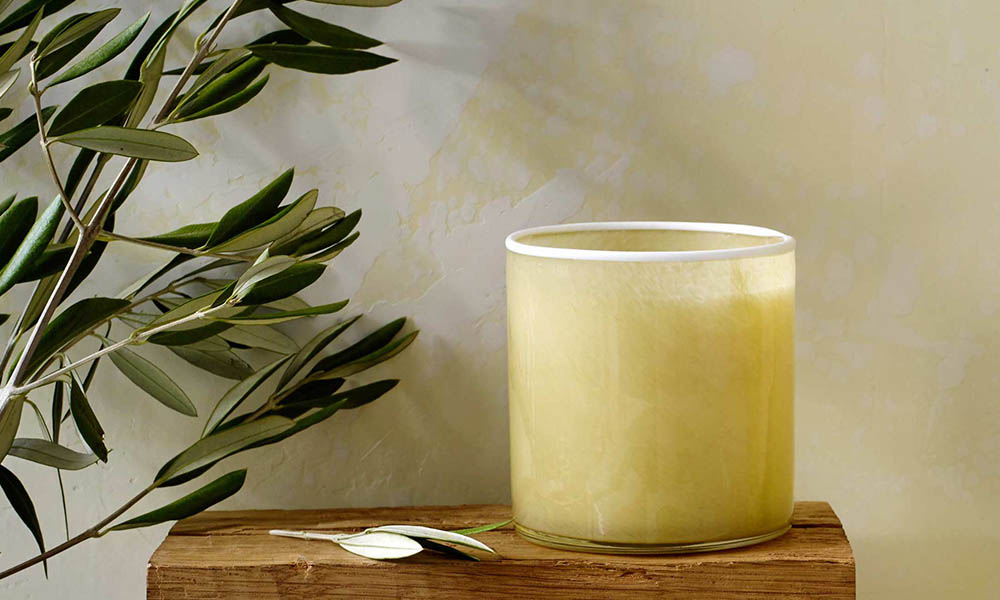 Let this gentle summer fragrance transport you to the warm beaches of Hawaii where you'll bury your feet in the sand, sipping fresh coconut water to quench your thirst. Bright notes of salt flower, verbena, lemongrass, and nashi pear hover over a heart of jasmine, white gardenia, tarragon, and clove before fading into a lasting impression of Hawaiian sandalwood and white musk.
Enjoy this fragrance in a Signature 15.5-ounce candle, presented in a cream-colored art glass vessel with a delicate white lip. Pure essential oil-based fragrance will fill your home while the pure cotton wick ensures a clean, bright burn. This candle works well in outdoor spaces like the porch or patio, or it can bring light and gentle fragrance to the bathroom or guest room.
If you can't make up your mind which beach-inspired fragrance to try out, why choose one at all? With LAFCO's Discovery Trio, you can enjoy sample sizes of three unique fragrances for just $16, free shipping included. Best of all, you'll receive a coupon code for $16 off your next full-size order so you can upgrade to the Classic, Signature, or even 3-wick candle in your favorite beachy fragrance.