"From the start of LAFCO 20 years ago, I was committed to creating a skincare brand using botanical ingredients, environmentally friendly techniques and putting consumer health and benefit  first," says Jon Bresler, the founder of LAFCO. As the competitively priced luxury line has expanded from bar soaps and fragrant candles to hand creams, room misters, diffusers, and liquid soaps, LAFCO has kept its Pure Promise without compromising quality and utility. Years of research and trials go into developing each product, which are vegan, petroleum-free and all-natural.
After perfecting his Italian-manufactured bar soaps, Jon was determined to create a liquid soap using the same rigorous criteria. When he discovered that even premium brands in the marketplace rely on synthetics to produce their liquid soaps, he worked with a family-owned, eco-certified facility in Italy to develop a formula made exclusively from olive oil along with fruit and nut sugars to create a one-of-a-kind product.
"The guiding principle of all our body product formulations is to use high omega fatty oils as the base of our products. Research has shown that these oils are integral to good health," says Bresler.
LAFCO liquid soaps cleanse skin and moisturize naturally without high-foam bubbles that are an indicator of petrochemical or coconut oil-derived detergents containing synthetic foam-boosting chemicals.
"Our liquid soap takes some getting used to" because truly natural products feel and perform differently. Our liquid soaps are thinner than others because we do not use unhealthy synthetic thickeners, and ours creates less bubbles due to the absence of foam boosters that strip and dry out the skin.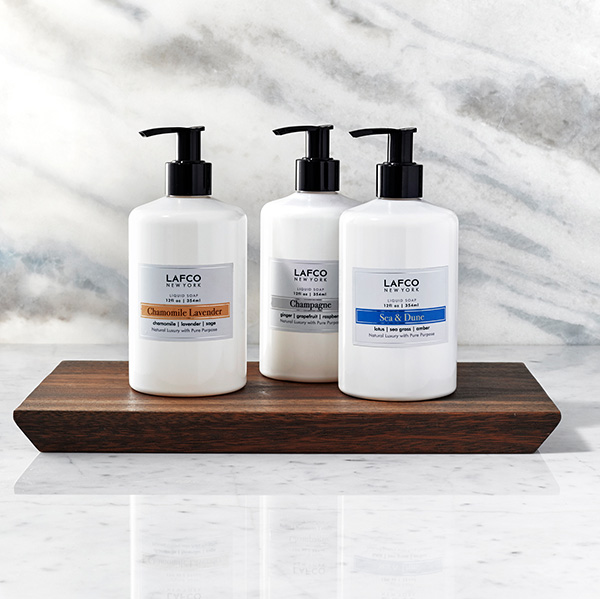 "As soon as our customer embraces how great their skin responds after using our product instead of focusing on how unique or different it is compared to their synthetic brands, they become a customer for life," remarks Jon.
As with the bar soaps, LAFCO's candles embody the brand's Pure Promise. "Most fragrance candles are made from paraffin, a petroleum-based wax that burns at a high temperature and quickly releases scent," says Jon. There are health concerns associated with paraffin, including the emission of chemical soot and toxic fumes and often, the use of chemical-based scents. LAFCO candles are composed, on average, of an 85-percent soy formula that is safe and longer lasting. The glass vessels that hold the candles are also sustainably produced and reusable as vases, ornamental containers or drinking glasses.
Unlike most brands, LAFCO's hand creams contain no synthetic ingredients like silicone that could clog pores. Its liquid soaps are made entirely of olive oil. "We're the only company in America doing this—it's better for the skin," says Jon. LAFCO room mists are free of dyes and propellants, and the diffusers are designed to be longer lasting, with a capacity to aromatize an entire house for nine months. "Natural products take longer and are more expensive to develop and manufacture," says Jon, "but it's worth it to offer skincare and home fragrance that's better for your—and the planet's—health."
Shop here!